Events
10 things to do in Boston this weekend
BosTen is your weekly guide to events and cool happenings in and around Boston.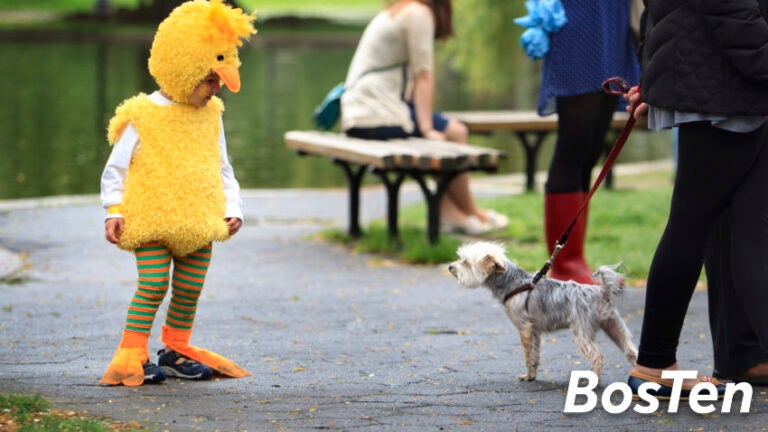 Skip Netflix this weekend—here are 10 ways to get out of your home and not be bored in the city. If you'd like BosTen delivered to your inbox every Thursday, click here. Want more things to do? Check out our events calendar at boston.com/events.
Three savvy Boston venture capitalists—Michael Troiano, Sheryl Marshall, and Larry Bohn—will share their tips for success with Boston Globe business columnist Shirley Leung. Discussion topics will include how to pitch ideas, develop strong  partnerships, and grow a thriving business. A brief networking session with complimentary beer and wine will follow the panel. Register for the free event here. (Thursday, May 11 from 6 to 7:30 p.m.; WeWork, Boston; free; all ages) Editor's note: This event is being held by Boston Globe Media, the parent company of Boston.com.
The Union Square Farmers Market will debut for the season this Saturday, with live music and fresh local goods for visitors to peruse. The market, which is held in Somerville's Union Square Plaza every Saturday through November, hosts more than 40 New England vendors and their produce, wine, meat, and baked treats. For a full list of vendors, check here. (Saturday, May 13 from 9 a.m. to 1 p.m.; Union Square Plaza, Somerville; free; all ages)
Stop by Assembly Row on Saturday to say hello to the Hello Kitty Cafe food truck during its second visit to the area. Fans of the famous kitty can snag goodies like rainbow macarons and bow-shaped water bottles, or just take an Instagram picture in front of the adorable pink truck. (Saturday, May 13 from 10 a.m. to 8 p.m.; Assembly Row at Assembly Square, Somerville; free; all ages)
The SoWa Power Station will be the site of a giant group exercise class on Saturday with celebrity trainer Erin Oprea and former Bachelorette stars Shawn Booth and Kaitlyn Bristowe. The event is part of Oprea and Booth's CityStrong program, which tours the country with high-energy group workouts. The fitness duo will lead the sweat session while Bristowe spins tunes in the DJ booth. (Saturday, May 13 at 11 a.m.; SoWa Power Station, Boston; $40 tickets; all ages)
Grab your blankets and lawn chairs for Brookline's annual Cherry Blossom Festival this Saturday. The festival, which started in 2012 after Boston's consulate general of Japan gifted Brookline High School with cherry trees, will welcome attendees to enjoy the blooms and entertainment from Japanese performance groups while sampling Japanese foods like teriyaki burgers, sushi, and shaved ice. Games and crafts, such as hachimaki (Japanese headband)-making and and chopstick competitions, will be offered for children. (Saturday, May 13 from 12 to 4 p.m.; Brookline High School, Brookline; suggested donation of $10-20 per family; all ages)
Every year, the Somerville PorchFest brings musicians of all genres to the porches of generous Somerville homeowners, resulting in a day-long music festival. Attendees can stroll around to the tunes of everything from blues to rock to funk. This year, the city will be broken up into three areas with different time slots—east of Central Street will be 12-2 p.m., Central Street to Willow Avenue will be 2-4 p.m., and west of Willow Street will be 4-6 p.m.—so festival-goers can move around depending on where the music is playing. Check out this festival map to see which musicians will be playing, and when. (Saturday, May 13 from 12 to 6 p.m.; Somerville; free; all ages)
On Saturday, the Lawn On D will open its season with an all-day event featuring entertainment from across the city. Head to the lawn in the afternoon for a myriad of children's programming, including story time from the MFA and performances from Puppet Showplace Theater. Adults can enjoy live Caribbean music from Steel Rhythm and circus art performances from Nimble Arts. At night, the lawn will heat up with a lineup of rock n' roll, pop, and groove bands. See the full list of events here. (Saturday, May 13 from 12 to 10:30 p.m.; The Lawn on D, Boston; free; all ages)
The annual Bacon and Beer Festival will return to Fenway Park this Saturday, bringing baseball, beer, and bacon lovers together to support the Red Sox Foundation. A $52 ticket will include samples of food from Boston restaurants like Blue Ribbon BBQ, Brewer's Fork, and McGreevys, and eight 3-ounce beer samples from Fenway Park vendors and 15 guest breweries. (Saturday, May 13 from 12:30 to 3 p.m.; Fenway Park, Boston; $52 tickets; 21+)
Sip on craft beers from around the globe while you kick back in a castle in the Back Bay at Saturday's Boston Beer Summit. This event lets attendees sample beers from faraway places, like Crean's Brewery in Ireland, and local spots, like Castle Island. Tickets, which include unlimited samples and a tasting cup, are available for $59.50 for one of two sessions on Saturday afternoon and evening, and barbecue from BT's Smokehouse will be available for purchase. (Saturday, May 13 from 12:30 to 4 p.m. and 5:30 to 9 p.m.; The Castle, Boston; $59.50 tickets; 21+)
Celebrate Mother's Day this Sunday by heading to Duckling Day on the Boston Common. The annual event has been held for more than 30 years and attracts more than 1,000 people who parade through the Common dressed as characters from Robert McCloskey's famous book Make Way for Ducklings. Prior to the parade, family activities including crafts, magic shows, and face painting—plus mini massages for moms in honor of Mother's Day—will be held in the Common. Tickets are required for the Playtime on the Common and include a Duckling Day-themed kid's goodie bag for $35 per family via advanced registration. (Sunday, May 14 starting at 10 a.m.; Boston Common, Boston; $35 tickets, $40 day-of; all ages)