Events
10 things to do in Boston this Memorial Day weekend
BosTen is your weekly guide to events and cool happenings in and around Boston.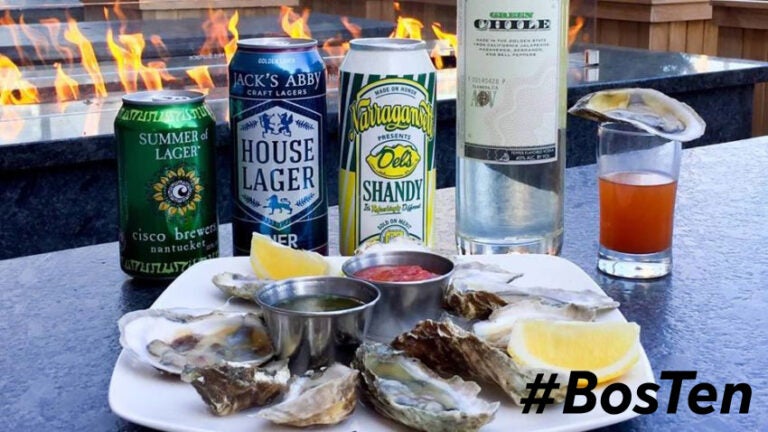 ---
Are you looking for tours and activities in Boston for Memorial Day weekend? Click below for fun ways to explore the city.
[fh_link href="/activities/bike-tours"]Book Bike Tours[/fh_link]
---
Skip Netflix this weekend—here are 10 ways to get out of your home and not be bored in the city. If you'd like BosTen delivered to your inbox every Thursday, click here. Want more things to do? Check out our events calendar at boston.com/events.
Boston Calling is back this weekend with a stellar lineup and a new venue. From Friday through Sunday, some of the biggest stars in both music and comedy will head to the Harvard Athletic Complex in Allston. Both single-day and three-day passes are still available, so you can check out only headliner Chance the Rapper on Friday, or catch Bon Iver, The XX, Weezer, Major Lazer, The 1975, and others throughout the weekend, as well. (Don't forget to dip into the intense food offerings while you're at it.) (Friday, May 26 to Sunday, May 27; Harvard Athletic Complex, Allston; tickets from $106; all ages)
If the high-profile Boston Calling isn't exactly your scene, consider the Campfire Music Festival in Cambridge. The more relaxed festival experience, where the "line between performer and audience member blurs," according to a press release, will feature folk and indie artists. Held annually at Club Passim, the festival was founded to create the feeling of artists sitting around a campfire playing music, but at a larger venue. Check out the full artist lineup here, and grab your weekend passes for $25 or single-day passes for $10 on the festival's website. (Friday, May 26 to Monday, May 29; Club Passim, Cambridge; $10-25 tickets; all ages)
In honor of Memorial Day, the USS Constitution Museum in Charlestown will have special programming all weekend. In partnership with Operation Gratitude, an organization that provides care packages to U.S. service members, visitors to the museum can make survival bracelets and write letters to be sent to troops overseas and first responders in the U.S. Guests can also pay their respects and hear the stories of the crew members who served on the USS Constitution during the War of 1812 throughout the holiday weekend of remembrance. (Saturday, May 27 to Monday, May 29 from 9 a.m. to 6 p.m.; USS Constitution Museum, Charlestown; free with suggested donation of $5-10; all ages)
Memorial Day weekend serves as a reminder to families that summer is around the corner, which means long days of keeping kids busy once they're out of school. Get a good start on fun and educational entertainment at this Saturday's Play Date event at the ICA. The museum will open its doors for free as part of its monthly play date series, featuring a multitude of family-centered events, such as yoga for families, art-making sessions, and family pop-up talks in the art galleries. This month's theme is "Rhythm and Hues," and it will include a concert and body percussion performance from France's SR9 Trio. (Saturday, May 27 from 10 a.m. to 4 p.m.; Institute of Contemporary Art, Boston; free for two adults with a child under 12; all ages)
SoWa Open Market will kick off its new series of food-centric block parties this weekend with a backyard barbecue festival, at which more than 20 local f8ood trucks will serve up barbecue and all the fixings. For six more weekends after this one, the market will host a selection of food trucks and vendors as part of their SoWa Beer Garden and Food Truck Bazaar. Upcoming festival themes include a Boston lobster party and a sausage fest. (Saturday, May 27 at 10 a.m. and Sunday, May 28 at 10:30 a.m.; SoWa Open Market, Boston; free; all ages)
Consider the three-day weekend your ultimate excuse to chill out, and what better way to do so than with beer and ice cream sandwiches? Bone Up Brewing Company in Everett will host the Frozen Hoagie food truck this Saturday outside their taproom; toast the season with a beer from Bone Up and and a custom cold sandwich made from the truck's ridiculously large selection of cookie and ice cream flavors. (Saturday, May 27 from 2 to 8 p.m.; Bone Up Brewing Company, Everett; free; 21+)
If there was an official start of ice cream season, it would be Memorial Day weekend. Welcome it at the Boston Public Market this Sunday with Crescent Ridge's ice cream sundae bar. For $5, you can grab a bowl of their vanilla ice cream and top it with all the sprinkles, candy, and Taza Chocolate hot fudge you can manage. (Saturday, May 27 from 3 to 5 p.m.; Boston Public Market, Boston; $5, all ages)
The JFK Presidential Library is holding a space-themed afternoon in honor of President John F. Kennedy's mission to send a man to the moon. On Sunday, head to the JFK Library to hear from Christopher Cassidy, chief of the NASA Astronaut Office, and Su Curley, a NASA spacesuit engineer; they'll chat about space exploration gear and life on the International Space Station. Kids will get a chance to engage in hands-on activities like "Build and Launch Your Own Rocket" and "Space Geography Jeopardy." The Space Exploration Discovery Day is free as part of the JFK Centennial Celebration. (Sunday, May 28 from 12 to 4 p.m.; John F. Kennedy Presidential Library & Museum, Boston; free; all ages)
This Monday, Museum of Fine Arts Boston admission for both adults and children will be waived so that families can enjoy the museum's special Memorial Day programming. That includes a multimedia installation and concert by high school students from Sociedad Latina's Youth Music Ambassadors and a performance by The Welcome Strangers, an ensemble group of immigrants from around the world. (Monday, May 29 from 10 a.m. to 5 p.m.; MFA, Boston; free; all ages)
Get to Boston City Tap House for Shuckfest this Monday, and celebrate summer's unofficial kickoff weekend with oysters galore. Relax on the restaurant's fire pit-lined patio Monday afternoon with giant Jenga and cornhole; fresh oysters; cold brews; and special cocktails, including oyster shooters with green chile vodka. Knowing that you would normally be in a cubicle will make the day that much more fun. (Monday, May 29 from 11 a.m. to 3 p.m.; City Tap House, Boston; free admission; 21+) 
Boston.com will receive payment if a purchase is made through the article.