Food News
Free tacos from LA will land at Faneuil Hall on Friday to settle a Red Sox bet
But you'll have to wear your Sox gear to take advantage of the offer.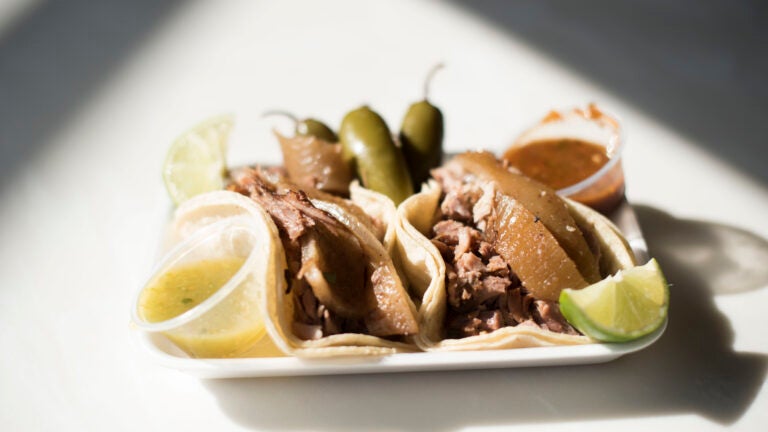 Victory, it seems, tastes a lot like free tacos.
On Friday, Tacos Tumbras à Tomas — a popular vendor at Los Angeles' Grand Central Market — will settle a bet with Faneuil Hall and offer free carne asada tacos at MIJA Cantina & Tequila Bar. The cross-country offering is the result of a friendly World Series wager (one of many) that the two food halls made with each other.
To take advantage of the free tacos (available while supplies last), guests will need to stop by MIJA between 11 a.m. and 1 p.m. donning some kind of Red Sox gear.
Tacos Tumbras à Tomas is one of Grand Central Market's oldest currently operating vendors, an impressive feat for a market that has changed dramatically since it debuted in 1917. In 1995, chef Tomas Martinez and his two brothers Manuel and Jesus opened the stall, where they have continued to serve their signature tacos, burritos, and tortas to lengthy lunch and dinner lines. On Friday, Martinez and his staff will bring their classic carne asada recipe to Boston, using locally sourced ingredients within MIJA's kitchen.
The wager also included a $1,000 donation for every home run hit by the Red Sox and the Dodgers in the World Series, to be donated to the charity of each food hall's choice. Faneuil Hall will donate $8,000 to Pitching in for Kids for the eight Red Sox home runs, while Grand Central Market will donate $6,000 to Team Rubicon for the six Dodgers home runs. A check presentation for Pitching in for Kids will take place at MIJA on Friday at noon.