Food News
Cannabis events company Eat Sacrilicious is taking fine dining to a higher level
Chef Joe Sasto, a "Top Chef" finalist, will be a guest chef at its upcoming dinner on Friday.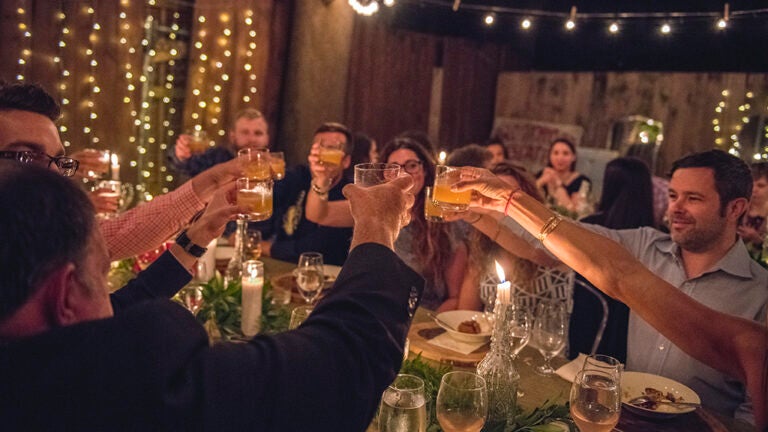 At Faneuil Hall on Friday, retail store and event space American Rhino will be the site of a high-end dinner party. Chef Joe Sasto, a "Top Chef" season 15 finalist, will be in the kitchen for the cocktail reception and eight-course meal. And there will be lots and lots of weed.
Eat Sacrilicious, the events company throwing the dinner, was formed this past summer, when Sam Kanter, David Yusefzadeh, and Sean Curley joined forces in an effort to elevate the cannabis dining scene in New England. They all bring experience from different industries: Kanter has operated her own events company, Sam Kanter Events, since 2013; Yusefzadeh, the designated chef at Eat Sacrilicious events, is the founder of Cloud Creamery, a cannabis ice cream company based in Framingham; and Curley is the associate publisher of Sensi Magazine Boston, a cannabis lifestyle magazine. 
With four dinners already under its belt, Eat Sacrilicious is embarking on its fifth cannabis dinner on Friday and its largest one to date. Sasto, the dinner series' first guest chef, has collaborated on the menu and will join Yusefzadeh in the kitchen as the two execute an eight-course meal that could belong at any fine-dining restaurant. Scallop crudo with pomegranate, squid ink cavatelli, prime rib, and goat's milk Earl Grey ice cream will all be on the menu, preceded by a cocktail reception with CBD-infused drinks.
With CBD (the nonpsychoactive compound found in the cannabis plant) or THC (the psychoactive compound) in every dish, the likelihood of feeling high is, well, high, but Kanter said the amount of cannabis used won't be excessive: Over the course of the seated meal, diners will ingest, on average, around 10 milligrams total, and that can be adjusted depending on the dosage they ask for.
"I talk to everyone directly at the dinners to make sure they understand [the dosage]," Kanter said, explaining that, before the dinners starts, guests can request a low, medium, or high dose of CBD or THC, or even a CBD- or THC-free meal. "It's treated like a dietary restriction. When we're running the food, it's like, 'Seat one is no dose, seat 2 is high dose.' We give people the ability to change that during the dinner, and we're checking in to make sure everyone's feeling how they want to feel. The last thing we want to happen is for people to feel overwhelmed or uncomfortable."
Sasto, who moved to Los Angeles almost two years ago and is currently focusing on private events, started baking with cannabis — "I'd make multicolored Rastafarian Rice Krispies treats," he said — when he was a student at the University of California, Davis. It wasn't until recently that he started recognizing the ways in which cannabis could be brought into the modern cooking fold and began experimenting with the hundreds of terpenes (aromatic and flavor compounds) found in cannabis.
"It's like giving an artist a new color palate," Sasto said. "Once you understand it as a chef, it opens a whole new array and spectrum."
Sasto and Yusefzadeh will keep track of each guest's dosage level with a grid system in the kitchen, noting who has requested a medium dose of CBD, say, or a low dose of THC with each course. Then they'll adjust the relevant components in each dish: The monkfish, for example, uses THC- or CBD-infused sugar, while the cavatelli has cannabis in the burrata fonduta.
Transparency is key. Kanter said that there are plenty of people who attend these dinners who have never used cannabis before. But while Eat Sacrilicious welcomes cannabis newcomers, it also is meant to attract a clientele that reflects its founders.
"The three of us are all highly functional, successful business people who use cannabis," Kanter said. "We're making it for people like us. People are very surprised when they learn that I'm a cannabis user. For me, it's absolutely a positive aspect of my life. I'm a certified yoga instructor and I use before I go to yoga. It blows people's minds."
A ticket to Friday's dinner isn't cheap. At $225 per guest, it includes the eight-course meal and cocktail reception, as well as a membership to Eat Sacrilicious, which comes with a subscription to the email list, access to client-only events, and priority access to future tickets. Because the company isn't legally allowed to sell cannabis, the membership model is a work-around: Eat Sacrilicious is selling an experience, and the cannabis is offered as a gift.
Is this what the future of fine dining looks like in Boston? Kanter said that the legalization of recreational marijuana and the recent opening of Massachusetts' first recreational marijuana store doesn't affect the legality of what they're doing, but it allows them to be more open and vocal about Eat Sacrilicious's events. And though Sasto lives in California, a state that has been at the forefront of legalizing cannabis use, he thinks Boston is making great headway.
"I feel like this will be the next frontier," Sasto said. "Boston is moving along at a great pace. The fact that [Eat Sacrilicious] is able to do this and promote it shows that there are enough like-minded people who are interested."
Eat Sacrilicious dinner with Joe Sasto; American Rhino, 4 South Market St., Boston; Friday, Dec. 7 at 6:30 p.m.; $225