Food News
Dunkin' is hopping on the plant protein wave. A meatless sausage breakfast sandwich hit Manhattan stores Wednesday.
A nationwide rollout is coming, too.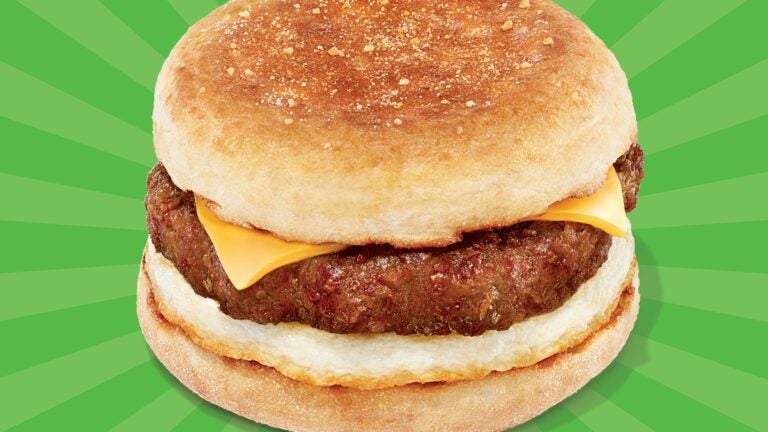 Dunkin' is leaning into the meatless protein revolution. The company is teaming up with Beyond Meat to introduce a new, vegetarian-friendly sausage sandwich to the U.S.
New Yorkers could find the sandwich at Manhattan locations beginning Wednesday, and there are plans for a future national rollout.
The faux sausage patty contains 10 grams of protein from a blend of pea, mung bean, rice, and sunflower proteins, according to Beyond Meat. It is served on an English muffin with egg and American cheese.
Ordered without the egg and cheese, the sandwich is vegan-friendly. Ordered without the English muffin, it's gluten free.
Dunkin' is the first U.S. chain to serve Beyond Meat's Beyond Breakfast Sausage, according to a release.
The meatless protein industry has swelled this year as Impossible Foods and Beyond Meat fight for dominance. Meat substitutes are even beginning to disrupt the meat industry.
The meatless fast food movement is ramping up in parallel, with new products such as Burger King's Impossible Whopper, White Castle's Impossible Slider, and Del Taco's Beyond Tacos and Beyond Burritos.
Founder and CEO of Beyond Meat Ethan Brown said in a release that partnering with Dunkin' "represents not only an exciting moment for both of our companies, but a big step forward in making plant-based meat accessible and easy to enjoy, even while on-the-go."
A large part of Beyond Meat's mission is delivering the environmental benefits of plant-based foods, according to its website. Dunkin' has recently faced criticism from environmentalists for continuing to provide plastic straws and styrofoam cups to its customers. 
The company has said, however, that it plans to eliminate foam cups from its business by 2020.
It's not yet known when the sandwich will be available in Boston or nationwide, according to a Dunkin' spokesperson.