Food News
Ben & Jerry's talks about the importance of speaking out
"We do these things not to sell more ice cream but because we care about people and have values," said Matthew McCarthy, CEO of Ben & Jerry's.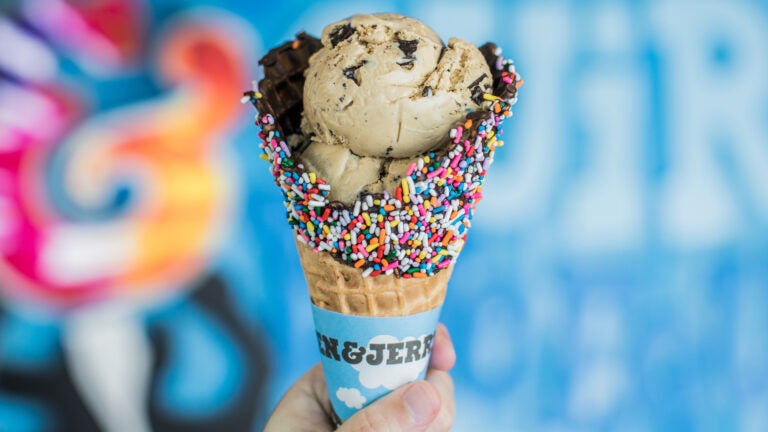 It would be an understatement to say that Ben & Jerry's is opinionated.
Time after time, the Vermont-based ice cream company has made its stance known on issues ranging from racial inequality to federal executions to sustainable food systems. Most recently, the company published a viral Twitter thread condemning the Capitol siege that took place on Jan. 6, calling it a "riot to uphold white supremacy."
Yesterday was not a protest—it was a riot to uphold white supremacy.
(1/8)

— Ben & Jerry's (@benandjerrys) January 7, 2021
In an interview with the Harvard Business Review published Wednesday, Matthew McCarthy, Ben & Jerry's CEO, and Christopher Miller, head of global activism strategy, explained how and when the ice cream company chooses to speak out on certain issues, and what went into the making of that viral thread.
Miller said that the company's "ongoing body of activism and advocacy that are rooted in our values" allows Ben & Jerry's to be more effective in its communication, while McCarthy agreed that "when we've already worked on an issue and have a language we've previously used, it speeds the path to getting the message out."
"We know that the credibility of a track record matters," McCarthy told the publication. "And that's not only 'How many posts did you put out?' or 'Did you create a nice film that made everybody well up?' It's being there, being there, being there."
Miller explained that the global activism strategy team works with a network of allies and partners to make sure the messaging is right. He gave the example of the company's statement following the murder of George Floyd, noting that the four policy recommendations included in the statement were gut-checked with these partners.
"There are lots of people who disagree with our positions, of course," Miller said. "Our statement last summer generated thousands and thousands of phone calls and emails from people who accused us of being anti-law-enforcement or promoting looting and rioting. But we have the courage to feel okay about getting some of that heat, and in some ways, it reinforces that what we've done is meaningful."
The creation of last week's tweet denouncing the attack on the Capitol took roughly 18 hours of work — "which may seem crazy, but we wanted to get it right and, in this instance, put the company on record," Miller shared. "We were on the phone workshopping, laying it out, and then moving it up to my boss and then Matthew. More often than not, what we end up sending on to these guys is 80 percent to 90 percent or more of what ends up ultimately going out."
While some might not agree with Ben & Jerry's values, McCarthy said the company is growing. He also said that fans are aware of its ideals, which have often been reflected in products like Pecan Resist and Change the Whirled.
"Some of them buy more ice cream as a result," he said. "They don't have to. That's why we call them fans, not consumers."
When asked whether the past year has prompted more companies to become involved in corporate activism, Miller told the Harvard Business Review that it matters more now.
"We need other businesses play[ing] in the 'aspiring social justice business' sandbox," he said. "It doesn't help anyone if it's just Patagonia, Lush, and us. It's not just about being goody-goody. It's good business."
"The reality is there's never a bad moment to start doing the right thing," McCarthy said. "And in fact, we need you. …If you don't know what you want to do, talk to your staff, get people together, create the space for this discussion around values. You could decide that your thing will be The Humane Society. It could be packing lunches. It can be anything. What it can't be is nothing."
Get Boston.com's browser alerts:
Enable breaking news notifications straight to your internet browser.