Food News
North Shore company LEVIA launches a cannabis-infused seltzer in Massachusetts
The seltzers are available in three different flavors.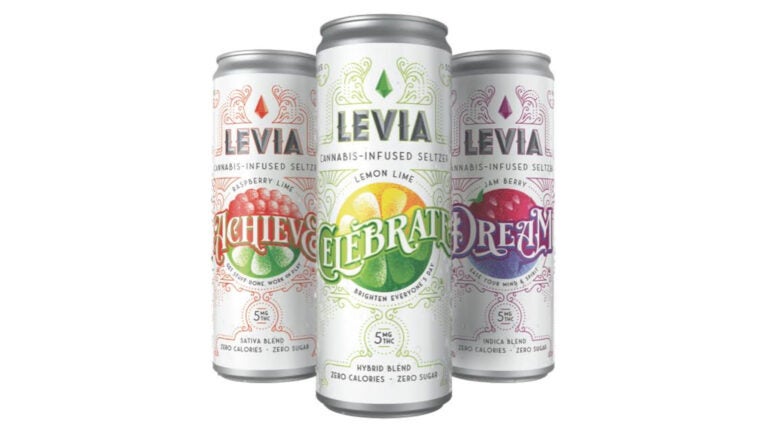 Polar Seltzer may dominate the carbonated water industry in Massachusetts, but another local seltzer company has created an entirely new kind of buzz.
In mid-February, Georgetown-based LEVIA launched three cannabis-infused seltzers in roughly 40 dispensaries across Massachusetts. Each seltzer offers its own distinct profile: Achieve, a raspberry-lime flavor that uses a sativa blend and caters to those looking for a more active and alert experience; Celebrate, a lemon-lime seltzer infused with a hybrid blend that encourages a more social experience; and Dream, a jam berry seltzer that uses an indica blend for a more relaxing, mellow effect.
"We tried to make it extremely simple for consumers to identify which product will fit into their lifestyle or the need that they're trying to fulfill," said Eric Rogers, who runs the company with Kristen Rogers, Kaitlyn Brosnan, Troy Brosnan, and Matthew Melander.
When the team first joined forces, Rogers said they rallied around the idea of changing the cannabis beverage industry's landscape — one that, in addition to seltzers, also includes sodas, juices, and teas.
"We looked at the ethos of Massachusetts in terms of trying to lead healthy, active lifestyles," Eric said. "We thought we could bring cannabis beverage products to Massachusetts that were rooted in simple, all-natural ingredients with zero calories and zero sugar. And after many years of zigs and zags and lots of research and development, the team was able to achieve that goal with the three products that we brought to market."
The production of Achieve, Celebrate, and Dream takes place within LEVIA's 6,000-square-foot facility, a building that Melander described as a "microbrewery meets extraction lab."
"We bring the cannabis flower in, we do the extraction on site in the lab, and then that oil is added with a 'special sauce' into our mega tanks [of seltzer]," Melander said. "From there it sits, it gets tested, and it goes to the canning line. It's one big circle."
Each seltzer contains five milligrams of THC, an amount that is in line with LEVIA's goal of creating a sessionable drink.
"You can have two or three beers to enjoy," Troy said. "Why not have two or three of these? If you [offer] too high of a dosage, you're going to turn people off, because that effect is going to be too much for them. This is meant to be enjoyed by the many, not the few who are, what I would call, cannabis veterans."
For those who are cannabis veterans, LEVIA's next product will offer a way to increase the dosage. In April, the company will launch its companion line of water soluble tinctures, which can be added to a customer's beverage of choice — whether that's a LEVIA seltzer or a cup of coffee. Like the seltzer, the tinctures are almost completely clear, and are also available in the Achieve, Celebrate, and Dream options.
Despite creating some initial delays in production and getting the products out to market, the pandemic hasn't had a negative impact on LEVIA's launch. In fact, it may have led more people to their product, Melander said.
"The shared sensation of smoking something, where you pass it around a table — we believe that's gone away," he said. "The ability here is that we have something that is safe for everyone to enjoy together while having their own controlled substance, so that they don't have to share it amongst many hands."
LEVIA's seltzers are currently sold for $7 per can in dispensaries across Massachusetts, including Garden Remedies, Revolutionary Clinics, and Ascend Wellness. More locations can be found here.
Get Boston.com's browser alerts:
Enable breaking news notifications straight to your internet browser.