Food News
Filmed in Maine, 'Chopped: Martha Rules' premieres on April 13 with local talent
The new series was filmed at a dreamy resort in Kennebunkport.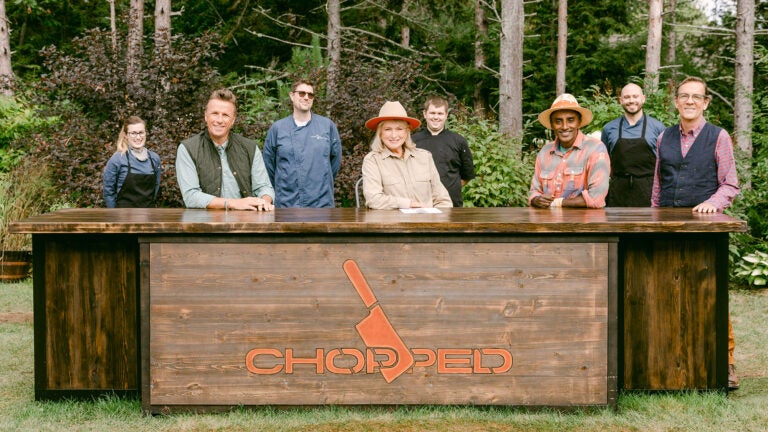 A new offshoot of the Food Network's "Chopped" will launch on Tuesday, and there's a familiar face in charge: Martha Stewart.
The lifestyle maven and Emmy Award winner will head up "Chopped: Martha Rules," a five-episode series debuting at 9 p.m. April 13 on the Food Network. Filmed on the grounds of Hidden Pond, a luxury resort in Kennebunkport, Maine, the show features 16 chefs competing for a $50,000 grand prize — and Stewart's approval.
During each episode, four chefs will be handed a mystery basket of ingredients to use at an outdoor kitchen over three rounds: appetizer, entrée, and dessert. Curveballs abound, with Stewart adding surprise chefs, taking control of the clock, and switching cooking stations. Each round is judged by Stewart, along with chefs and restaurateurs Marc Murphy and Marcus Samuelsson, while "Chopped" host Ted Allen will reprise his role as host.
While a full list of contestants hasn't been released, a representative for the Food Network revealed the talented cast competing in Tuesday's premiere episode, including a Massachusetts-based chef: Kristen Harlach, an executive chef at Not Your Average Joe's (Harlach has worked at the Westwood, Watertown, and Arlington branches). She will join Eric Marshall, private chef and food stylist; Brittney Williams, private chef and owner of BWC Catering; and Woldy Reyes, chef and founder of Woldy Kusina. 
Originally from Buffalo, N.Y., Harlach told Boston.com in an e-mail that after being contacted by the Food Network, she spent the summer filming in a "magical oasis of outdoor stress and intensity, all set against a gorgeous coastal Maine backdrop!"
"I said I would never get on [TV], but if I could, I would go on 'Chopped,'" she wrote. "The unknown, the creativity, the strength that you need to pull out of Lord knows where … I have learned that 'Chopped' is NOT what you turn on after work when you want to relax and unwind, because your brain just goes the second you see those ingredients!"
On Tuesday's episode — dubbed "Martha Rules: Pantry Surprise!" — the four chefs will work with a Maine-inspired basket, featuring ingredients fit for a coastal spread of clam chowder and blueberry pie. Harlach wasn't able to share too many details about the premiere episode, but she did say that it was "no holds barred," and that "whatever twists and turns, switches or restrictions Martha wanted, we pivoted."
As for cooking for Stewart? 
"She is a force, she is a legend, she's a badass," Harlach wrote. 
At least one other Massachusetts chef is involved in the series: Anthony Caldwell, chef and owner at 50Kitchen in Dorchester, told Boston.com that he will be a contestant on a "Chopped: Martha Rules" episode airing May 4. He said the interview process with the Food Network was "intense," as he met with multiple producers until a final offer to join the show was extended. 
"I love Martha," Caldwell said. "That's my girl."
He said the cooking for Stewart in a tournament-style format was stressful.
"At any given time while you're cooking, expect the unexpected, even while you're focusing on the food" he said. "Can you imagine cooking, and you're about to plate, and Martha will yell out something? You say, 'You've got to be freaking kidding me. Now what do I do?' You're stuck like a deer in headlights."
The chef said that when he reflects on his journey, including opening 50Kitchen in January 2020, he's in awe.
"How did I get here?" he asked. "I saw none of this coming."
Episodes of "Chopped: Martha's Rules" air April 13, April 20, April 27, and May 4. Stay tuned for a full list of contestants.
Get Boston.com's browser alerts:
Enable breaking news notifications straight to your internet browser.