Food News
Top Shelf Cookies will open in Dorchester with a dozen daily flavors
"Once COVID-19 is over, once we remove our masks, once we're vaccinated, I hope we remember the small businesses in our neighborhood," said owner Heather Yunger.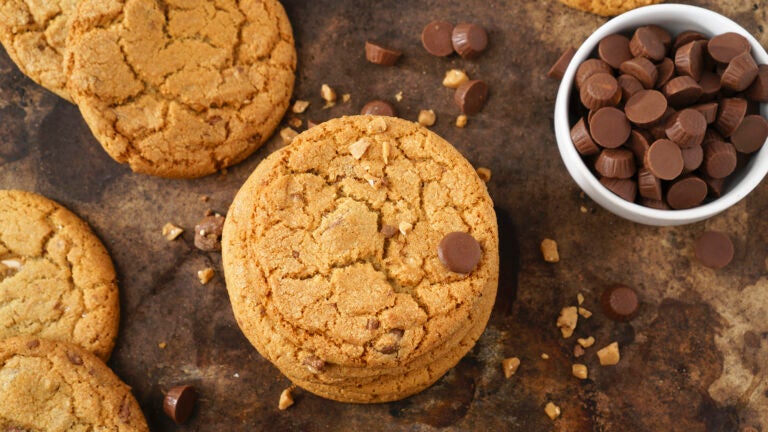 On March 11, 2020, Top Shelf Cookies owner Heather Yunger had a full day of property visits ahead of her. After six years working out of CommonWealth Kitchen — a food incubator in Dorchester, where she had baked cookies for individual customers, events, colleges, and restaurants — she was finally looking at storefronts for her first brick-and-mortar shop.
"The first space we looked at was 516 Gallivan Boulevard [in Dorchester]," she said. "I get out to my car after that, and we were going to look at more spaces. I got a text from someone, and they were like, Hey, can you put a standing order on hold for now? Sure, OK. We continue throughout this tour of real estate. By the time we were done, four out of my five revenue streams were shut down. And I went to bed that night and was like, Cool, we had a good run, but it's over."
COVID-19 may have forced Yunger to put her expansion plans on hold, but the support that she received in the first few months of the global pandemic, including a flood of online orders and a successful Mainvest fundraising campaign, allowed Yunger to sign a lease to the 516 Gallivan space in June 2020. The baker told Boston.com that Top Shelf Cookies will open its doors in the coming days, following some final inspections.
Once it opens, Top Shelf will offer a dozen flavors each day, both in bags and fresh from the oven. Fans of the company will recognize flavors like Boston Lager chocolate chip, Raisin Healthys, and, most notably, Black & Gold — the cookie that started it all. In 2010, Yunger started bringing cookies to The Fours near TD Garden before every Bruins game.
"People were like, oh, they always play better when you bring cookies," she recalled. "It began as a joke."
Soon, Yunger had developed the Black & Gold cookie — chocolate with peanut butter chips — to honor her favorite hockey team. The night the Bruins won the Stanley Cup in 2011, she brought 10 dozen cookies to the now-closed bar. In the years that followed, she quit her job in corporate customer service and began taking specialty baking classes. Top Shelf Cookies officially launched in 2014.
In addition to cookies, customers visiting the new storefront will also find ice cream sandwiches, with ice cream and bottled milk supplied by Thatcher Farm in Milton, as well as cookie frappes and a small pantry of local goods. Some products, like Alex's Ugly Sauce, are ingredients in Yunger's cookies.
"If we're using a local product, we want to make sure we can sell it so that people can get a hold of it," Yunger said. "There are so many great local products here. We just don't have a big enough voice."
Customers will be able to stop by the store, but they can still order bags of cookies online for pickup or delivery, with a DoorDash delivery option launching soon. Cookie connoisseurs can also join Top Shelf's Cookie of the Month, a subscription service that delivers a dozen cookies every one, three, six, or 12 months.
Yunger said she has seen the highs and lows of pandemic life through the notes customers request on individual orders. At first, notes reflected commiserations about being stuck in quarantine.
"And then it got sadder: 'I'm really sorry you lost your mom,'" she recalled. "Then we found this big peak where we had cookies going to nursing stations, or 'thanks for taking care of my mom, she's doing great.' And now the orders we're getting are like, 'thanks for helping my dad make his vaccination appointment.'"
She said she's also seen an increase in individuals and companies wanting to support small local businesses as they become aware that not every business will make it through the pandemic.
"I hope that's something that stays," Yunger said. "Once COVID-19 is over, once we remove our masks, once we're vaccinated, I hope we remember the small businesses in our neighborhood. Because I'm going to remember all the people that held us up."
Top Shelf Cookies will operate on Wednesdays through Saturdays from 10 a.m. to 6 p.m. and Sundays from 11 a.m. to 3 p.m. Stay tuned for an opening date, and follow Top Shelf Cookies for updates on Instagram and Twitter.
Get Boston.com's browser alerts:
Enable breaking news notifications straight to your internet browser.