Food News
The pandemic is changing Newbury Street. What's in store for its future?
"I see Newbury Street, at some point, only opening to pedestrians," said one restaurant owner.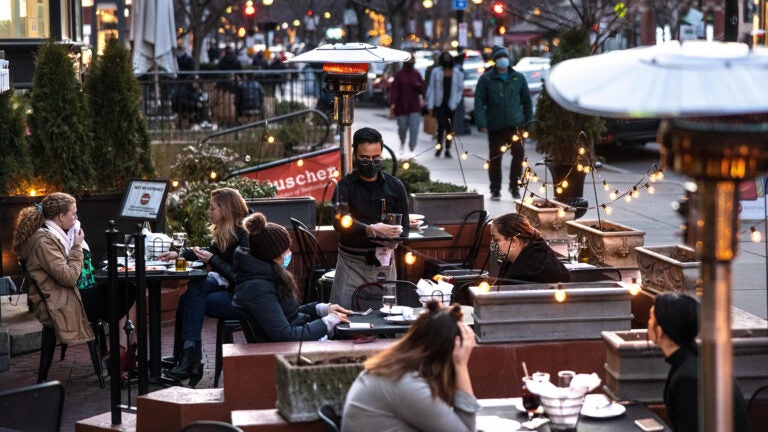 Few Boston streets are as iconic as Newbury Street. Dotted with boutiques and global chains, fine-dining restaurants and bubble tea shops, the picturesque thoroughfare has long attracted students, tourists, and residents looking to shop, eat, and be seen.
Like other points across the city, the bustling street was brought to a near halt at the onset of the coronavirus pandemic. Online shopping grew, forcing independent retailers to consider adding e-commerce options. Many of Newbury Street's restaurants came to rely on patios for additional seating, and some went into hibernation during the winter. Plenty of businesses, both retail and restaurants, closed for good.
So what does the future have in store for this storied street? Boston.com spoke with a handful of business owners and neighborhood experts about the changes that have affected Newbury Street, the opportunities the future may hold, and when a recovery might be in sight.
A changing street
More than a year into the pandemic, Newbury Street's make-up has shifted considerably. ÉgaliTea closed, as did Alex and Ani, Crush Boutique, Cafeteria, Caffe Nero, Joie, The Art of Shaving, Frye, and UGG. According to the Boston Herald, as of last fall, more than 55 storefronts and offices sat vacant on the historic street.
"Newbury Street has, in recent years, [become focused] on clothing retail, which is a tough place for a lot of stores to be right now because of online purchasing," said Elliott Laffer, chairman of the Neighborhood Association of the Back Bay. "The last year certainly accelerated the challenges."
Laffer said the street is intricately tied to the office buildings in the area and the workers who frequent Newbury Street to grab food or run errands.
"Are they going to keep working here?" he asked. "Are there going to be all those people in 500 Boylston St. that want to come out at lunch time and eat in all those restaurants across the street? What happens to the tailor, what happens to the little hardware store — all [those shops] that exist around people who come to an office to work?"
City Councilor Kenzie Bok, who represents District 8, which includes the Back Bay, did not respond to requests for comment.
Charles Talanian, president of C. Talanian Realty Co. Inc., got his start in real estate in the Back Bay in 1969. He currently manages a portfolio of properties on Newbury Street, with businesses that include Piattini, Teuscher Chocolates, Dirty Water Dough Company, and Coco Leaf Dessert Cafe. He also owns the buildings that once housed Lir, The Pour House, and Whiskey's, all of which shuttered on Boylston Street last year. 
"I don't know how retail is going to come back," Talanian told Boston.com on April 6. "I'm carrying over 20 vacancies."
Though Newbury Street is dotted with fine-dining establishments, Talanian suggested the types of businesses that seem to be doing well are fast-casual in nature: coffee and tea shops, ice cream stores, and other grab-and-go eateries that don't require dining in. Clothing and other retail shops are another story.
"It used to be you'd walk or drive down Newbury Street, and everybody is carrying bags," said Patrick Vardaro, owner of Boston Olive Oil Company. "I don't see that anymore."
Vardaro opened Boston Olive Oil Company 11 years ago, setting up a tasting bar featuring imported selections of olive oil and balsamic vinegar. Before the pandemic, the store was open seven days a week. These days, it's closed Tuesdays and Wednesdays, with just two employees working at the specialty shop. 
With a dearth of in-person customers, e-commerce has been a driving force of sales at Boston Olive Oil Company this past year. Vardaro said that corporate gifting has grown and weddings are starting to return, resulting in an uptick in customers purchasing olive oil bottles as wedding favors. The company has also shifted to virtual tastings, where each attendee gets a tasking kit and a tutorial in olive oil.
"But that certainly doesn't make up for what we lost in revenue," he said.
Restaurateurs see an opportunity
Despite a flurry of closings, Newbury Street has also seen a fresh crop of new businesses open in the past year, as well as established restaurants continuing to hold on. 
Revival Cafe + Kitchen opened a third location at the corner of Newbury and Clarendon Street in July. The Capital Burger, a sister restaurant to The Capital Grille, opened in March with elevated burgers and adult milkshakes, while Mexican restaurant La Neta made its debut in January. And when The Newbury Boston reopens this spring, it will feature a ground floor bar and rooftop restaurant from hospitality behemoth Major Food Group. 
La Neta owner Allan Rodriguez, who also owns El Centro locations in the South End and Dedham, said he saw an opportunity to open a casual restaurant in a neighborhood that often skews upscale. 
"Newbury Street doesn't have any fast-casual Mexican restaurants," he said. "So I took the chance. I'm a very optimistic person."
Rodriguez said he's been watching the street change since the pandemic, witnessing the openings and closings and adapting his own restaurant by offering takeout and to-go drinks.
"It's a little uncertain, but I feel the good vibes, especially with all the patios open," he said. "I see Newbury Street, at some point, only opening to pedestrians. I hope it happens. I think it'll help a lot."
In fact, a representative for the City of Boston confirmed with Boston.com that a handful of open street events will return this summer and fall, including the return of Open Newbury Street, when the area goes car-free. Specific dates for Open Newbury Street will be announced later this spring.
Kathy Sidell, owner of Sidell Hospitality, is optimistic about the area's recovery, too. Two of her Newbury Street restaurants, Saltie Girl and Stephanie's on Newbury, have remained open, while MET Back Bay is temporarily closed. While business is down from 2019, Sidell said she's been surprised at how busy her restaurants — particularly Stephanie's — have been.
"Newbury Street is super interesting during this time," she said. "Stephanie's is 27 years old, and I think before COVID-19 we were kind of in a place where we were like, OK, new restaurants are popping up and we have to polish the brand. I think [the pandemic] brought people back to Stephanie's in a way that might not have happened otherwise."
Sidell also credits patios for keeping her restaurants afloat, with a warm March adding to a boost in business. 
"People are certainly more willing to sit outside," she said. "Maybe it used to be when it was 60 degrees, now I think it's 50. It's crazy — they're willing to put up with colder weather outside because they just want to be out and feel alive."
'I'm hopeful'
As the weather gets warmer and vaccinations continue to rise, the consensus among those interviewed is that Newbury Street will recover — but what that looks like, and when, is still unknown. 
Despite his realty firm's 20 vacancies, Talanian thinks that by the end of 2023, they won't have any left. And after seeing the ebb and flow of foot traffic in the neighborhood for the past 35 years, he said that the influx of visitors is picking back up this spring. 
Vardaro is seeing a rise in foot traffic, too, and envisions a return to normalcy toward the end of summer — though he doesn't believe the office buildings in the area will return to full capacity. 
"You have buildings like the Prudential and John Hancock — there are companies that rented 10 to 15 floors from there, and now maybe they realize their employees can stay at home and work virtually, and be just as effective and maybe more happy," he said. "Those contracts are going to be renegotiated or dropped, I would think. That is a long lasting [impact] to the neighborhood."
Still, restaurateurs are continuing to take a chance on the street. Laffer said the Neighborhood Association of the Back Bay has seen a demand for restaurant spaces starting to come back.
"I think we've seen maybe three [applications] in the last two months after we hadn't seen any for a year, so I'd take that as a positive," he said. "There's at least some degree of optimism."
Sidell said that while a recovery timeline is dependent on the state of the virus, she only sees Newbury Street's appeal getting stronger.
"I'm hopeful," she said. "Stephanie's has been there 27 years and sure, we've seen waves, but people still love sitting on that corner. There's nothing quite like sitting there watching the world go by."
Get Boston.com's browser alerts:
Enable breaking news notifications straight to your internet browser.