Food News
A running list of Boston-area restaurants and bars requiring proof of vaccination
"I hope proof of full vaccination will become more widespread in Boston and in other cities, especially as COVID variants and international travel are rising."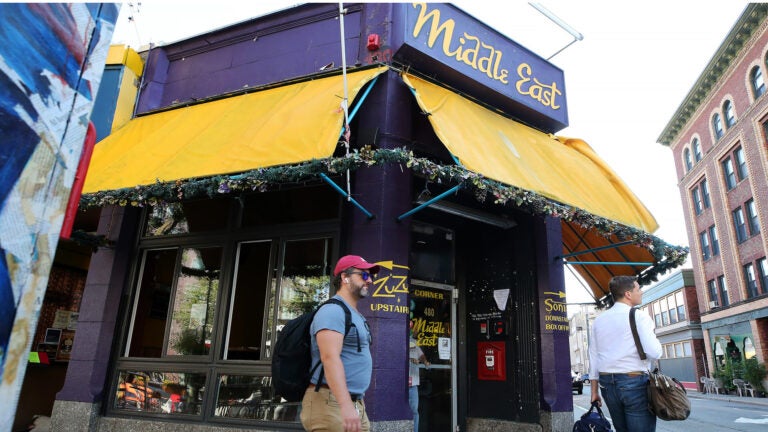 In response to a rise in COVID-19 cases over the summer across the United States, the Centers for Disease Control and Prevention once again began recommending that masks should be used indoors in certain areas of the country, even among those who have already been vaccinated. While Gov. Baker has yet to issue any statewide mask mandate, cities across Massachusetts have implemented their own mandates, requiring that masks be worn indoors — regardless of vaccine status.
Some local restaurants, bars, and live music venues are taking it one step further, mandating that guests who are dining or attending a show indoors must show proof of vaccination at entry.
Tracy Chang, chef/owner at PAGU in Cambridge, started implementing proof of vaccination and temperature checks for indoor dining in mid-June. Guests who are currently unvaccinated, including children, can still dine on the restaurant's patio.
"It was a deliberate decision, as we were concerned about re-opening indoor dining and potentially contributing to the rise in COVID cases," Chang told Boston.com in an email. "The safety of guests and employees has always been a priority at PAGU."
Chang said the majority of guests have appreciated the extra precaution, and that PAGU is the first place many of them have dined indoors since the start of the pandemic. However, there has been some pushback in person and via email and phone calls. One customer threatened to sue her for "breaking the law," while another said that he would "never set foot in your restaurant again."
"I hope proof of full vaccination will become more widespread in Boston and in other cities, especially as COVID variants and international travel are rising," Chang said. "Small business owners have been hit hard during COVID, and they are concerned requiring proof of full vaccination will hurt their business, or bring in unwarranted negative guests that may bully their employees and potentially result in attrition."
In fact, a rising number of restaurants across the country are now asking for proof of vaccination, including Danny Meyer's acclaimed Union Hospitality Group. On the other end of the spectrum, Basilico's Pasta e Vino in Huntington Beach, Cal., put up signs stating the restaurant requires proof of being unvaccinated. So far, Basilico appears to be an outlier.
Below, find a running list of the Boston area restaurants, bars, and music venues that are currently requiring proof of vaccination.
Backbar: Starting August 7, this cozy Somerville cocktail bar began requiring proof of vaccination for all guests. Those who cannot show proof will be asked to wear a mask during their visit.
City Winery Boston: Wine bar, restaurant, and music venue City Winery now requires either proof of vaccination or a negative COVID-19 test for entry. Masks are also required indoors, except when eating or drinking.
Club Café: "So this is one of the hardest posts I will have to put up," James Morgrage, owner of Club Café, shared on the bar's website on August 9. Starting August 16, the venue requires that all guests provide proof of vaccination. "Some of you may not like this policy, but we feel strongly the need to DO something to protect our community, staff, and business from further illness or closure," Morgrage wrote.
Club Passim: Live music venue and restaurant Club Passim began requiring proof of vaccination from all artists, audience members, students, and staff on August 6. Guests must show proof each time they enter the Harvard Square club; if they are unable to show proof of vaccination at entry, the venue will refund the guest's ticket, according to Club Passim's website.
Gray's Hall: Southie's natural wine bar instituted a proof of vaccination requirement on August 6 for all guests dining indoors. Visitors can show either their vaccine card or a photo of their card upon entry. Those who are unvaccinated are invited to sit on the patio.
Grendel's Den: "Mask Up! Vax Up!" is the motto at Grendel's Den in Cambridge, where proof of vaccination is now required for indoor dining. The restaurant states that this can include a vaccination record, a photo of a vaccination record, or an email stating a vaccination appointment date.
Havana Club: The Cambridge salsa venue and nightclub is currently only open to those who are fully vaccinated. Its website specifies that you can show "either your CDC card or a picture of it on your phone as proof of vaccination."
Jacques Cabaret: "Due to the recent uptick in the delta variant we have decided that for the safety of our cast, employees, and audience we will be requiring proof of vaccination to be maskless at show all shows starting August 6th," wrote the Boston bar and cabaret club. A popular destination for drag shows and karaoke, Jacques shared that either a printed or digital version of the vaccination card would suffice. "As leaders in this community, we feel that it is our responsibility to keep our spaces as safe as possible for all patrons, performers and staff."
Nightshade Noodle Bar: Rachel Miller's Vietnamese restaurant in Lynn began requiring proof of vaccination for dine-in guests on August 5. "This the best way we can protect the health of our team and of our guests when in our space," Miller wrote in an Instagram post. "Thank you so much for supporting my little baby noodle bar through so much pandemic hell."
PAGU: PAGU's indoor dining policy, which has been in effect since mid-June, states that guests are given temperature checks and asked for contact information upon arrival. They are also asked to show proof of vaccination along with a government-issued photo ID in order to be seated indoors. "Our entire team is fully vaccinated," Chang said. "We are also doing weekly COVID testing with our team as an added layer of caution."
Rebel Rebel: Somerville wine bar Rebel Rebel announced on Aug. 4 that it will now require proof of vaccination "until we decide it's safe enough to stop." In an Instagram post, the Bow Market destination noted that a photo of a vaccination card is acceptable, and that guests would also need to wear masks while ordering indoors.
"We've decided to move forward with this new policy in response to recent CDC guidelines issued amid the rise of the Delta variant, and as a 'best guess' for what our government would likely be recommending if they were in the habit of exhibiting any kind of tangible leadership in the best interest of public health," the post shared.
Spoke Wine Bar: After 18 months, the Somerville restaurant and wine bar announced on Oct. 28 that it will begin inviting guests back into its dining room — as long as they show proof of vaccination. "We can't wait to have you in our magical little space again," Spoke shared in an Instagram post. "As we've reduced our capacity, be sure to make a reservation (even for bar seats). For everyone's safety and comfort, we are requiring proof of vaccination at the door." Guests who are more comfortable outside or who do not have proof of vaccination can still be seated on the patio.
State Park: The Kendall Square restaurant and bar now requires all guests to show proof of vaccination for indoor dining and bar seating. "We know universal masking is a great way to prevent COVID-19, but in restaurant settings like ours, proof of vaccination for indoor dining guests is a more effective tool to combat the spread of COVID where social distancing and masking is less realistic," the restaurant stated in a Sept. 16 Instagram post. "People who do not show proof of vaccination are welcome to sit outdoors or take their order to go. We want to create a comfortable space for our employees and patrons with this policy, by making it as safe an environment as possible to work and to visit. "⁠
The Middle East: On July 27, The Middle East announced that it would require proof of vaccination for guests to attend shows and eat at its restaurants. "We will be following the numbers and information out there and hope this is not a long term policy, but for now, it feels like the right thing to do," the venue shared on Facebook.
The Plough and Stars: Cambridge pub The Plough and Stars is currently asking live music attendees to show proof of vaccination, noting in a Facebook post that "The safety and health of our music attendees — and our Cambridge community at-large — is a vital concern."
The Quiet Few: Following a brief closure after someone at the East Boston bar tested positive for COVID, The Quiet Few announced on Aug. 3 that it will now require proof of vaccination for guests who want to drink or dine indoors.
"Our recent closing was a high inside fastball," owner Josh Weinstein wrote in an Instagram post. "We were brushed back. But we need to heed the warning."
Weinstein, who shared that he is a Type 1 diabetic with an 18-month-old at home, said that the decision wasn't an easy one to make. "We hope you understand our position in this," he wrote. "And if you don't agree, we hope we can mend our ways down the road."
The Royale: All shows run by the Bowery Presents at the Royale require proof of vaccination for concertgoers and event staff. In an August 12 announcement, the company stated that the vaccination policy "will be in full effect nationwide no later than October 1, 2021. Leading up to October 1, we will implement a policy of showing proof of vaccination or a negative COVID test taken within 72 hours of show date where permitted."
The Sinclair: Owned and operated by The Bowery Presents, The Sinclair in Cambridge is also included in the company's nationwide policy. All concertgoers and event staff will need to show proof of vaccination or a negative COVID test taken within 72 hours of the show date.
Sign up for The Dish
Stay up to date on the latest food news from Boston.com.