Food News
South End wine shop The Urban Grape wins national Small Business of the Year Award
The U.S. Chamber of Commerce award comes with a $25,000 prize.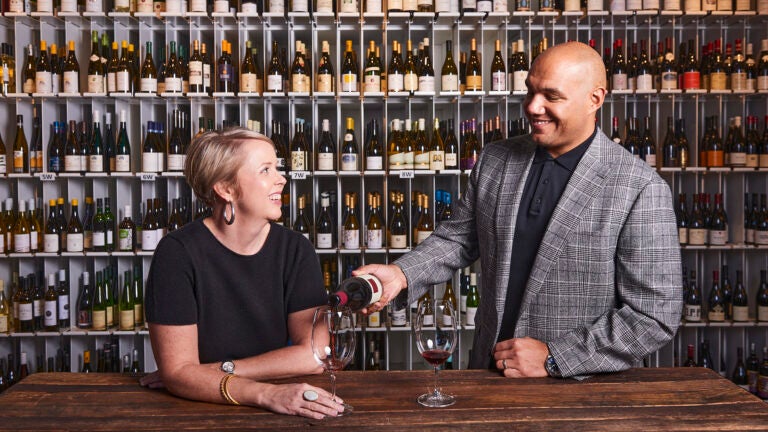 The U.S. Chamber of Commerce recently awarded South End wine shop The Urban Grape with its Dream Big Small Business of the Year Award.
The accolade, which is part of the U.S. Chamber of Commerce's Dream Big Awards program, recognizes a small business that "embodies the spirit of innovation, entrepreneurship, and individual initiative." This year, more than 1,000 businesses applied for the award before the field was whittled down to 27 finalists considered for eight Achievement Awards and the Small Business of the Year Award.
TJ and Hadley Douglas, owners of The Urban Grape, were thrilled with the recognition.
"We were definitely nervous in the lead-up to the announcement, and honestly it still seems a little surreal," Hadley told Boston.com in an e-mail. "But obviously as soon as we heard, we cracked open a bottle of wine to celebrate! Winning the award means so much to us because it's such a validation of the power of American small businesses to change the national dialogue on matters of importance such as social justice, equity, and access. You don't have to be a big business to have a big impact."
As a Black-owned business operating in a predominantly white industry, the Urban Grape has long championed inclusion and diversity in the wine world, showcasing BIPOC-owned wines and spirits since it first opened in 2010. In June of 2020, the wine shop celebrated its 10-year anniversary by announcing The Urban Grape Wine Studies Award for Students of Color, an award that aimed to provide recipients with a full scholarship to Boston University's Certificate Program in Wine Studies through the Elizabeth Bishop Wine Resource Center; paid internships at The Urban Grape, wine and spirits distributor M.S. Walker, and a local restaurant group; and mentorship from TJ and other industry leaders. The award went to two students who are about to graduate: Suhayl Ramirez and Amanda Best.
"They've put so much effort into this program and learned so much," TJ shared. "It's incredibly gratifying to know that they will now go on to careers in the wine industry, and will continue to push for greater access and inclusion in the wine world. Almost everything else pales in comparison to watching them thrive."
The Small Business of the Year Award comes with a $25,000 prize, and while Hadley said they weren't quite ready to share what they'll be putting that prize money towards, she did say that they'll be making an announcement in Spring 2022 regarding a project with a "pay it forward" component.
"Boston is filled with so many special small businesses, and we're a tight knit and supportive community," she shared. "This feels like a win for all of us. We're just so happy to bring this award home to our city!"
Sign up for The Dish
Stay up to date on the latest food news from Boston.com.