Food News
Dunkin's new holiday menu features pancake minis and white chocolate lattes
The menu will be available in stores starting Nov. 3.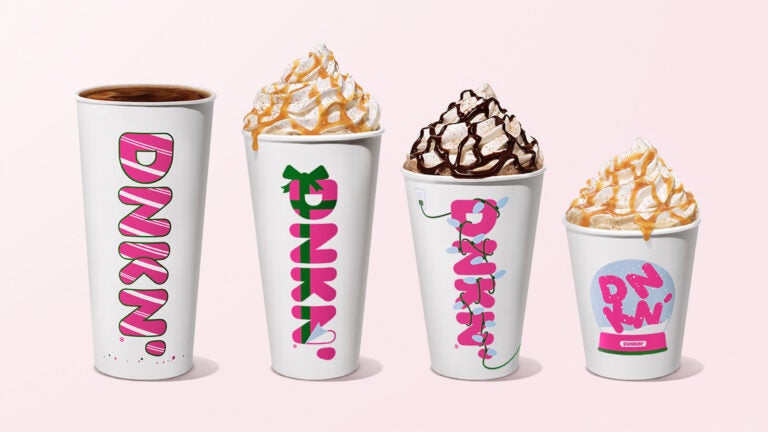 With the spooky season still fresh in our minds, Dunkin' is already moving on to the upcoming holiday season with a brand new menu, scheduled to drop November 3. Breakfast fans, take note: There are mini pancakes on the horizon.
The holiday lineup includes new items and returning favorites. The new Holiday Blend Coffee is the latest release in Dunkin's Limited Batch Series, a blend of Colombian and Ethiopian coffees that will be available through Dec. 1. On the sweeter side, the Massachusetts-based coffee chain will offer a toasted white chocolate signature latte and a white mocha hot chocolate, two holiday newcomers. The peppermint mocha signature latte, a returning favorite, is also on the seasonal menu. It's topped with whipped cream, a mocha drizzle, and cocoa powder.
To snack on, Dunkin' will introduce pancake minis, bite-sized pancakes that come six to an order and are served with a side of syrup. Not looking for a short stack in the morning? A new cranberry orange muffin is also on the line-up as well as the returning chicken, bacon, and cheese croissant stuffers, served warm in a sleeve.
From Nov. 3 to Nov. 30, Dunkin' will invite customers to tap into the holiday spirit (and their wallets) and donate to the Dunkin' Joy in Childhood Foundation, an organization assisting children who are battling hunger and illness. Customers who donate in-store will receive a coupon that can be redeemed for $1 off the purchase of a dozen donuts, which expires on Dec. 31.
Sign up for The Dish
Stay up to date on the latest food news from Boston.com.