Food News
Expanded outdoor dining will continue in Cambridge after COVID-19 relief measures expire
The new policy applies to the 2022-2023 outdoor dining season.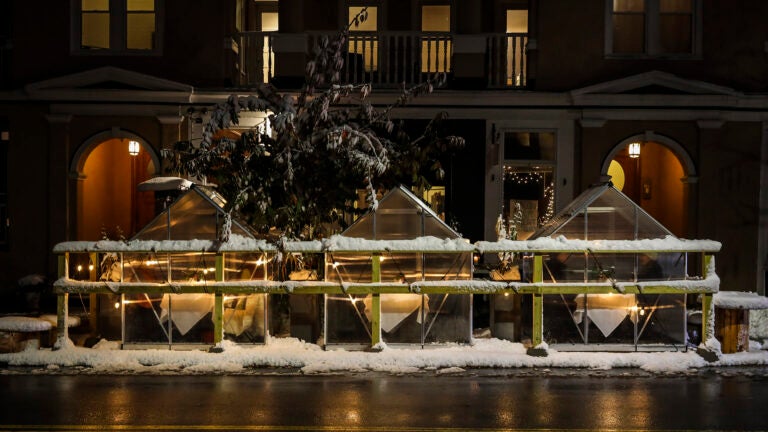 The City of Cambridge announced Nov. 9 that it is expanding its outdoor dining policy to include "popular" relief measures implemented during the pandemic, and that this policy will continue after the state's COVID-19 relief measures for outdoor dining end on April 1, 2022.
The City of Cambridge Outdoor Dining Policy applies to the 2022-2023 outdoor dining season, and is eligible for new and existing restaurants that are looking to extend their licensed premises to an outdoor area. The policy does not apply to outdoor dining spaces that are operating on a temporary license and permit; those will expire on April 1, after which time the restaurant can apply for a new permit.
Some of the measures that Cambridge is folding into its new outdoor dining policy are:
an extension of outdoor dining season from April 1 to November 30. The City will be evaluating the extension of the outdoor dining season post 2021-2022 to determine the future of winter outdoor dining.
restaurants will be allowed up to two contiguous parking spaces for patio use.
sidewalk patios must be curbside.
patio barriers shall be temporary in nature and limited in height. A solid barrier can be no more than 42 inches high.
an expansion of the patio heater program citywide.
"Throughout the pandemic, outdoor dining has been a lifesaver for many of our restaurants, and a great opportunity for our community to come together safely," Louis A. DePasquale, Cambridge city manager, said in a press release. "Creating this new city policy that allows for the continuation of these expanded relief measures is another important step as our small business community continues to work their way back from the impacts of this pandemic."
Cambridge's temporary outdoor dining licenses were recently extended through April 1. In contrast, Boston's temporary outdoor dining program ends on December 1, except for sidewalk dining on public property, which ends April 1. Another exception is the North End, which was required to end outdoor dining on Nov. 1.
For Boston's Dec. 1 end date, licenses must remove all patio equipment from the private and public way by Dec. 9 at 5 p.m.
The City of Boston is currently working on a permanent outdoor dining program.
Sign up for The Dish
Stay up to date on the latest food news from Boston.com.