Food News
Pour House is set to return in early 2022. Here's what we know.
Landlord Charles Talanian said it will be exactly the same as the previous Pour House.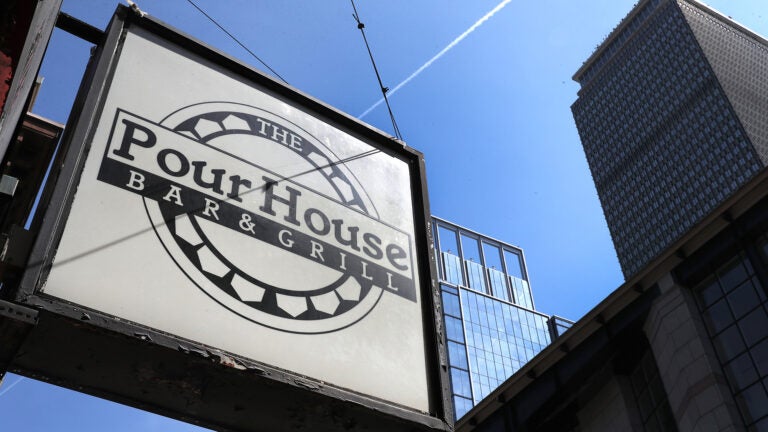 Call it a Christmas miracle.
Last week, it was reported that Pour House, a popular Boylston Street bar that shuttered in September 2020, was making a comeback. The better news? The bar will reopen exactly as it was prior to the pandemic. Somewhere, Rihanna is already planning her return.
This isn't the first time that fans of the Boylston Street watering hole were promised a resurrection. Shortly after the bar closed, Charles Talanian, president of ​​realty firm C. Talanian Realty Co., told Boston.com that he had plans to reopen it at some point, though he didn't know whether it would be permanent or not. More than a year later, it appears his plans are on track.
"It's going to reopen exactly as the [previous] Pour House," Talanian told Boston.com on Thursday. "The menu, everything is going to be the same."
While Talanian has owned the building that houses Pour House for roughly 40 years, he said he's in the process of buying back the Pour House entity that he had previously owned with two partners, with plans to lease it to a management group that will run the bar. Talanian confirmed that Charles Hitchcock, a restaurant industry veteran who previously managed McGreevy's on Boylston Street, will run the bar when it reopens.
Talanian said that the purchase of Pour House includes its liquor license and all of its furniture and memorabilia, and that diners can expect to find the space essentially unchanged. But he acknowledged that he doesn't know how it will fare almost two years after its closing.
"Pour House had a great run for a good 40 years, but maybe it won't work," he said. "We don't know. I think drinking habits have changed, dating habits have changed, people meeting each other have changed. Maybe it won't be the same old Pour House like it was. That's something that's going to be tried and tested."
The bar was a special place for longtime customers and employees, including Matt Champlin and Christine Corning, who got engaged there in August after Talanian agreed to open the shuttered bar for one night only. Corning, a former Pour House employee, said that visiting her old stomping grounds brought her closure. She may get to visit again when the bar opens in early 2022, which is when Talanian said he hopes it'll be up and running.
Another shuttered Boylston Street bar, Lir, might make a comeback, but its fate is on shakier ground. Roughly a decade ago, Talanian bought the building Lir was in "for the sake of development." When the pandemic hit, the tenants bought out their lease and took their liquor license with them. Talanian is currently in the process of purchasing Marliave's liquor license for Lir "for safety's sake," but said he's not sure what he's going to do with the space.
"There's a lot of people scrambling around wanting to be in there," he said. "We have marijuana companies looking for locations, too. I'm just not sure about development."
There are other Boylston Street bars that won't be making a triumphant return. McGreevy's shuttered in August 2020, and there are plans in the works for it to reopen as an upscale, farm-to-table restaurant. Whiskey's, which Talanian also owned with two partners, closed in July 2020. The space remains empty.
Sign up for The Dish
Stay up to date on the latest food news from Boston.com.