Food News
Food trucks will return to the Greenway in April
Six new trucks will debut during the 2023 season.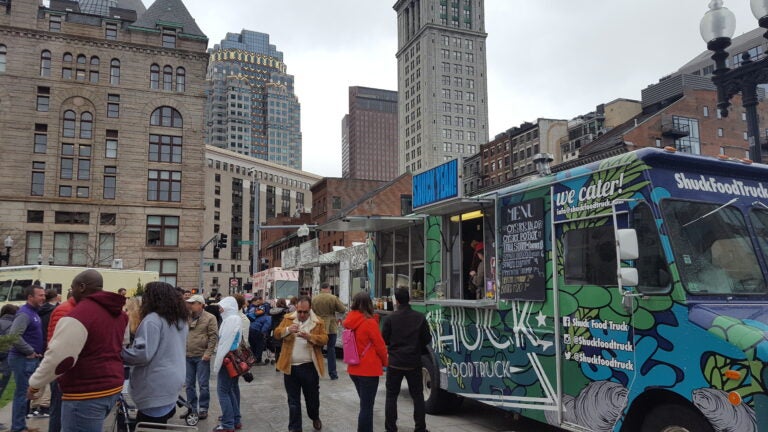 Food trucks will once again line the Rose Kennedy Greenway beginning in April.
The Rose Kennedy Greenway's Food Truck Program in 2023 will include 18 trucks, six of them new. The season begins April 3.
The trucks will serve up more than 15 cuisines, according to the Rose Kennedy Greenway Conservancy.
This year's schedule is more "robust" than during the pandemic, according to Olivia Horte, programs manager at the Rose Kennedy Greenway Conservancy, with three to five trucks daily on Dewey Square and one to three trucks daily on Rowes Wharf Plaza.
"With several options to choose from, we hope to see crowds return to the park and reestablish The Greenway as the premiere outdoor dining experience downtown," said Horte, in a statement. "Plus, with a diversity of cuisines and a multitude of tables and chairs, benches, and lawns on which to enjoy your meals, we hope to provide a green, peaceful, and delicious respite for the City's workforce."
Trucks new to the program this year are Kush by Saba, Nothing Bundt Cakes, Paisani, Tacos Calleteco, Vaz and Mac, and Wanderlust.
Returning food trucks include Bibim Box, The Chicken and Rice Guys, The Cookie Monstah, The Dining Car, Gogi on the Block, Indulge India, Jamaica Mi Hungry, Moyzilla, Papi's Stuffed Sopapillas, Revelry, Tea Station, and Tenoch.
The 2023 Greenway Food Truck Festival will take place on May 6 from 11 a.m. to 3 p.m., which will include food trucks, the Greenway Artisan Market, the Trillium Beer Garden, Greenway Carousel, and splashing in the Rings Fountain.
On Saturdays from May 6 to Oct. 28 and Sundays from May 28 to Oct. 8, select food trucks will take part in the Greenway Artisan Market at Milk Street and State Street along Atlantic Avenue.
Food trucks can be found throughout The Greenway at the following weekday locations:
Dewey Square Park, beginning April 1
Rowes Wharf Plaza, beginning April 1
Trillium Garden on The Greenway at High Street, beginning April 13
The Rings Fountain at Milk Street, beginning May 1
The Greenway at State Street, beginning May 1
The Greenway Carousel at Tiffany & Co. Foundation Grove, beginning May 1
Need weekend plans?
The best things to do around the city, delivered to your inbox.