Food News
Grace by Nia opens in the Seaport this week
The jazzy 'getaway' opens its doors Thursday.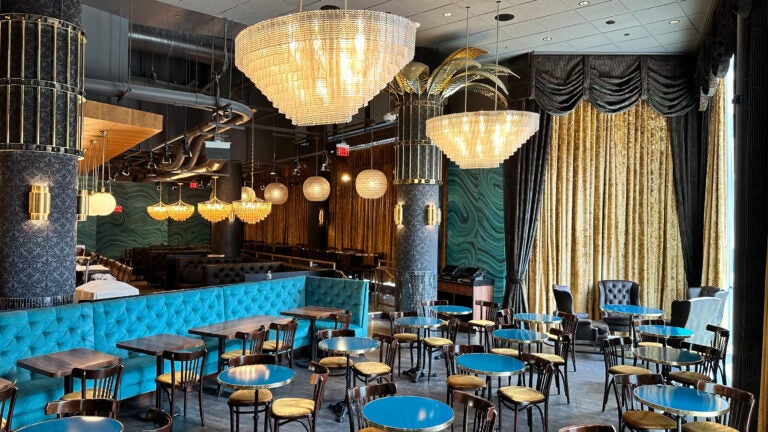 Grace by Nia opens in the Seaport on May 11, adding not only another new restaurant to the bustling nightlife area, but an additional music venue, this one highlighting jazz.
Roxbury native Nia Grace, owner of Darryl's Corner Bar & Kitchen and The Underground Cafe + Lounge, collaborated on the venue with veteran Boston-based entertainment giant Big Night, which operates 20 restaurants, bars, and club venues, including the Seaport's Empire, The Grand, and Scorpion Bar.
Set prominently on Seaport Boulevard and styled like a traditional supper club, the 5,000 square foot tiered venue includes a lounge with a stage on the main floor with adjacent restaurant seating.
Boston-based design company Niemitz Design Group led the design team, which worked closely with Grace on creating her vintage vision.
"I wanted to see some of the old things I love about places like The Cotton Club, The Copa, and The Strand Hotel that was here in Boston," Grace told Boston.com.
The nostalgic look pairs smoky colored floor to ceiling drapes and a bold color scheme with blue and teal, interspersed with interesting wallpapers, and lots of textures.
"It's amazing, it is a work of art," Grace said. "It is one of the most gorgeous places in Boston. There are gilded, gold finishes throughout; there is so much detailing. It takes me 10 times to look around and catch everything — and then I still come back 10 more times and see more."
The idea was to create a transportive visual experience: "You could never feel overdressed here. It's Hollywood, Vegas, and Harlem all in one," she said.
Music programing includes live bands, as well as late night DJs.
"Jazz is a foundation for our live music, but we will have soul, R&B, funk, and blues," Grace said. "There is no bad seat in the house. The gallery is a little less active, for dinner or conversation."
Just as the music looks to the iconic musical creativity of America's South, the food menu is inspired by Southern cooking.
"The menu is inspired by my roots and has dishes from the South and from the islands," Grace said.
Menu highlights include Maryland blue crab cakes, fried Cajun-style oysters with garlic and parmesan; vegan red curry with cauliflower, sweet potato, and grilled naan; jerked Caribbean spatchcock chicken; gumbo ceviche served with plantain chips; and fried chicken with carrot cake waffles.
"The spice, vanilla, and cream cheese are a nice sweet element to the chicken. It is super decadent; it's one for the adventurer," Grace said.
For dessert proper, there's pecan pie made with bourbon, rich chocolate tart, and peach cobbler cheesecake: "It's more of a mousse and much lighter," Grace said.
Black and minority-owned spirit and wine companies are optioned for the drinks menu, which will include "oversized cocktails" for brunch, Grace said.
Grace described the venue as a mini staycation, providing everything for a full evening out in one spot.
"You can start with cocktails, have dinner, and watch a show," she said. "And maybe add dessert and some dancing after. You can call an evening here your complete getaway."
Grace by Nia is open daily, 4 p.m.—11 p.m. and for brunch, Sat. & Sun., 11 a.m.—3 p.m. at 60 Seaport Blvd., Boston.
Sign up for The Dish
Stay up to date on the latest food news from Boston.com.