Food
Recipe for no-bake cheesecake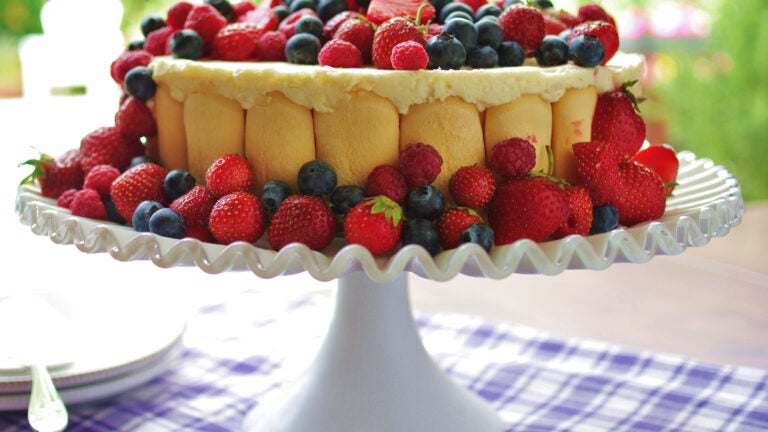 Makes one 9-inch cake
Brockton resident Martha Hunyadi Testa's late mother, Philomena Hunyadi, often served this no-bake cheesecake on her father's July birthday. The recipe came from a co-worker at the University of Connecticut in the 1960s, writes Testa. "My father's birthday was always celebrated outside at the picnic table under the shade of the big white pine tree in our yard. My mother often topped [the cake] with fresh strawberries from our garden.'' Use fresh blueberries or raspberries when they are in season.
3packages (24 per package) soft ladyfingers1pint heavy cream¾cup sugar2packages (one 3-ounce and one 8-ounce) cream cheese, at room temperature1teaspoon vanilla extract1quart fresh strawberries, hulled and halved lengthwise, or blueberries or raspberries or a mixture of berries
1. Have on hand a 9-inch springform pan. Line the bottom and sides with the ladyfingers, using a double layer in the center of the pan.
2. In an electric mixer, beat the cream and ¼ cup of the sugar until stiff peaks form. Transfer to another bowl; refrigerate.
3. In the electric beater, mix the cream cheese, remaining ½ cup sugar, and vanilla until soft and light.
4. Fold the whipped cream into the cream cheese mixture.
5. Spoon half the mixture into the pan and smooth the top.
6. Add another layer of ladyfingers. Pour the remaining cream cheese mixture on top and smooth the surface. Cover and refrigerate overnight.
7. Arrange the berries on the top of the cake.  Adapted from Martha Hunyadi Testa