Food
Recipe for Onion tart with pressed-in crust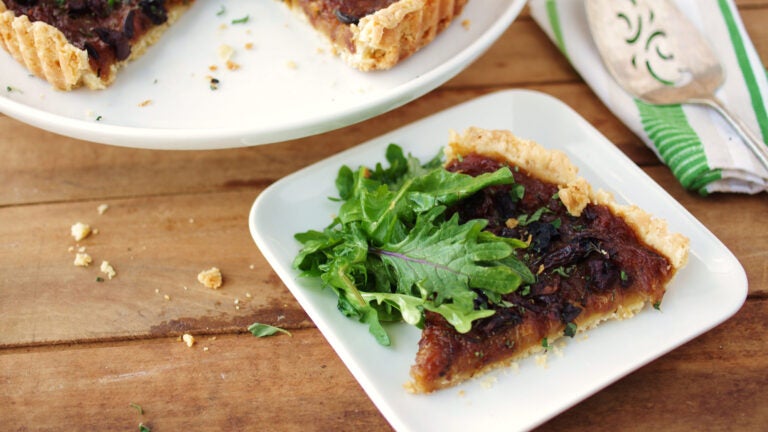 Serves 6
1¼cups flour⅛teaspoon salt½cup (1 stick) unsalted butter, chilled and cut up3½tablespoons ice water, or more if needed1¾cups caramelized onions½cup Nicoise or Kalamata olives, pitted and coarsely chopped3tablespoons grated Parmesan
1. Have on hand a 9-inch tart pan with removable base.
2. In a food processor, combine the flour and salt. Pulse to sift them. Add the butter and pulse just until the mixture resembles coarse crumbs. Add 3½ tablespoons of water and pulse just until the dough looks crumbly. Pinch the dough and if it feels moist, it's done; if not, add 1 to 2 teaspoons more water. (Don't let the dough come together as a ball.)
3. Transfer the crumbly dough to the tart pan. Using the heel of your hand, press the dough into the pan, pressing it toward the edges and up the sides. Set the dough on a rimmed baking sheet. Chill for 30 minutes or until firm.
4. Set the oven at 400 degrees.
5. Spread the onions in the dough and sprinkle with olives and Parmesan. Bake in the center of the oven for 35 to 40 minutes or until the crust is golden and the rim of the pastry has pulled away slightly from the edge of the pan. Cool for 10 minutes.
6. Place the tart pan on a small bowl and let the outer ring fall away. Slide the tart carefully onto a serving plate. Serve warm or at room temperature. Lisa Zwirn