Food
Recipe for pasta, pea, and radish salad with pistachio pesto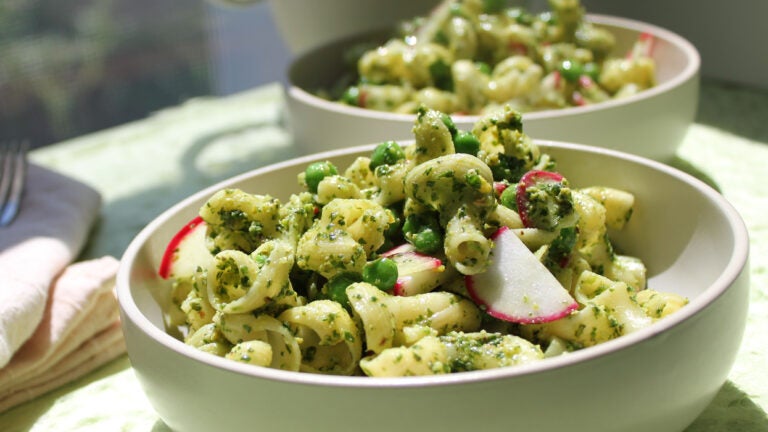 Serves 6
The pesto is made with equal parts parsley and basil, along with a large handful of fresh mint and unsalted pistachio nuts. Add it to a bowl of pasta shells with thinly sliced radishes and peas for a cooling supper.
2cloves garlic, chopped1cup fresh parsley leaves1cup fresh basil leaves¼cup fresh mint leaves½cup grated Parmesan ⅓cup shelled unsalted pistachiosGrated rind and juice of 1 lemonSalt and pepper, to taste½cup olive oil1pound dried pasta shells1bunch radishes, trimmed and thinly sliced2cups frozen peas, rinsed with cold water until thawed
1. In the bowl of a food processor, pulse the garlic, parsley, basil, mint, Parmesan, pistachios, lemon rind and juice, salt, and pepper.
2. Pour the olive oil in a thin steady stream through the feed tube only until the mixture has a rough texture. Taste for seasoning and add more salt and pepper, if you like.
3. Bring a large pot of salted water to a boil. Add the pasta and cook, stirring often, for 8 to 10 minutes or until the pasta is tender but still has some bite. Drain into a colander and, without rinsing, transfer to a large bowl.
4. Add enough pesto to coat the pasta. Stir in the radishes and peas. Toss gently. Taste for seasoning and add more salt and pepper, if you like. Catherine Smart