Food
Recipe for Swiss chard with pine nuts and raisins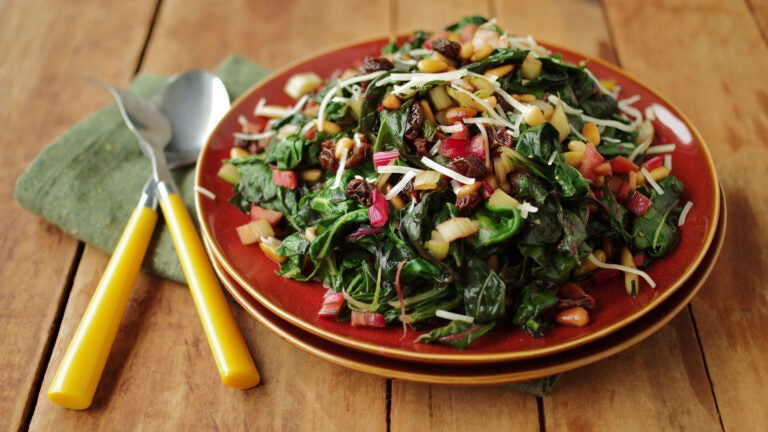 Serves 4
Swiss chard, a member of the beet family, is cultivated for its extremely nutritious leaves rather than its bulbous root. The many varieties of chard are often distinguished by the color of the stem. All are delicious and especially nice when a mix of colors are represented in a pan of sauteed chard. You'll find names such as "bright lights'' or "rainbow'' on bunches of chard in the market. Once home, soak them in a bowl of water; the leaves can be quite sandy and need more than a simple dunk. Popular with Mediterranean cooks, the earthy greens and their chopped stems pair well with the bold combination of pine nuts, raisins, and vinegar, a sweet-sour take on the greens. Serve them on their own beside grilled fish or toss with pasta for a vegetarian entree.
2tablespoons red wine vinegar2tablespoons water½cup raisins2large bunches Swiss chard2tablespoons olive oil½cup pine nuts2cloves garlic, thinly slicedJuice of 1 lemonSalt and pepper, to taste2tablespoons shaved pecorino
1. In a small saucepan, combine the vinegar and water. Bring to a boil.
2. In a small heatproof bowl, combine the vinegar mixture and raisins; set aside for 10 minutes.
3. Remove the stems from the Swiss chard. Chop the stems coarsely; keep them separate from leaves. Chop leaves into thick strips.
4. In a large, deep skillet, heat the olive oil over medium-high heat. Add the pine nuts, and cook, stirring, for 3 minutes or until they begin to brown. Stir in the garlic and chard stems. Cook, stirring, for 3 minutes.
5. Add the leaves to the pan. Cover and cook for 2 minutes. Remove the lid, stir well, and continue cooking, uncovered, for 1 to 2 minutes or until the leaves are wilted but still bright green.
6. Stir in the raisins and their liquid. Sprinkle with lemon juice, salt, and pepper. Garnish with shaved pecorino. Karoline Boehm Goodnick
This column offers ways to prepare native ingredients from the farmers' market, farm stand, or fishmonger. To see previous recipes for hake, zucchini, eggplant, corn, striped bass, tomatoes, bluefish, and more, go to www.bostonglobe.com/food.