Food
Recipe for Greek-style roast chicken and potatoes with lemon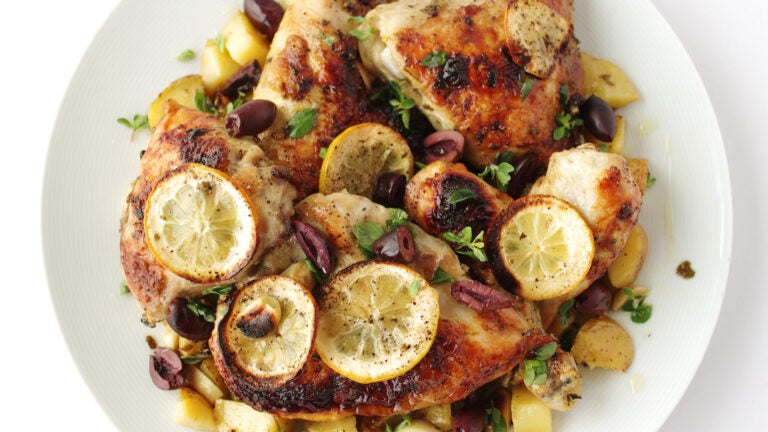 Serves 4 with leftovers
5tablespoons olive oil 3large Yukon Gold or Yellow Finn potatoes, cut into ½-inch-thick slices Salt and pepper, to taste2lemons¼cup chopped fresh oregano4pounds chicken parts (including 2 breast halves), skin and bones intact6cloves garlic, halved ¾cup chicken stock ½cup pitted Kalamata olives
1. Set the oven at 350 degrees. Have on hand a large roasting pan. Use 1 tablespoon of the oil to rub the inside.
2. Place the potatoes in the pan and sprinkle with salt and pepper. Roast for 20 minutes.
3. Grate the rind of 1 lemon and place it in a measuring cup. Halve the lemon and squeeze the juice into the cup. Halve the other lemon. Juice half into the measuring cup; you should have ¼ cup of juice. Thinly slice the remaining half.
4. To the cup of lemon juice, add the remaining 4 tablespoons of oil and oregano; blend well.
5. Arrange the chicken, skin side up, on the potatoes. Scatter the garlic around the chicken. Spoon the lemon dressing over the chicken and place a lemon slice on top of each piece. Sprinkle with salt and pepper. Pour the stock around the edges.
6. Roast for 1 hour or until a meat thermometer inserted into the thickest part of the chicken registers 160 degrees. Baste the chicken several times with the pan juices.
7. Turn on the broiler. Set an oven shelf about 8 inches from the element. Broil the chicken for 5 minutes, watching the meat carefully, or until the chicken skin is golden.
8. Reserve 2 chicken breasts for the salad. Transfer the chicken and potatoes to a serving platter. Pour the pan juices into a gravy separator or large cup and degrease. Spoon the juices over the chicken. Sprinkle with olives.  Lisa Zwirn