Food
Recipe for Alice Medrich's chocolate-chip cookies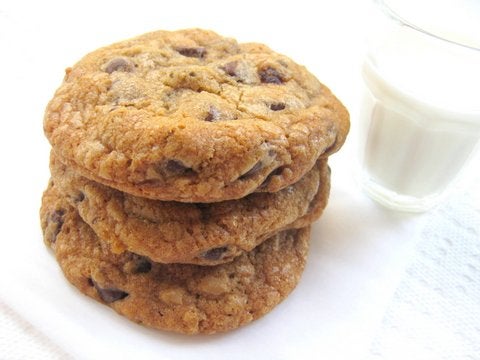 Makes 3 dozen
Author Alice Medrich takes cookie making to the level of an art form. Of the many (many!) chocolate-chip cookies we have made, none touch this recipe from "Chewy Gooey Crispy Crunchy Melt-in-Your-Mouth Cookies.'' The recipe's secret is melting the butter and letting the batter sit overnight until the butter really soaks into the dry ingredients. The results are super-crisp cookies.
2¼cups flour1teaspoon baking soda1teaspoon salt1cup (2 sticks) unsalted butter¾cup granulated sugar¾cup brown sugar2eggs1teaspoon vanilla extract2cups chocolate chips plus 1 cup chopped walnuts or 3 cups chocolate chips
1. In a bowl, whisk the flour, baking soda, and salt to blend them.
2. In a large saucepan, melt the butter. Set it aside to cool.
3. Add the granulated and brown sugars to the butter. Stir in the eggs, one by one, followed by the vanilla.
4. Stir in the flour mixture. Stir in the chips and nuts, if using.
5. Transfer the batter to a plastic container, cover, and refrigerate for 1 day.
6. Let the dough sit out for 30 minutes to soften.
7. Set the oven at 375 degrees. Line 2 baking sheets with parchment paper.
8. Scoop the dough onto the baking sheets in walnut-size balls. Bake the cookies for 12 to 14 minutes, rotating the sheets, or until they are firm to the touch.
9. Slide the cookies on their parchment papers onto wire racks to cool. Store in an airtight container.  Adapted from "Chewy Gooey Crispy Crunchy Melt-in-Your-Mouth Cookies''