Food
Shake Shack Changed their Fries, and All Hell Broke Loose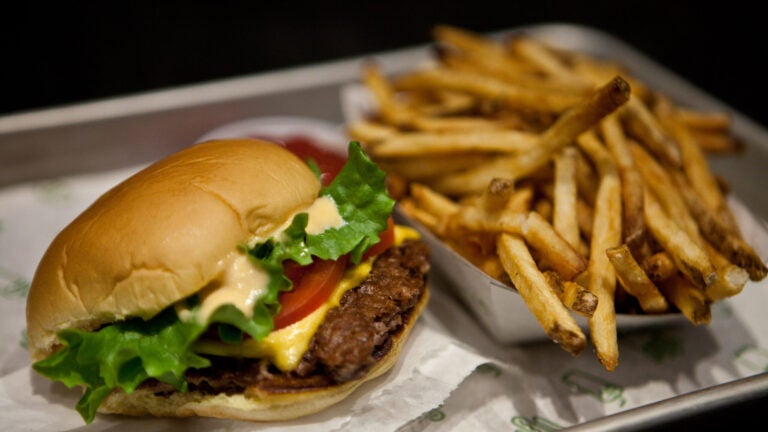 Hell hath no fury like a Shake Shack diner scorned.
The popular burger and ice cream chain is slowly transitioning their locations from crinkle-cut to hand-cut French fries, and diners are sounding off in a manner that rivals the rollout of Crystal Pepsi, or when Netflix introduced Qwikster.
A simple search for "Shake Shack fries'' on Twitter reveals everything from praise for the freshly-made fries to threats of a boycott until crinkle-cut returns.
[fragment number=0]
[fragment number=1]
[fragment number=2]
[fragment number=3]
[fragment number=4]
At the Chestnut Hill location, Shake Shack began its transition to non-frozen, hand-cut fries with visible potato skins just a couple weeks ago. When Lauren Finklestein, 26, walked in, she noticed all the employees were wearing new t-shirts that read "hand cut fries.''
"At first I thought it was going to be an option, but it turns out it was the replacement,'' says Finklestein. "I was already not super psyched because I was a fan of the crinkle cut… and can't say I was too pleased.''
Many patrons, including Finklestein, feel the change in fries is part of Shake Shack's attempt to project a healthier image.
"I'm just picturing their positioning and branding, and how that translates, trying to be more 'natural' and 'healthy.' I think the hand cut fries gives the feeling of 'we have a chef in the back cutting these up,''' she added.
According to representatives for Shake Shack, the new fries are in fact a move in a fresher direction.
"Our culinary and operations teams tasted every fry they could get their hands on,'' said Greg Waters, Senior Manager for Marketing and Communications at Shake Shack. "They traveled to farms all across the Northwest in their hunt for the best crop of Russet potatoes. They tasted. They tested. The result is a fresh, hand-cut, twice-cooked fry that we feel is far superior to its frozen predecessor.''
But that doesn't mean the switch-over has been an easy one.
"Making the switch to a fresh, hand-cut fry has honestly been the toughest decision we've ever made at Shake Shack,'' said Waters. "Change is scary for people, including us, and some of our biggest fans have let us know that they're upset about the change.''
Edgar Alvarez, a New York technology editor, is one of those long-time fans.
"They kept talking about how they listened to people, but who are these people?'' said Alvarez, 26. "I literally don't know anyone who's said 'Hey, I hate Shake Shack Fries.' Also, I don't go to Shake Shack for fresh fries. If I wanted that, I'd go to… I don't know, a farm somewhere. Or I would just make them myself. Also they're not even fresh. They're pretty dry and terrible.''
[fragment number=5]
But it's not just detractors filling the Twittersphere with comments.
Lauren A., 24, says the new fries are "wonderfully crispy.''
"When I first had the Shake Shack fries, they were crinkle cut and didn't taste spectacular to be honest. I'm a twenty-something on a budget so when I go out to eat, I like to order something I can't simply make myself,'' says Lauren, who lives in Washington D.C. "I'll definitely swing by Shake Shack more now for their new fries.''
For fans of the new fries like Lauren A., there's good news: Shake Shack has no intention of bringing back crinkle-cut, so everyone should just get used to them.
"We're full steam ahead with our new fresh, hand-cut fries,'' says Waters. "We stand behind them 100% and there's no going back now. We're focused on making them the best they can possibly be. We realize we may not win everyone over, but we're certainly going to try! We hope we'll meet the expectations of our fans for years to come with freshness and quality.''
After-thought: If you want a direct comparison:
[fragment number=6]