Food
Eating Contests: Don't Do Them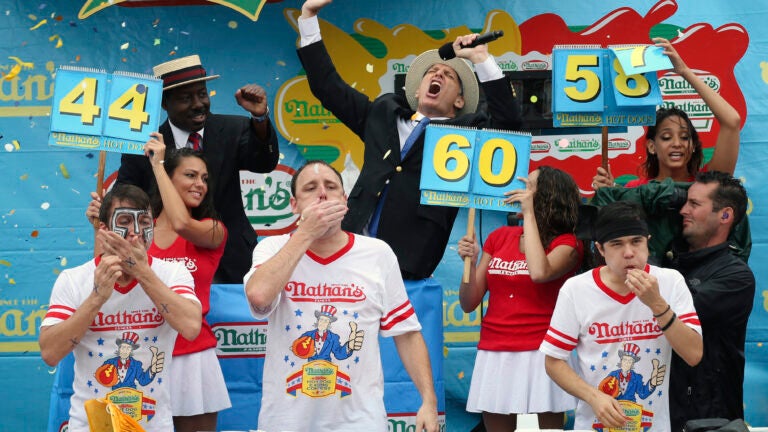 The Fourth of July is a time of fireworks and barbecues. And eating contests! Last week, Joey Chestnut retained his title as America's best eater at the annual Nathan's Famous Fourth of July Hot Dog Contest by finishing off 61 dogs in 10 minutes. But where there is triumph, there is also tragedy. Walter Eagle Trail, 47, choked to death last Thursday in a hot dog eating contest in South Dakota.
It's not the first time a speed-eating competition has turned into someone's last meal. Here's a buffet of gastronomic misfortune:
Chili pie: A 64-year-old Australian man suffered a heart attack during a pie-eating contest last year. His last words, according to the Brisbane Times, were "jeez, this chili pie is hot.'' (A spokesman for the restaurant that hosted the competition said the pie "was not overly hot.'')
Fairy cake: In Great Britain, a "fairy cake'' is basically a small cupcake. In 2008, 34-year-old Adam Deeley was trying to beat his friends in a contest to see who could fit the most fairy cakes into his mouth. Deeley managed to get five, then choked to death. "Clearly, any activity involving putting large amounts of food in the mouth is dangerous,'' said the local coroner. "It does not take me to say this sort of thing should be avoided.''
Sausages: Last year, a 60-year-old man died during a sausage-eating contest in Romania. Though the crowd knew he was choking, apparently no one knew how to do the Heimlich maneuver. By the time EMTs arrived, it was too late.
Egg and cheese-filled steamed buns: A 23-year-old Taiwanese man vomited uncontrollably, passed out and died during a steamed bun eating competition at his college. The prize had he come out on top? Approximately $60.
Gulab jamuns: A Canadian man was left comatose after choking on the Indian dessert during a Diwali celebration eating contest in 2012. Samaljit Aulakh emerged from the coma with severe brain damage and was left unable to speak or walk.
Hemlock bark: Eating contests were occasionally held during potlatches, huge celeratory feasts held by indigenous people in the Northwest coast of Alaska and Canada. According to local legend, one of those ended in death. After eating a lot of cranberries and dried hemlock bark, a man drank some water. The water caused the bark to expand and his stomach to burst.
Cockroaches and worms: Florida man Edward Archbold, 32, collapsed and died shortly after winning an insect-eating contest. He ate 35 horn worms, two ounces of meal worms and "a bucketful'' of cockroaches. An autopsy determined that he choked to death on roach parts and his own vomit. Archbold's prize for winning the contest was an ivory ball python.
Water: In 2007, Jennifer Strange, 28, drank about two gallons of water in an effort to win a Nintendo Wii for her three children. She finished in second place, went home, and died of acute water intoxication.
There are also the long-term effects of consuming massive amounts of food in a short amount of time to consider, especially when that food isn't the most healthy thing to begin with. Major League Eating, which sanctioned last weekend's contest at Nathan's, insists that all of its competitions take place "in a controlled environment with appropriate rules and with an emergency medical technician present.''
While that might prevent some of the deaths above, several of the best competitive eaters told Deadspin that they don't just throw the food back up when the contest is over, but actually digest it.
For hot eating champion Joey Chestnut, that would mean about 17,000 calories, 1,000 grams of fat and over 45,000 milligrams of sodium being suddenly introduced to his digestive system. And that just doesn't seem healthy.
A 2007 study in the American Journal of Roentgenology found that competitive eaters run the risk of stretching their stomachs to the point that they can't return to their original size after the contest, which would require the surgical removal of part – or all – of their poor, overworked stomachs.
If you're still willing to take your life in your hands and eat a lot of food quickly, you might as well do it for something delicious. This month, there are two local lobster roll-eating contests: July 12 at the Salem Willows Seafood Festival and the Third Annual National Lobster Roll Competitive Eating Championship at the Bangor State Fair on July 27. Bon appetit.