Food
We Tried Pizza Hut's New Giant Cookie And Liked It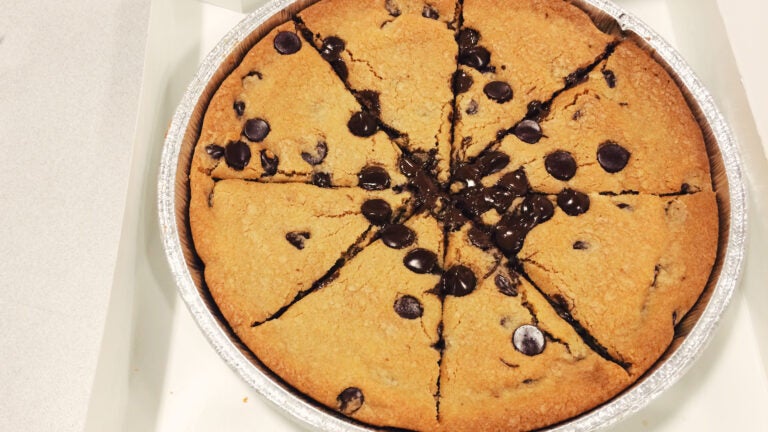 One of the things I've come to terms with when on my quest for the perfect junk food is that most of these items come at face value. Which I really have to say is one very redeeming quality of junk food. Expectations are usually set fairly low so they're typically met, and in some rare cases, exceeded. Reese's Peanut Butter Oreos taste like peanut butter frosting with Oreo cookies. Dorito's fried triangles of doom taste like truck stop cheese dusted with Dorito's powder.
And a giant chocolate chip cookie from Pizza Hut is really just a giant chocolate chip cookie.
But is there really anything wrong with that?
Pizza Hut introduced the new "Ultimate Hershey's Chocolate Chip Cookie'' to its dessert menu Monday, following a "study'' where they found 70 percent of pizza eaters want something sweet after eating pizza. Sounds extremely scientific — but also, probably correct.
The brand's chief marketing officer Carrie Walsh told USA Today that the addition is to attract a younger audience. "Millennials tell us it's what they want,'' she said. "They like to cap off a great pizza with a great dessert.''
We ordered a new pizza cookie, priced at $5.99 (or $1 less if you order it with a pizza), and picked it up, fresh from the oven at their Medford location.
"It is super hot and my whole car smells like chocolate chip cookie heaven,'' says the e-mail from my editor as she was en route to the office with the cookie. I immediately wish we had ordered 20 cookies. Also, a Ninja Turtles pizza.
The cookie arrives, piping hot and eight inches in diameter, sliced into pizza-esque pieces, in a tin pie plate and a box. We ate it all. There was no milk involved. Also, no pizza.
Following the tasting, I sent out an e-mail to my colleagues asking for their feedback. Also, an awesome .gif of Cookie Monster. Below are excerpts from the e-mail chain that followed:
Adam Vaccaro: Better than a Pizza Hut pizza at least.
Lara Salahi: Too much sugar — the cookie from the cafeteria is way more delicious.
Zuri Berry: Just wanna +1 Adam's comment. Also reiterating, more chocolate than cookie. And you can't possibly bake a cookie that thick and large and have it even — soft or hard — all the way through.
Angela Nelson: Loved it — would definitely order if I was getting a pizza for a group. It would be dangerous if I ordered it all for myself. There's one piece left and I just might steal it…
Sanjay Salomon: Kind of doughy. I liked it, but I wouldn't go out of my way to get one.
Megan Turchi: When I think of the traditional, textbook sense of the word cookie it's this. Nothing special — it's just a "cookie.''
Eric Levenson: I'd definitely eat several pieces after 11 p.m. and feel terrible the next morning.
Shannon McMahon: Pretty good, kind of greasy. It was pretty much what I think a microwaved cookie would taste like.
Chelsea Rice: I remember way too many cookie cakes with slices that were so sugary they made me feel ill. They didn't even taste like cookies! This is a seriously large cookie. Serious chocolate. Serious chips. Seriously chewy. Perfect for the sleepovers of teen years past! Does it come with vanilla ice cream? Cause it should.
Glenn Yoder: I'm going to disagree with Chelsea's comment. It is not better than a cookie cake. Very few things in this crazy ass world are. That said, I didn't hate it. I actually liked it just fine – not like "have it delivered to my home'' fine, but surely "accept for free at work'' fine. As a bit of a cookie man, I prefer my cookies softer and this was certainly soft. Could have benefited from a harder edge (crust?), like that of the Uno's pizza cookie (which is baked in a deep dish pizza pan). To that end, this could also use ice cream. Then everyone would be satisfied – and a lot heavier — like I was, when I lived next to an Uno's in college.
Perry Eaton: It was definitely tasty, but I'd likely have no appetite for it after eating several slices of pizza. So basically, it's delicious, but I would probably never purchase it.
Sara Morrison: It's a cookie.