Food
Dunkin' Donuts Addresses the Double-Cup Iced Coffee Issue—At Last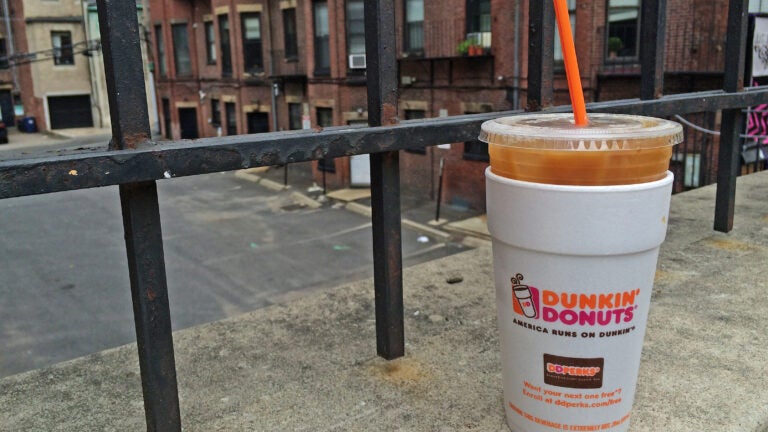 When you pick up your free doughnut today for National Doughnut Day, will you also pick up an extra cup for your coffee?
Other regions might calibrate their iced-coffee consumption to the outside temperature, but in New England, no temperature is too low for some cold caffeination. And as the temperature drops, the number of Dunkin' Donuts double cups on the streets of Boston spikes.
Dunkin' double cups are unofficial, sorta-New Englandy, somewhat regulated beverage containers that are, quite literally, a cup within a cup: The plastic iced drink cup is fitted with a hot-drink-appropriate foam cup that sometimes comes free of charge, and other times costs a few cents. (Franchise owners are given the option to charge.) The foam acts as a makeshift sleeve that keeps the cup's exterior chill away from already-cold hands. It also has the benefit of acting as a thermal insulator — kind of like an iced-coffee koozie. And those who double-cup in hotter months do so because, they claim, the foam cup is a condensation catch-all.
It may be convenient, but double-cupping is also tremendously wasteful, given that the foam cup then goes into the trash, unused (sort of), along with the original plastic cup. Styrofoam in particular is so harmful to the environment that Brookline banned its use by food establishments last fall.
A new, less environmentally taxing double cup might be on the horizon. In September, Dunkin' announced that it had started testing alternatives to foam cups in select markets earlier this year. At 100 locations throughout Massachusetts and Vermont, foam cups were swapped for either a recyclable polypropylene version or a double-wall paper version.
[fragment number=0]
"Consumers want a more environmentally friendly product, but they don't want to sacrifice the performance of the current foam cup,'' Dunkin' chief supply chain officer Scott Murphy told Bloomberg. And according to a statement from public relations manager Justin Drake, the new options will continue to roll into other stores over the next year and a half.
But how will this change the double cup?
We asked Dunkin' if the option will be phased out with the swap, or if any franchises using the new hot cups experienced drops in dual-layer requests. Drake told Boston.com via email, "We don't have that specific information, but in the future, it will be up to the franchisees if they'd like to charge for an extra cup.''
In other words, you are welcome to continue to request your plastic-on-plastic cold cup, or your plastic-on-dual-layer-paper cup. And pay, or not pay, as determined by the discretion of the location owner. You can also do what other cold-weather iced coffee drinkers do: Bite the bullet and carry your java without a protective barrier. Or, you know, just buy some gloves.
Dunkin Donuts through the years
[bdc-gallery id="142656″]