Food
Dear America, We Invented All Your Candy. Love, Boston.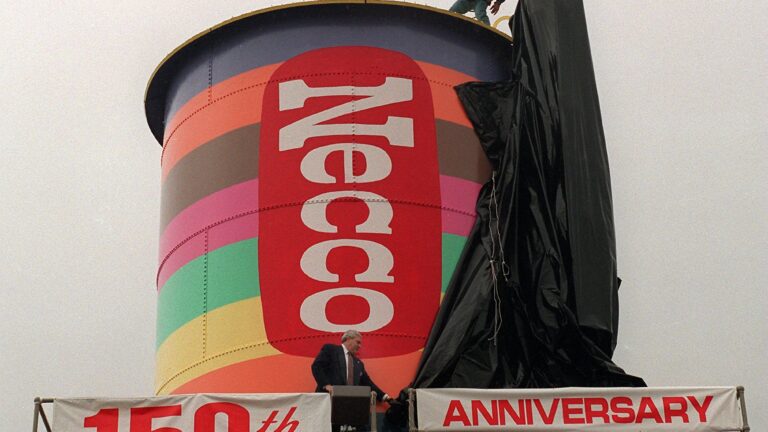 When it comes to candy, Hershey, Pennsylvania ain't got nothing on Boston . Sure, we might not be known as a hub for candy anymore, but ever since back in the day the area has been awash with chocolate and sugar. Here are just a few Halloween favorites that have Boston origins.
Junior Mints
These little mint and chocolate candies were introduced by the Cambridge-based James O. Welch Company in 1949, and over 15 million of them are still made in Cambridge every day. Originally named after a Broadway show, Junior Miss (starring Northampton, MA born actor Stephen Dunne), Junior Mints became famous as a movie theater snack and infamous because of an episode of "Seinfeld'' where one of the mints almost kills a man.
Necco Wafers
The New England Confectionary Company, or Necco, is the oldest continually running candy company in the country, making candy since at least 1847. It was based on Mass. Ave from the early 1900s until 2003, when it moved all operations to Revere. Its main product is the Necco Wafer, colorful discs of seven different flavors from lime to chocolate. The company switched to a new formula in 2009, but it was so unpopular that Necco switched back in 2011.
Sweethearts
Typically associated with Valentine's Day (but we all been given some on halloween, let's face it) sweethearts are another of the Necco range that are made in Massachusetts. Necco makes 8 billion of them every year, and it claims that sweethearts outsell chocolate on Valentine's. The company recently introduced Sweethearts En Español. Te Amo.
Sugar Daddies and Sugar Babies
The term sugar baby and sugar daddy mean very different things now than they did when The James O. Welch Company chose the name for its new line of caramel candy. The Sugar Daddy, from 1926, is a caramel lollipop and the baby version, from 1935, is basically just little bites of caramel. Just like Junior Mints, these candies are still made in Cambridge.
Mary Jane
Kids may not rush to dress up like Paul Revere on Halloween any more (if they ever did?), but the man himself has a connection to candy. The Charles N. Miller Company ran a candy factory out of Paul Revere's house during the late 1800s. In 1914 they introduced the Mary Jane bar, a molasses and peanut butter chewy candy, and the packaging hasn't changed too much since. In 1990, the company was sold to, you guessed it, Necco.
Squirrel Nut Caramels
These peanut caramels originally came out of Roxbury in 1890, made by the Austin T. Merrill Company. The 90's swing revival band, Squirrell Nut Zippers, named themselves after the vanilla flavoured variation of the candy. From 1915 until 1999 the candy was manufactured in Boardman Street in Cambridge, before being sold to a Texan nut company. In 2004, the candy half of the company was brought back to Massachusetts by a little candy maker you might have heard of called Necco.
Charleston Chew
When the Fox Cross Company was looking to rename their Nu Chu, they chose to name it after the most popular dance of the era, the Charleston. The company changed hands many times but was based in Cambridge in the 30's and 40's. The factory moved to a bigger location in Everett in the 60's before being eventually bought by Tootsie Roll Industries, bringing production back to Cambridge. Unfortunately the Tootsie Roll itself isn't made in Boston, but we can't have it all, I guess.