Food
Top Chef Boston Ep. 5 Recap: 'It's War!'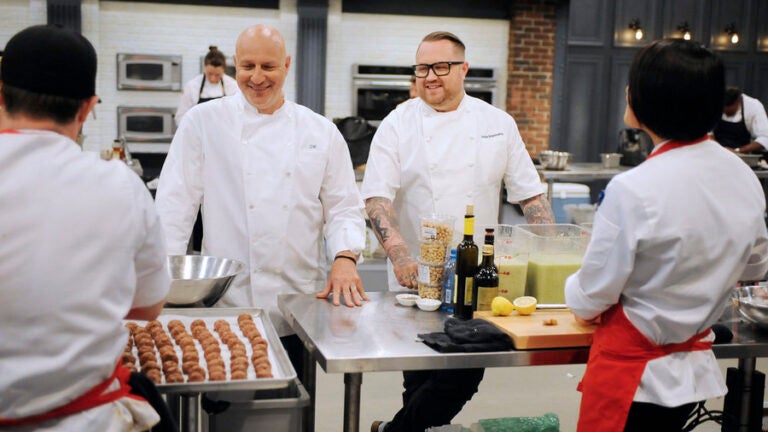 Hoo boy, where to start? Let's get right to the controversy, which is impossible to ignore. In case you missed it, TMZ reported last Thursday that this season's most hated contestant, Aaron Grissom, was arrested on felony domestic violence charges. I immediately reached out to Bravo for comment and never heard back, and as far as I can see there hasn't been any further coverage of the arrest. Aaron also hasn't tweeted since November 4, if that's something you keep track of.
Knowing that the season was filmed months ago, it's difficult to think of what recourse Bravo would have at this point. In addition to being innocent until proven guilty, it's not as if Bravo could edit him out of the remaining episodes. Upsetting as it may seem, for all we know Aaron could have made it to the final episode, or even won the whole damn thing. Or he could have been eliminated this week—but you'll have to keep reading to find out.
In other news, we're down to 10 contestants! As numbers dwindle, tempers only seem to rise. But on the plus side, there's also fewer people to keep track of! Last week's double-elimination sent Rebecca and James home, but hometown hero Stacy was spared. At the beginning of this week's episode, Stacy didn't pull any punches, admitting she was sure she was being sent home for her performance at Via Matta. "Being on the bottom as much as I have been, it's demoralizing,'' she added. Judging by how Bravo typically edits episodes, I was looking for Stacy to bounce back in a big way this week.
Quickfire Challenge
Guest judging this week's Quickfire was tattooed punk rock chef Jamie Bissonnette, co-owner of Toro in Boston and New York and Coppa (my preferred neighborhood spot) in the South End. Bissonnette, a 2014 James Beard Award winner who epitomizes Boston's culinary ascent, made a cameo in the first episode of the season, and I hope this isn't the last time we see him this season. No longer a rising star, Bissonette has officially arrived, and he deserves as much national exposure as possible.
The contestants have now had four episodes to size each other up, and this week's Quickfire played on those slowly fermenting rivalries. Five of the chefs were able to choose any contestant to face in a head-to-head showdown, with the wrinkle that the opponent would get to pick the cooking method and dish. The chefs had 30 minutes to prepare their dishes using expertly product-placed Reynolds products.
Katsuji chooses Aaron
Katsuji: Sake-infused chipotle broth with smoked jalapeños and salmon
Aaron: Lightly smoked wild salmon with tarragon crème fraîche and pickled shallot
Fighting Words: "I want to show this kid how real chefs behave.'' —Katsuji
Winner: Katsuji
Melissa chooses Katie
Katie: Grilled chicken breast with pine nut baked beans, apple and cucumber pineapple slaw
Melissa: Smoked and seared scallop with charred corn, smoked bacon and grilled fennel
Fighting Words: "I feel confident I can take her on.'' —Melissa
Winner: Katie
Keriann chooses Stacy
Keriann: Trout with white wine butter sauce, bell pepper, fennel and serrano chili
Stacy: Trout with heirloom tomatoes, basil, masala onions and spinach glass
Fighting Words: "Of the chefs left, I think Stacy is definitely the weakest.'' — Keriann
Winner: Keriann
Doug chooses Adam
Doug: Steamed mussels in orange and saffron butter, lemon preserve with roasted sweet peppers
Adam: Vadouvan-spiced steamed mussels, fresno chili broth with apple and toasted pumpkin seeds
Fighting Words: "I'd definitely like to knock him down a peg.'' —Doug
Winner: Doug
Mei vs. Gregory (last two remaining)
Gregory: Steamed shrimp dumpling with ginger and herbs
Mei: Pork dumpling with black vinegar
Fighting Words: "I know that my dumpling is going to have a lot more flavor than Mei's.'' —Gregory
Winner: Gregory
Verdict
Bissonnette, impressed, said he "was blown away from the different styles of cooking.'' But do we have even need to say who won the Quickfire? Haven't we been over this before, people? Gregory won! Of course Gregory won. What have I been telling you for weeks now? Gregory is the chef to beat, and he proved it once again by beating the "Dumpling Princess''—his words, not mine—at her own game.
"If you had a New York City dumpling truck, there'd be a line around the block,'' Bissonnette added for good measure.
Elimination Challenge
This week's Elimination Challenge took the chefs out of Boston and sent them across the river to a place called "Waterton.'' What's that, you never heard of it? It's a city of about 30,000 people just west of Cambridge. Waterton was most recently featured in Sunday night's episode of HBO's 'The Newsroom.' The episode skewered media coverage of the 2013 Boston Marathon bombing and, as we all know, the most dramatic night of the week took place in Waterton. Come to think of it, I'm not quite sure that spelling and pronunciation is right. But then again, how could a successful network like HBO get such a simple detail wrong? I'm sticking with Waterton.
(If I'm being an equal opportunity snarker here, both Padma and Doug pronounced Concord as "Con-cord'' in this episode.)
The theme of this week's Elimination Challenge was war, so the Arsenal on the Charles was quite a fitting setting. The chefs were divided up into two teams based on the results of the Quickfire head-to-heads. Five new head-to-head rounds, each named for historic battles, were scheduled, and the teams took turns choosing their opponents. (I love this format because it resulted in some rematches from the Quickfire.) Each winning chef would win one point for their team, and the first team to three points would win overall. Everyone on the winning team would be safe from elimination, but one chef from the losing team would be going home.
The chefs would have two and a half hours to cook for 100 guests, plus one hour to prep on the day of the event. To make things even harder, each team would have only $1,000 to spend on ingredients—that's $2 a head!—since "food is scarce in times of war.'' (Though I doubt most war-torn people get to shop at Whole Foods.) The wartime setting at the Arsenal was replete with historic reenactors who weren't shy about firing off their muskets to mark the beginning of each round.
Lexington and Concord: Adam (Red Team) vs. Doug (Blue Team)
Adam: Salt and pepper grits with cheddar cheese, poached egg, bacon and onion jam
Doug: Beef tartare with ginger aioli, radish, chili oil and cilantro
Winner: Adam in a clean sweep
Battle of Bunker Hill: Melissa (Red Team) vs. Katsuji (Blue Team)
Katsuji: Tostada with charred cauliflower, olive, date and goat cheese
Melissa: White gazpacho with cucumber, green grapes, marcona almonds and mint
Winner: Katsuji wins, tying it at 1-1.
Battle of Trenton: Mei (Red Team) vs. Gregory (Blue Team)
Gregory: Shiitake mushrooms and coconut milk broth, turmeric, green curry and dill
Mei: Kimchi vegetables, New York strip loin and scallion salad
Winner: Gregory wins (again!) and beats Mei for the second time in the episode. 2-1, Blue Team. Gregory is simply unstoppable.
Battle of Saratoga: Stacy (Red Team) vs. Keriann (Blue Team)
Stacy: Marinated beets, pecan-sage yogurt, horseradish brittle and fresh horseradish
Keriann: Herb meatball with red onion jam, ginger mustard and port reduction
Winner: Huge win by Stacy with her team facing elimination, making it 2-2. Now we go down to the fifth and deciding battle. "I took that pageant chef down!'' Stacy added with authority about her bubbly blonde competitor.
Battle of Yorktown: Aaron (Red Team) vs. Katie (Blue Team)
Aaron: Pork meatball and scallop noodles
Katie: Imperial stout chocolate cake with smoked sour cream and pomegranate-molasses strawberries
Winner: This is what "Top Chef'' is all about! There was no love lost between these two, as they continued their gamesmanship in front of the judges. After Aaron mocked Katie for bringing cake to a war, judge Hugh Acheson countered with, "Have you ever seen them bring a scallop noodle to war?'' But in the end, it wasn't even close. Katie's dessert was a clean sweep with the judges, the Blue Team was victorious, Aaron walked away disappointed, and a nation rejoiced.
Judge's Table
With the Blue Team safe, the elimination would come down to the Red Team's Aaron, Melissa, Stacy, Mei, and Adam.
Adam and Mei were also deemed safe by the judges, even though Mei lost her head-to-head with Gregory.
Stacy, who can't catch a break, was lumped into the bottom three (despite winning her head-to-head) with Aaron and Melissa. The judges were very clear with Stacy that she only won because she was up against a weak dish. The judges didn't like anything about Aaron's scallop noodles, and across the board they thought Melissa's gazpacho was too watery.
If I'm being honest here, I think the judges were waiting for an opportunity to eliminate Aaron. Not only did the judges think Aaron took on way too much in this challenge, but he also repeated a technique he used earlier in the season. When you put all that together, the writing was on the wall that it was time for Aaron to go.
He put a target on himself from day one and was never long for this game, but I thought I would feel much happier when/if he got eliminated. There was something about last week's news that makes it hard to gloat. The bottom line is that Bravo is off the hook of what could have been a dicey PR situation, and the season will likely take on a new feel next week. And I certainly won't miss writing about him in this space.
So Long Farewell
[fragment number=0]
'Top Chef Boston' Cheat Sheet
Who Should've Won
At this point, I am going to agree with the judges any time Gregory is on the winning team. If he's not the Bill Russell of this competition so far, he's at least the Robert Horry of it.
Who Should've Been Eliminated
I'm not even going to dignify this with a response.
Boston Eye Candy
The Connah Store in the North End, North Square in the North End, the Custom House, the Commander's Mansion in the Arsenal.
Insider Info
If you were wondering why athenahealth got a few on-screen mentions during the Elimination Challenge, that was no mistake. The electronic medical records company purchased the Arsenal on the Charles for nearly $17 million last year and is working to reinvent the site. Even as the project takes shape, the complex has seen a marked uptick in programming in the past year; in just the past few months, the campus as played host to a World Cup viewing party and a food truck festival.
Weekly 45-Second Interlude During Commercial Break
God bless his little soul, but Katsuji never stops talking. His castmates liken him to a parakeet. Adam lovingly says that what comes out of his mouth is "5 percent annoying, 95 percent hilarious.'' Aaron calls him "the most complex human being I have ever met.'' (I'm assuming he's not counting himself?)
This Week's Lesson
'War'
[fragment number=1]