Food
5 Boston Ways to Have Easter Leftovers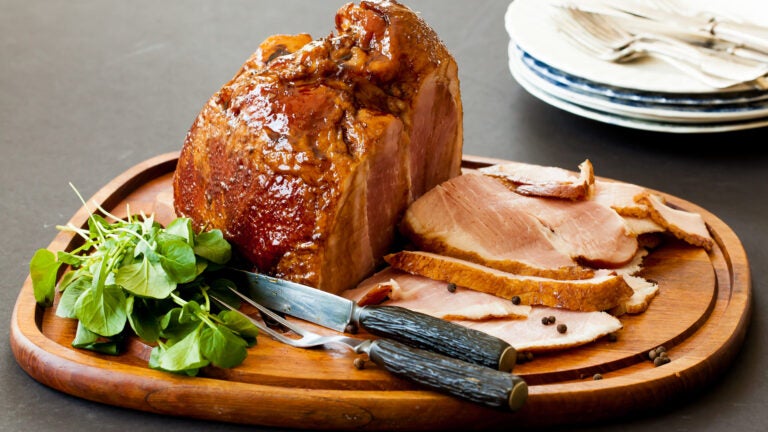 Easter is on Sunday, which means family time, food, and maybe even spring (!!). If you're planning to host a big meal, there's a chance that your fridge will be bursting with leftovers come Monday. In order to keep yourself from getting saturated with boring ham sandwiches or asparagus spears, check out these five ideas for leftovers that you can only make if you live in the Boston area.
Swissbakers (Allston): Animal butter rolls
Looking for a whimsical treat that will serve more than one purpose? Head to Swissbakers, a quick ride from the Allston/Brighton Mass. Pike exit, to pick up some animal butter rolls. Shaped like creatures such as frogs (and sometimes bunnies or snails), the spring-themed rolls that "aren't too sweet'' will go great on your Easter table and also make a fun vehicle for leftover ham sandwiches.
168 Western Ave., Allston
Russo's (Watertown): Prosciutto
If you're serving Easter brunch, there's a good chance you will serve both melon and asparagus — in some form or another. If you have leftovers of each (unless the asparagus is in a scrumptious tart or quiche), delight your guests (or yourself) with some prosciutto purchased at Russo's market in Watertown. The specialty grocer offers a variety of hams like prosciutto di Parma, prosciutto san Danielle, and prosciutto cotto. The guys at the deli know just how to slice it (nice and thin), and the ham will be perfect to wrap your produce in.
560 Pleasant St., Watertown
Clear Flour Bread: Pizza dough
If you get tired of eating ham sandwiches, ham scrambles, and ham roll-ups, pick up an order of Clear Flour's pizza dough and consider making a ham pizza. If you're a classicalist, go for a Hawaiian with ham chunks and pineapple. If you're feeling a little adventurous, why not give Saveur's ham and caramelized onion pizza a whirl?
178 Thorndike St., Brookline
Formaggio Kitchen: Gruyere
Pigs in a blanket are great, but artisanal pigs in a blanket using Easter ham are even better. Clinton Kelly of The Chew has a recipe for cordon bleu PIAB that looks positively mouthwatering, and Cambridge specialty shop Formaggio Kitchen has the Gruyere cheese to make our recipe dreams come true. You'll need about a cup of Gruyere for his spicy mustard Gruyere fondue recipe (drool), which GoodCooking.com equates to about 4 ounces or a quarter of a pound. You can never have too much cheese, so get a little extra in case the measurement is off. And then let us know how it comes out.
244 Huron Ave., Cambridge
268 Shawmut Ave., Boston
Bova's Bakery: Easter bread
Traditional Italian Easter tables include braided sweet bread, similar to Challah, with eggs woven in as decoration. It sure is pretty to look at, but what do you do with it if you have a lot leftover? Make French toast, of course. Bova's, an Italian bakery in the North End, sells the Easter bread, which not only serves as a great table accent but also as a fabulous sponge for hollandaise sauce. If you can manage to keep a hunk (the loaves are usually big) for Monday, use a French toast recipe like this one on Natasha's Kitchen.
134 Salem St., Boston