Food
65 years ago, Dunkin' Donuts became a thing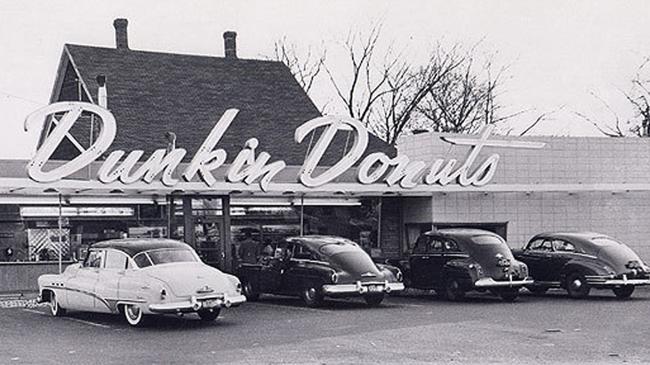 It was spring of 1950, and a small doughnut shop in Quincy rebranded from Open Kettle to become Dunkin' Donuts. Sixty-five years and more than 10,000 franchises later, the Dunkin' empire has made its way around the world, bringing some Boston spirit along for the ride.
The shop was started by Newton-born Bill Rosenberg, the son of two eastern European immigrants. Rosenberg, who grew up in Dorchester during the Great Depression, dropped out of the eighth grade in order to work. Early on, "… a variety of different jobs led to his driving a route for the Jack and Jill Ice Cream Company, where he steadily advanced, until he became national sales manager at age 21,'' according to Jewish news site Haaretz.
"Mr. Rosenberg embodied the American spirit of hard work and passion,'' says Victor Carvalho, a Dunkin' Donuts franchisee who owns the original Quincy location with his brother, Octavio Carvalho. "Despite a limited education, his hard work and spirit brought wealth and fame, enabling him to become a philanthropist in his senior years.''
Rosenberg's work ethic is what came to define the way he ran Dunkin' Donuts, which started as one doughnut and coffee shop, and by the time its sixth store opened in 1955, had adopted a franchise model for expansion. Much of the first decade of the business was run by Bill, eventually with the help of his son Robert Rosenberg, traveling from franchise to franchise, working directly with employees and helping them become independent leaders. Most of all, Bill emphasized encouragement over anything.
"What would be the good of traveling around just to slap backs?'' he told The Boston Globe in a 1964 article. "I want to pass on the benefits of franchising, keep them efficient, prevent them from making the same old mistakes. They make money, I make money. It's as simple as that.''
Perhaps the best example of Bill's leadership style, however, was the launch of Dunkin' Donuts University in 1968. By that point, his son Robert was running most of the day-to-day of the company, and much of what was being taught reflected the original management style of Bill. Even though he created it, it didn't stop the elder Rosenberg from attending and graduating DDU in 1971, despite building the company itself for the previous two decades.
"By the time he got around to registering at the school, he had figuratively written the textbook,'' the Globe reported in 1975. "Its philosophy is the American Dream, its credo hard work and organization, and its style pure sloganism.''
As for the original Quincy location, Bill Rosenberg sold it to his sister, Bertha Schwarz, who then sold the store to Jose Carvalho in 1979. Jose's sons, Victor and Octavio Carvalho eventually took over the store. In 2011, the location was renovated to restore the look of Dunkin' Donuts when it originally opened, complete with a vintage sign and a plaque citing its history.
"The renovation was a tribute to the brand's history, and it brought back fond memories for many Dunkin' Donuts regulars in the Quincy area,'' Victor wrote in an email to Boston.com.
While it is perceived now as a restaurant industry behemoth, Dunkin' Donuts really is a local success story. Among many other things, the franchise arrived to where it is today from a trial-and-error process, by constantly experimenting with new products to find out what would stick.
"Show me a person who never made a mistake, and I will show you a person who never did anything,'' Rosenberg is quoted as saying in his 2002 Globe obituary.
http://brightcove.vo.llnwd.net/v1/unsecured/media/245991542/201506/771/245991542_4278433640001_dunkin-final-2.mp4?pubId=245991542&videoId=4223167396001
This frame of mind affected his business from the get-go, launching Dunkin' with 52 kinds of doughnuts at a time when four or five varieties was the norm. Over the years, it's what led him to launch fast-food chain Howdy Beefburger in the 1960s and a fish-and-chips franchise shortly thereafter. It's why the world was given Munchkins in 1970, Dunkin' Donuts cereal in 1988, and the Coolatta in 1997. It's why a peek at today's menu includes items like the bacon guacamole flatbread or ice cream-flavored iced coffees. Not all of it works, but the operation as a whole continues to win.
"Boston is our hometown, and the Dunkin' headquarters are located here, so we have always had some of the most loyal customers here in Boston,'' says Carvalho. "We have some regulars that have been coming to the original Quincy location since 1950.''
[bdc-gallery id="142656″]