Food
Is it racist to call them 'jimmies'?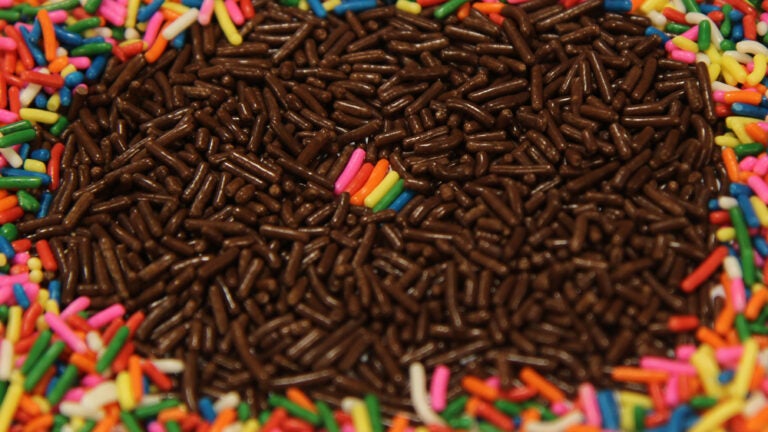 Summer is here, which means reviving the contentious debate over whether or not a favorite ice cream topping's name has racist origins.
"I've heard them called jimmies … It's after Jim Crow,'' said Carly, who grew up in Wellesley and prefers to call them sprinkles. Her nearby friend, Izak, agreed.
They are two of many who have heard that the word jimmies has deeply racist connotations.
"I used to call them jimmies,'' said Tracy, who, like Carly and Izak, was enjoying the frozen treat outside a Somerville J.P. Licks. "But now I call them chocolate sprinkles.''
"It's wildly inappropriate,'' said Jessica, who grew up south of Boston.
Robert, who grew up in New York City, is an outlier. He calls them sprinkles, but never heard that jimmies might be racist — and seemed perturbed that anyone would think so.
"That's absurd,'' he said. "Don't go making controversy where there is none.''
Yet the racism suspicions are common enough that the first-ever edition of the "Yo, Is This Racist?'' podcast, in 2012, was dedicated to jimmies.
"If something has some sort of weird, diminutive name and it's only applied to the black or chocolate or brown thing, it's just gotta be f—ing racist,'' host Andrew Ti said.
Many have attempted to debunk the racism rumor. A 2011 Boston Globe story and a Snopes entry both declare that jimmies are not racist. Yet the speculation persists.
So, why are they called jimmies?
According to legend — and the company's website — jimmies were created by the Pennsylvania-based candy maker Just Born, now best known for its Peeps.
An archived version of Brigham's Ice Cream's website places the invention of jimmies some time after 1930, and their arrival in Boston at 1947, when the ice cream chain began promoting them to customers. (HP Hood, which now owns the ice cream-manufacturing arm of Brigham's, told Boston.com that it had heard that Brigham's was the first company to sell jimmies in the Boston area, but couldn't confirm this.)
For many in the area, this would have been their introduction to the sprinkle, and it was called a "jimmy.'' The brand name probably became the generic word for all sprinkles, much like how we often call all tissues "Kleenex'' and small sticky bandages "Band-Aids.''
Beth Kimmerle, an industry consultant and author of Candy: The Sweet History, believes the name was a way for Just Born to put its mark on an already-existing product, just like Hershey's branded its conical chocolate drop the "Kiss.''
"I think jimmies were a way to brand sprinkles,'' said Kimmerle, who had never heard of the belief that jimmies were racist prior to being asked about it by Boston.com. She thought the reason why some people call only the chocolate version of sprinkles jimmies is because Just Born initially made only chocolate sprinkles.
Brigham's jimmies arrival timeline is consistent with the first known appearance of jimmies in the Globe. On August 20, 1948, a reader known only as "Doreen'' submitted a "luscious frosting recipe,'' to which she said she sometimes added "chocolate jimmies'' as decoration.
As for why jimmies are called jimmies? Just Born claims they were named after James Bartholomew, the employee who ran the company's first sprinkle-making machine.
There is another popular (also not racist) local legend of how jimmies got their name: from a fundraiser for the Boston-based Jimmy Fund charity, which was named after a child with cancer with the pseudonym "Jimmy.'' If you bought sprinkles for your ice cream cone, the money went to the Jimmy Fund, so sprinkles became known in the area as "jimmies.'' Some ice cream parlors still donate their sprinkle proceeds today, but evidence indicates that the term "jimmies'' actually pre-dates The Jimmy Fund.
In his book Word Myths: Debunking Linguistic Urban Legends, author David Wilton looked at the term and declared that, while the true origin of jimmies could not be definitively established, there was no evidence of any racist intentions in the name.
The non-racist origin of jimmies didn't seem to matter to the people who have already stopped using the term. Chocolate sprinkles are here to stay.
"I already stopped saying it,'' Jessica said, digging into her coffee cookies 'n' cream. "It's not a particularly pleasant word anyway … I don't think I'd start again.''
"Too risky,'' Izak said.
Editor's note: This story has been updated to remove the last names and ages of four people interviewed outside of an ice cream shop about whether they use the word "jimmies."