Food
The South End's Aquitaine will close until May for renovations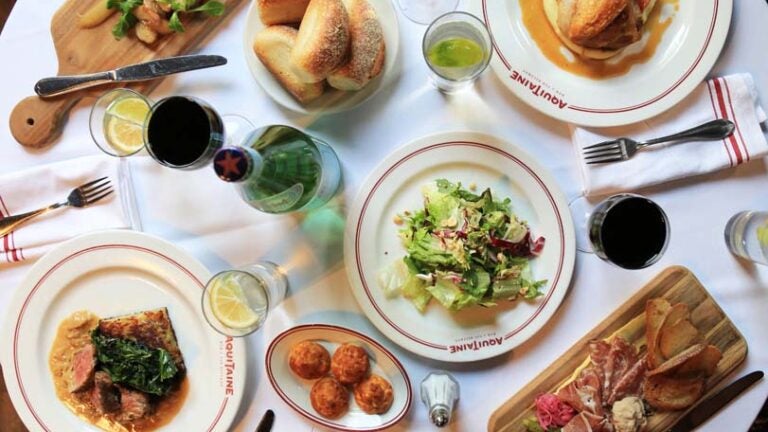 One of the first restaurants in the South End's restaurant row will temporarily close its doors for renovations.
Aquitaine Bar à Vin Bistrot will close on February 21, according to a statement. The restaurant, located in the St. Cloud Hotel building on Tremont Street, is expected to reopen for the eatery's 19th anniversary in May.
The revitalization project, led by Boston design firm Hark + Osbourne and the Aquitaine Group, will include the addition of a second bathroom and a larger bar, according to the restaurant's founder, Seth Woods. He said the restaurant will also be replacing it's heating, ventilation, and air conditioning system in the building, which dates back to 1867.
"There's been a lot of things over the years—a wish list if you will—that we've developed,'' Woods told Boston.com. "You know how when you move into a new home they say don't change anything until you've lived in it a while? Well, we've lived in this building for almost 19 years so we now know what Aquitaine needs.''
With renovations will come some changes to the menu, Woods said.
"With the menu, we don't want to take away people's classics they love, but with a renovation, it's always a great opportunity to have new dishes with new vessels to put them in,'' he said. "We get to redo something that's been there for a long time, and repump some life into it.''
Woods opened Aquitaine Bar à Vin Bistrot in the South End in 1998. He later partnered with Matt Burns and Jeffrey Gates to create what is now the Aquitaine Group, which owns the Metropolis Café, Aquitaine (Boston, Chestnut Hill, and Dedham locations), Cinquecento, Gaslight Brasserie (Boston and Lynnfield locations), La Motta's Italian Specialties, and Greenlight Café.
He said the restaurant does plan to have an anniversary and reopening event in May, but he did not yet have specific details in regards to the celebration.