Food
Sweetgreen is opening five new Boston-area locations by the end of the year
Let us anticipate more lettuce.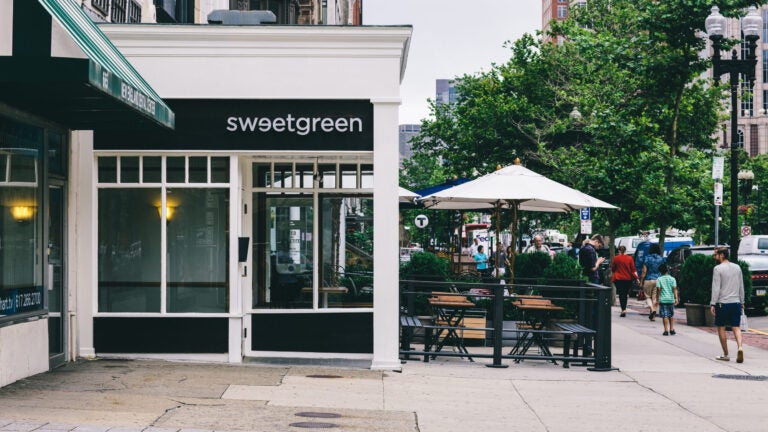 Sweetgreen, the made-to-order salad chain, will open five new locations in Boston by the end of the year. There are currently five in the Boston area.
The company, which began as only a 500-square-foot shop in Washington, D.C. in 2007, now operates 40 restaurants across the United States. Co-founder and co-CEO Jonathan Neman said that three locations will open this summer in Boston: one in Fenway on Brookline Avenue, and two downtown, one on the corner of Washington Street and School Street and one on Summer Street.
This fall, two more Sweetgreens will open in the area—at Ink Block in the South End and in Harvard Square on JFK Street.
"Harvard Square has always been a place we wanted to be,'' Neman said. "Even when we were just in D.C., people would come into the store and they'd say, 'You have to be in Harvard Square.' So it's exciting to finally open there.''
Neman said he and co-founders Nicolas Jammet and Nathaniel Ru, who came up with the idea when they were seniors at Georgetown University, have been eyeing a Boston expansion for some time, given how well received the first Boston location has been.
"I think it really has to do with the customer base really craving this, and there being a gap in the market,'' Neman said. "But also, just the type of customer who appreciates transparency, authenticity, and quality—I think it's a really educated, pragmatic customer that has embraced us [in Boston], and we're just really happy to be there.''
Neman also said the expansion is happening now because the company has a base of regional suppliers and farmers who can support it. Sweetgreen operates with flexible menus so that they're serving locally grown, in-season products based on each specific market.
"It all just hinges off of our core belief that food tastes best when it's in season,'' Neman said. "We want to follow Mother Nature's lead.''
Update: This story has been updated to reflect the fact that there are currently five operating Sweetgreen restaurants in the Boston area.