Food
The Rose Kennedy Greenway will have so many food truck options this season
Check out which ones are brand new to the Mobile Eats lineup.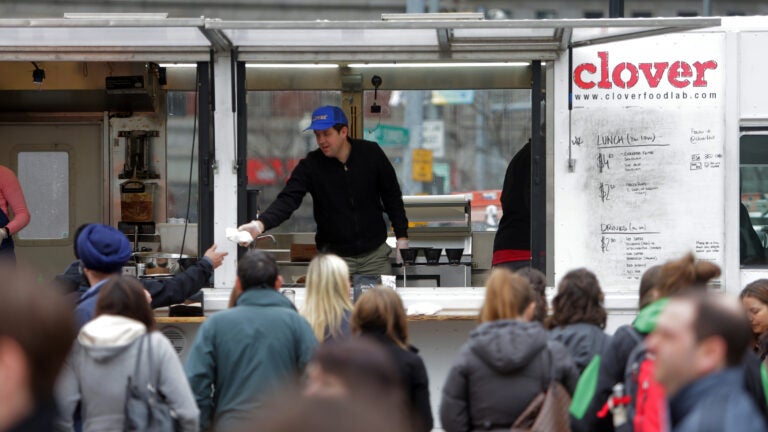 Spring came in with a bit of snow, but soon it'll be warm enough to eat outside. The Rose Kennedy Greenway wants to make sure you have a lot of options for lunch—they've signed on with 34 food trucks for their 2016 Mobile Eats season.
This season, the Greenway's seventh working with the Mobile Eats program, kicks off Friday, April 1, and will feature 10 new vendors throughout the coming months:
Chik Chak (Middle Eastern food)
Cupcake City (gourmet cupcakes)
Gogi on the Block (Korean fusion)
Jamaica Me Hungry (Jamaican)
Munch Mobile (elevated street food)
Quebrada (gourmet baked goods)
Roving Lunch Box (sweet and savory hand pies)
Sheherezad (Iraqi and Middle Eastern cuisine)
Walden Meat Co. (local, sustainable, and humanely-raised 100 percent grass-fed burgers)
Walloon's Fried Chicken (buttermilk fried chicken sandwiches and hand-cut fries)
The lineup's other 24 trucks are returning from last year. They include big names like Chicken and Rice Guys, Bon Me, Roxy's Grilled Cheese, and more. For a full list of all the food trucks that will make stops along the Greenway, and to see which days and times they'll be there, check out the schedule here.
"We are excited about the expansion of the Greenway's Mobile Eats program, which not only offers residents and visitors alike an array of food options, but also helps support local food entrepreneurs," Mayor Walsh said in a statement. "I congratulate the Rose Kennedy Greenway on their success last year and look forward to another great season."
Last year, the food trucks involved in the Greenway's Mobile Eats program served more than 640,000 people over the course of the season. On weekdays, you can find the trucks primarily parked at Dewey Square Park plaza, Dewey Square Park at Congress Street, and Rowes Wharf Plaza at High Street. Vendors can also be found at Chinatown Park, the Rings Fountain, the Greenway Carousel at The Tiffany & Co. Foundation Grove, and the North End Parks at Hanover Street.