Food
These are the most popular places to order food from in Coolidge Corner, according to Grubhub
A Thai place holds the top spot.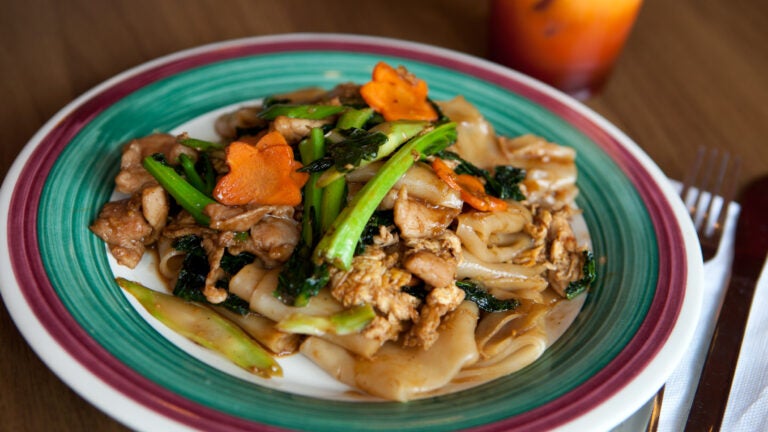 With the Boston Marathon only days away, the city has already been overrun by out-of-town runners and their supporters, likely making restaurant reservations along the race route a touch more difficult than usual. Luckily, there's always delivery.
Thanks to data from online food ordering company Grubhub, we were able to find out the ten most popular delivery spots that use the restaurant's mobile and online ordering platforms in Coolidge Corner from April 6-12.
1. Giggling Rice Thai
1009 Beacon St.
Popular items: Thai Ravioli ($5.50), General Gao's Chicken ($8.50), Drunken Noodle ($9.25)
2. U-Sushi
1393 Beacon St.
Popular items: Gyoza ($4.95), Alaska Maki Roll ($5.50), Rainbow Maki ($11.50)
3. Shan-A-Punjab
455 Harvard St.
Popular items: Two-Piece Vegetable Samosa ($3.95), Chicken Tikka Masala ($12.95), Chicken Curry ($12.95)
4. Wings Over Brookline
477 Harvard St.
Popular items: Hang Glider Combo Pack ($8.99), DC-10 ($13.29), B-1 Bomber ($24.49)
5. Martin's Coffee Shop
35 Harvard St.
Popular items: Chocolate Chip Pancake ($7.99), Vegetarian Omelet ($8.99), Irish Breakfast ($13.99)
6. Fugakyu Japanese Cuisine
1280 Beacon St.
Popular items: Crazy Maki ($9), Spicy Tuna Maki ($10.25), Teriyaki ($21)
7. Genki Ya
398 Harvard St.
Popular items: Salmon ($5.95), Alligator Roll ($14.95), Curry Rice ($17.95)
8. Basil Rice
479 Harvard St.
Popular items: Scallion Pancake ($5.95), Green Curry ($7.95), House Fried Rice ($7.95)
9. Pho Lemongrass
239 Harvard St.
Popular items: Vietnamese Spring Roll ($5.50), Rare Steak and Brisket Soup ($8.50), Chicken Stir Fry ($12.50)
10. Dokbua Thai Kitchen
411 Harvard St.
Popular items: Crab Rangoon ($6.95), Pad Si-Ew Noodle ($8.95), Massaman Curry ($12.95)