Food
Meet the Haverhill couple obsessed with reviewing coleslaw
Yes, coleslaw.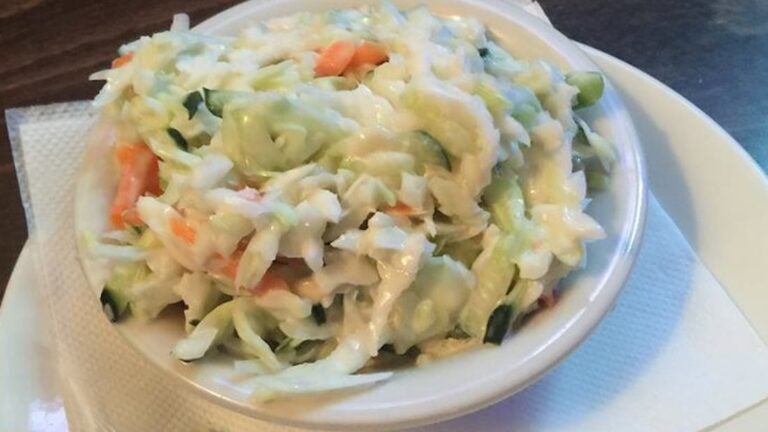 Over the past few months, Ed Sanborn and Lisa Houle have been ordering coleslaw rather than french fries or potato chips while out to dinner. During that time, Sanborn half-jokingly said he wanted to make a review site for the coleslaw offerings.
So he did.
"We're always comparing the coleslaw to other coleslaw we've eaten," Sanborn said.
He created a Facebook page called Coleslaw Review, where he does just what the name says, less than two weeks ago.
Little did the couple realize the extent of the online world's untapped desire for reviews of the oft-dismissed mix of cabbage, mayonnaise, and vinegar.
Their Facebook page, which at the time had just 60 likes from friends and family, was posted to Reddit's r/food page on Monday and went viral. The page now has nearly 9,000 likes, and was featured on CBC radio and People, among other places.
"Coleslaw has been ignored for far too long," the page's description reads. "No longer my friends. You now have a place to call home. No more hiding in the shadows."
In the past week and a half, the two have posted their reviews of coleslaw from anywhere it's served, ranging from a KFC in Haverhill ("wicked awesome") to a regional hospital's cafeteria ("I can honestly recommend you try this coleslaw").
The two rank each coleslaw on a 1-10 scale on a variety of metrics, including liquid content, size of vegetables, presentation, and level of vinegar. The ratings aren't particularly in-depth or well-explained. One review of the slaw at Mr. Mike's in Haverhill is perfectly concise: "Pretty good."
Sanborn said the project is partly serious and partly fun.
"There is a little serious element to it, though. I mean, why not? Nobody else is reviewing it. Let's try to make other restaurants take notice if their coleslaw is not up to par," Sanborn said. "It's a public service, as well as it's damn fun. When you sit around a table and you're bored and you do a review with your friends or girlfriend or significant other, it's actually kind of fun."
In Boston, Sanborn said he recommended the coleslaw at Union Oyster House and McCormick & Schmick's Seafood & Steaks. He said he hopes to get other people to post their reviews, too, and compile an aggregate ranking of the nation's best.
"Eventually, if we get enough reviews we'll develop the website to show the top 10 coleslaw reviews or a ranking of some type," he writes on the page's description. "I dunno… it's still an idea incubating in my idiot head."