Food
Here's where to get doughnuts and deals on National Doughnut Day
Fried doughy goodness, right this way.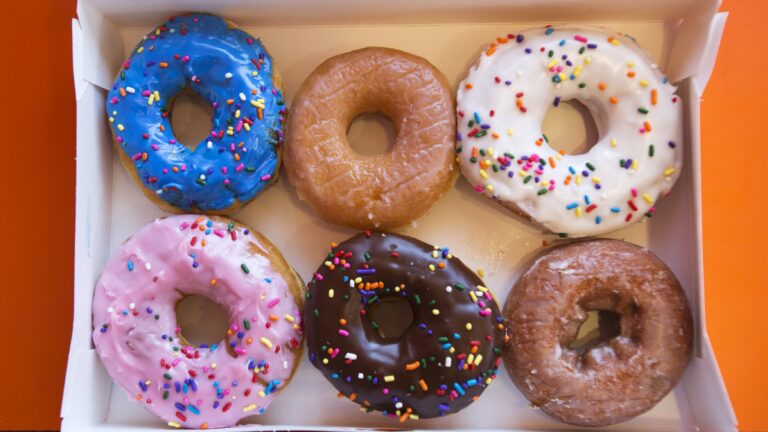 Thanks to the Salvation Army and the young women who provided coffee and doughnuts to World War I troops as a morale booster, we all get a day dedicated to the fried dough dessert…or breakfast…or snack. (We don't limit doughnut consumption to any one time of the day). To help you truly celebrate doughnuts on Friday, we've rounded up several places you can go in the Boston area to get deals on them.
Dunkin' Donuts
Of course the New England staple for doughnuts and coffee is participating in this delicious holiday. On Friday, the Quincy-born chain is offering a free classic doughnut with any beverage purchased. The company has also partnered with Snapchat to create a Dunkin-specific geofilter featuring original doughnut designs and sayings, so you can snap your Doughnut Day festivities from any of the the many, many Dunks around town.
Locations: Basically every corner in the Boston area
Kane's Donuts
Kane's Handcrafted Donuts has been a Massachusetts go-to for more than 60 years. The shop makes all their treats by hand with local and organic ingredients and even adds extras like real Applewood smoked bacon and pure Vermont maple syrup to some of their fried dough flavors. In honor of National Doughnut Day, both the Boston and Saugus spots are putting a spin on the baker's dozen with their super dozen deal: Purchase a dozen doughnuts, and get three extra for free.
Locations: 90 Oliver St., Boston; 120 Lincoln Ave., Saugus
Honey Dew Donuts
This doughnut and coffee shop started in Mansfield, and is using National Doughnut Day to give back to a local cause. With the purchase of any medium-sized drink, Honey Dew Donuts is giving away a free "(Up)Beat Cancer" doughnut decorated with sprinkles in red and blue, the colors of the Joe Andruzzi Foundation's (Up)Beat Cancer initiative. Typically, proceeds from this doughnut go directly to the Foundation throughout the year. Honey Dew has contributed more than $80,000 to the the Foundation to date, according to Honey Dew.
Locations: 700 Atlantic Ave., Boston; 14 Maverick Square, East Boston; 470 Meridian St., East Boston, and more.
Union Square Donuts
This Somerville shop serves up doughnuts made from scratch, and they're so Instagram-worthy, even U2 shared a photo of their sweet breakfast once. Union Square Donuts is celebrating the big day in two ways: First, they'll announce the winner of their National Doughnut Day #DonutSelfie contest at the end of the day on Friday; the taker of the best doughnut-themed pic will get a box of six doughnuts and store-themed merch, including a mug, tote, and Doughnut Day poster. Second, even if you don't win (or enter), you can get free espresso throughout the day while DJ KDudz spins some sweet tunes at the Somerville location.
Location: 20 Bow St., Somerville
Cumberland Farms
Another hometown chain. Cumberland Farms started in Framingham, and the convenience stores spread throughout New England and beyond. They're honoring the fried dough treat with a classic offering: Buy a coffee or Chill Zone beverage between 5 a.m. and 10 a.m., get one free doughnut. The hardest decision you'll have to make is choosing which flavor you want.
Locations: 801 Massachusetts Ave., Boston; 628 E 5th St., Boston; 148 Chestnut Hill Ave., Boston; 701 Somerville Ave., Somerville, and more.
Entenmann's
Yep, the grocery-store dessert brand you know and love is getting in on the Doughnut Day action, too, in partnership with The Salvation Army, the originators of the holiday. Swing by Boston Common on Friday, where volunteers will be distributing doughnuts starting at 7:30 a.m. Nearly 1,000 Entenmann's doughnuts will make their way to lucky commuters and passersby. The two companies are also joining forces for a sweepstakes, through which 10 people can win free doughnuts for a year.
Location: Boston Common
Boston Common Coffee Company
This cafe has four locations throughout the city, and all of them are participating in National Doughnut Day. Boston Common Coffee Co. routinely celebrates the sugary treat with their Donut Thursdays, a weekly holiday for pastry lovers. This week, they're moving the celebration to Friday and ramping it up by offering one free doughnut per customer with the purchase of a drink. You'll have your pick between vanilla sprinkle, chocolate sprinkle, and vegan coffee crunch while supplies last.
Locations: 97 Salem St., Boston; 10 High St., Boston; 515 Washington St., Boston; 103 Canal St., Boston