Food
Why are there two National Doughnut Days?
Unraveling a delicious mystery.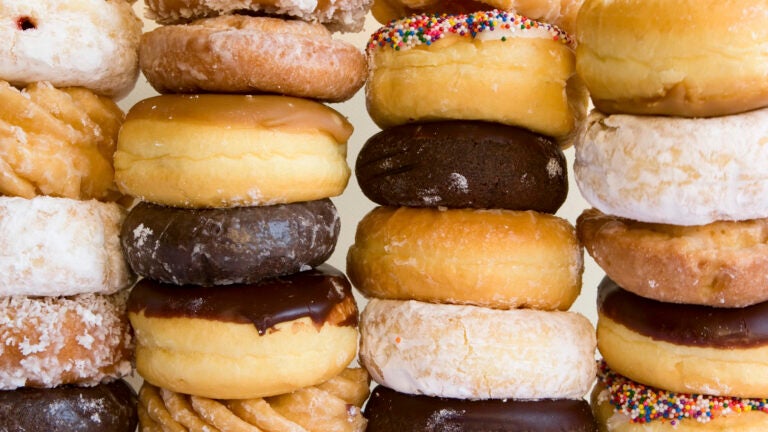 This Friday is National Doughnut Day, and local chains like Dunkin' Donuts, Honey Dew Donuts, and Cumberland Farms are giving away doughnuts with the purchase of a drink. (In Krispy Kreme's case, they're just giving them away.)
But June is not the only month to have a National Doughnut Day: a quick Google search turns up one that occurs on November 5 as well. Though many doughnut shops have ignored the second date, Krispy Kreme gave away free doughnuts on November 5 this year, and numerous online references dating back at least a decade also cite the date as a day of doughnuts.
So how did these two National Doughnut Days come to be?
The history of June's National Doughnut Day can be traced all the way back to World War I, when the Salvation Army sent young women known as "doughnut lassies" or "doughnut dollies" to the battlefields of France to provide coffee and doughnuts to troops and boost morale.
What had previously been a European treat became heavily associated with the returning American soldiers, who earned the nickname "dough boys." The Salvation Army officially declared the first Friday of June to be National Doughnut Day in 1938 to honor the work of the lassies.
The origin of the November 5 holiday is harder to track down.
"Within our research, we were unable to find the creator of the November 5th National Doughnut Day," said a 2013 blog post from National Day Calendar, a website devoted to cataloguing the many unofficial days on our calendars. Another website devoted to the same cause, Gone-Ta-Pott.com, had references to the November 5 day as early as 2007, but also offered no clues to its origin.
The most likely explanation comes from John Bryan Hopkins, the founder of Foodimentary, one of the earliest websites devoted to cataloguing food holidays. According to Hopkins, when Foodimentary debuted in 2006, he didn't have the benefit of vast Google reserves to build out a calendar. Instead, he says he bought old copies of Ladies Home Journal and hundreds of books cataloguing unofficial holidays throughout history.
In his research, Hopkins says he has found references to a November 5 Doughnut Day that dates back to the 1930s, just like the Salvation Army-created holiday. He believes that due to the November Doughnut Day's proximity to Veterans Day (observed on November 11), it was likely created by a store chain to celebrate veterans.
"Many retailers created these mini-holidays as a way to sell product," Hopkins said. "Most people don't realize how many holidays Woolworths and other retailers created over the years."
While the facts surrounding the June version of National Doughnut Day have better stood the test of time, it's likely that both days were in some way related to veterans and their love of doughnuts. So whether it's the first Friday in June or November 5 — or even International Jelly-Filled Doughnut Day (June 9), National Cream-Filled Doughnut Day (September 14), or Buy A Doughnut Day (October 30) — there's no shame in seeking out a fried dough delicacy or two.