Food
Your ultimate guide to Dine Out Boston 2016
The event formerly known as Restaurant Week has is offering delicious dishes and deals from more than 150 eateries.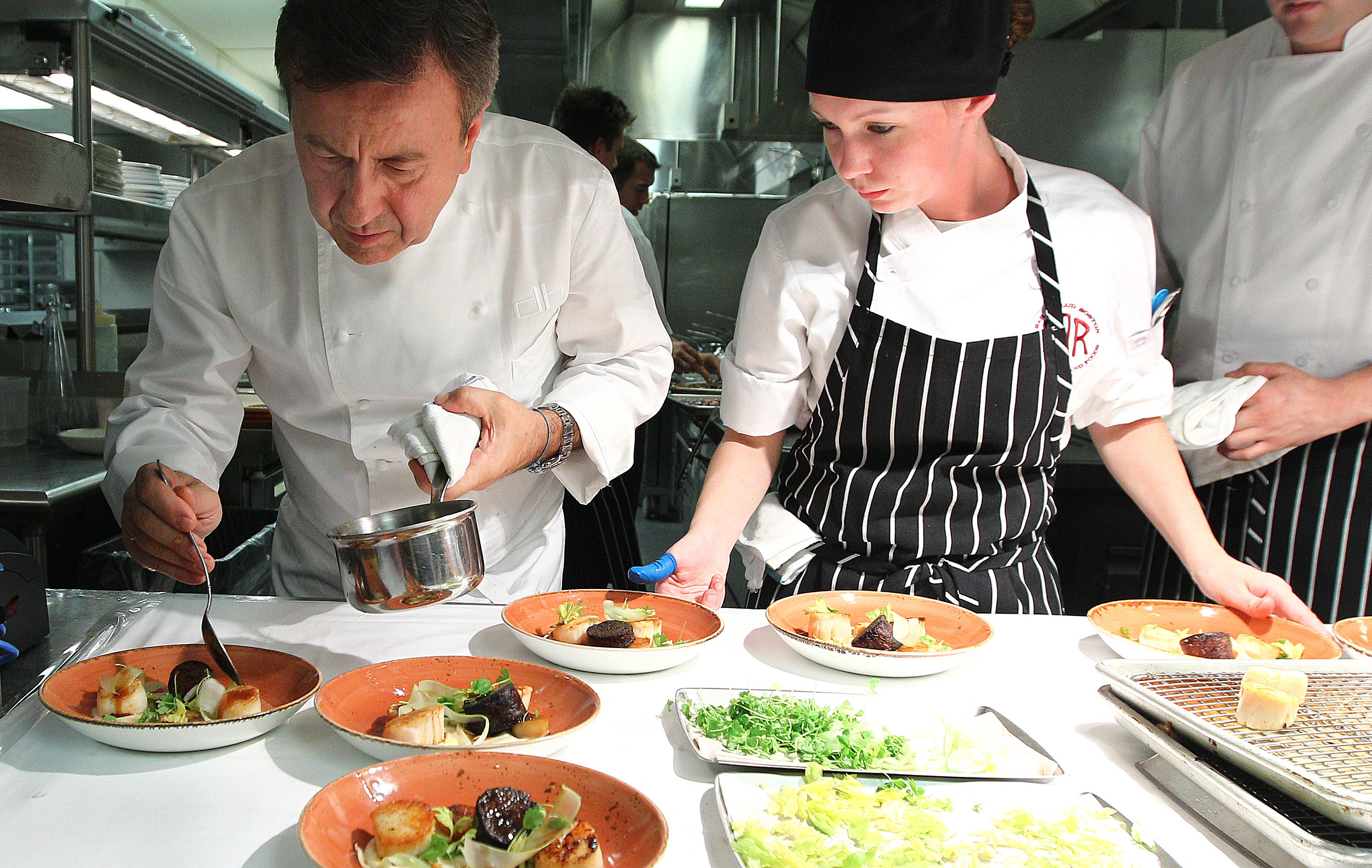 Loosen your belts and work up an appetite, Bostonians: Dine Out Boston is back.
After two successful weeks of fine dining in March, the 15th edition of the dining series formerly known as Restaurant Week returns from Sunday, August 14 to Friday, August 19 and Sunday, August 21 to Friday, August 26. More than 150 restaurants from the Greater Boston area will take part, offering diners special menus at discount prices.  
Besides giving customers a chance to try new restaurants and restaurants a chance to reach a new client base, the Greater Boston Convention & Visitors Bureau (GBCVB), which sponsors the event, raises money for charity through online auctions tied to participating restaurants. This year's proceeds will go toward the city's First Night/First Day celebration.

For those of you who have never taken part in Restaurant Week/Dine Out Boston before, here's everything you need to know to experience the event to the fullest.
When should I make reservations?
Is yesterday an option? In all seriousness, many of the restaurants may not have much availability left during the most popular dining times, so be sure to call specific restaurants or visit Dine Out Boston's website, where you can make reservations for any of the participating restaurants.
Do I have to go into Boston to take advantage?
Absolutely not. While the majority of the restaurants are in Boston, and many others are in nearby cities like Cambridge and Somerville, the event extends to the entire Greater Boston area. There are Dine Out restaurants in northwest suburbs like Burlington, Concord, and Lexington, and towns to the south like Foxborough, Milton, and Stoughton.
What should I expect food-wise?
Each restaurant has its own select Dine Out Week offerings, with as many or as few courses as they desire. Many restaurants opt for a three-course menu, with diners choosing from a selection of appetizers, entrees, and desserts. In short, there will hopefully be something that fits your tastes, but don't expect to be able to select from any item on the restaurant's regular menu. It's worth browsing the number of restaurant menus available on the Dine Out Boston website before you make a reservation.
How much is everything going to cost?
Price-wise, all of the eateries are using a prix fixe menu with predetermined rates set by the GBCVB. This year, restaurants can offer lunch at $15, $20, or $25, while dinners are priced at $28, $33, or $38. While some restaurants include a beverage in their price, that's not always the case. Anticipate spending a bit more money than the listed price, whether it be for additional drinks, add-ons, or just tax and tip.
When should I go?
Whenever you have time! While Dine Out Boston technically only runs Sunday through Friday during the two weeks, some restaurants will offer the same special menu on Saturday, or in a few cases, during the entire month of August. Check with individual restaurants to see if they provide any extended hours (or if they're closed on any specific weekdays).
The full list of participating eateries is below. To make a reservation, get more information about a particular dining spot, or to sort the restaurants by cuisine, location, or price, visit the Dine Out Boston website.
224 Boston Street Restaurant
224 Boston St., Dorchester
Contemporary American
Dinner: $33 (Menu)
80 Thoreau
80 Thoreau St., Concord
American
Dinner: $38
A Tavola
34 Church St., Winchester
Italian
Dinner: $38 (Menu)
Abby Park
550 Adams St., Milton
American
Lunch: $20 (Menu)
Dinner: $33 (Menu)
Amelia's – Stoughton
217 Washington St., Stoughton
Steakhouse
Dinner: $33 (Menu)
Antico Forno
93 Salem St., Boston, North End
Italian
Lunch: $25
Dinner: $33
Antonio's Bacaro
5 Fairmont Ave.
Hyde Park
Italian
Dinner: $28
Aquitaine Bar a Vin Bistrot
569 Tremont St., Boston, South End
French
Lunch: $20
Dinner: $33
Aragosta Bar and Bistro – Battery Wharf Hotel, Boston Waterfront
3 Battery Wharf, Boston, Waterfront
Italian
Lunch: $25
Aria Trattoria
253 Hanover St., Boston, North End
Italian
Dinner: $38 (Menu)
ArtBar Restaurant – Royal Sonesta – Boston/Cambridge
40 Edwin Land Blvd., Cambridge
American
Lunch: $20 (Menu)
Dinner: $33 (Menu)
Artisan Bistro – The Ritz-Carlton, Boston
10 Avery St., Boston, Downtown
Contemporary American
Lunch: $25
Dinner: $38
Artistry on the Green
2027 Massachusetts Ave., Lexington
American
Lunch: $20 (Menu)
Dinner: $38 (Menu)
Artu Rosticceria & Trattoria
6 Prince St., Boston, North End
Italian
Lunch: $20
Dinner: $38
Ave. One – Hyatt Regency Boston
1 Ave. de Lafayette, Boston, Downtown
American
Lunch: $20 (Menu)
Dinner: $33 (Menu)
Bacco
107 Salem St., Boston, North End
Italian
Dinner: $33 (Menu)
Back Bay Harry's
142 Berkeley St., Boston, Back Bay
Contemporary American
Lunch: $20 (Menu)
Dinner: $38 (Menu)
Back Deck
2 West St., Boston, Downtown
New England Cuisine
Lunch: $20 (Menu)
Dinner: $33 (Menu)
Bar Boulud, Boston – Mandarin Oriental, Boston
776 Boylston St., Boston, Back Bay
French
Lunch: $25
Dinner: $38 (Menu)
Barlow's Restaurant
241 A St., Boston, Fort Point
American
Lunch: $15 (Menu)
Dinner: $28 (Menu)
Bastille Kitchen
49 Melcher St., Boston, Fort Point
French
Dinner: $38 (Menu)
Beacon Hill Bistro – The Beacon Hill Hotel
25 Charles St., Boston, Beacon Hill
French
Lunch: $20 (Menu)
Dinner: $38 (Menu)
Beat Brasserie
13 Brattle St., Cambridge, Harvard Square
American
Lunch: $20
Dinner: $38
The Beehive Restaurant
541 Tremont St., Boston, South End
International
Dinner: $38
Besito Mexican Restaurant – Burlington
75 Middlesex Turnpike, Burlington
Mexican
Dinner: $28 (Menu)
Besito Mexican Restaurant – Chestnut Hill
199 Boylston St., Chestnut Hill
Mexican
Dinner: $28 (Menu)
Bistro 5
5 Playstead Rd., Medford
Italian
Dinner: $38 (Menu)
Bistro du Midi
272 Boylston St., Boston, Back Bay
French
Dinner: $38 (Menu)
BLR by Shojo
13A Hudson St., Boston, Chinatown
Asian
Dinner: $28 (Menu)
Blu Restaurant
4 Avery St., Boston, Chinatown
American
Lunch: $20 (Menu)
Dinner: $38 (Menu)
Blue Dragon
324 A St., Boston, Fort Point
Asian
Lunch: $20 ( Menu)
Dinner: $33 (Menu)
Blue Ginger
583 Washington St., Wellesley
Asian
Lunch: $20 ( Menu)
Dinner: $38 ( Menu)
Boston Chops
1375 Washington St., Boston, South End
Steakhouse
Dinner: $38 (Menu)
Bostonia Public House
131 State St., Boston, Downtown
American
Dinner: $38 (Menu)
Brasserie Jo – The Colonnade Hotel
120 Huntington Ave., Boston, Back Bay
French
Lunch: $20 (Menu)
Dinner: $38 (Menu)
Bronwyn
255 Washington St., Somerville, Union Square
International
Dinner: $33 (Menu)
The Butcher Shop
552 Tremont St., Boston, South End
Steakhouse
Lunch: $25 (Menu)
Dinner: $38 (Menu)
Cantina Italiana
346 Hanover St., Boston, North End
Italian
Lunch: $25 (Menu)
Dinner: $38 (Menu)
The Capital Grille
Hynes Convention Center, Boston, Back Bay
Steakhouse
Lunch: $25 (Menu)
Dinner: $38 (Menu)
The Capital Grille – Burlington
10 Wayside Rd., Burlington
Steakhouse
Lunch: $20 / Menu
Dinner: $38 / Menu
The Capital Grille – Chestnut Hill
250 Boylston St., Chestnut Hill
Steakhouse
Lunch: $20 / Menu
Dinner: $38 / Menu
Carrie Nation Restaurant & Cocktail Club
11 Beacon St., Boston, Beacon Hill
American
Lunch: $20 (Menu)
Dinner: $33
Central Bistro
34 Summer St., Boston, Downtown
American
Lunch: $20 (Menu)
Dinner: $33 (Menu)
Chart House Restaurant
60 Long Wharf, Boston, Waterfront
Seafood
Lunch: $20 (Menu)
Dinner: $38 (Menu)
Cinquecento
500 Harrison Ave., Boston, South End
Italian
Dinner: $33
City Table
65 Exeter St., Boston, Back Bay
American
Dinner: $33
CLINK.
215 Charles St., Boston, Beacon Hill
American
Lunch: $20 (Menu)
Dinner: $38 (Menu)
Commonwealth Restaurant & Market
11 Broad Canal Way, Cambridge, Kendall Square
Contemporary American
Dinner: $38 (Menu)
Da Vinci Ristorante
162 Columbus Ave., Boston, Back Bay
Italian
Dinner: $38 (Menu)
Davio's Chestnut Hill
55 Boylston St., Chestnut Hill
Steakhouse
Lunch: $25 (Menu)
Dinner: $38 (Menu)
Davio's Northern Italian Steakhouse
75 Arlington St., Boston, Back Bay
Steakhouse
Lunch: $25 (Menu)
Dinner: $38 (Menu)
Davio's Northern Italian Steakhouse – Lynnfield
Market Street Complex, Lynnfield
Steakhouse
Lunch: $25 (Menu)
Dinner: $38 (Menu)
Davio's Northern Italian Steakhouse – Patriot Place
236 Patriot Place, Foxboro
Steakhouse
Lunch: $25 (Menu)
Dinner: $38 (Menu)
dbar
1236 Dorchester Ave., Dorchester
Contemporary American
Dinner: $38 (Menu)
Del Frisco's Double Eagle Steak House
250 Northern Ave., Boston, Seaport District
Steakhouse
Lunch: $25 (Menu)
Del Frisco's Grille – Burlington
92 Middlesex Turnpike, Burlington
American
Lunch: $20 / Menu
Dinner: $38 / Menu
Del Frisco's Grille – Chestnut Hill
33 Boyslton St., Chestnut Hill
American
Lunch: $20 (Menu)
Dinner: $33 (Menu)
Durgin Park Restaurant at Faneuil Hall Marketplace
340 Faneuil Hall Market Place, Boston, Downtown
American
Lunch: $20 (Menu)
Dinner: $33 (Menu)
The Elephant Walk South End
1415 Washington St., Boston, South End
French/Cambodian
Dinner: $33 (Menu)
The Elephant Walk, Cambridge
2067 Massachusetts Ave., Cambridge, Porter Square
French/Cambodian
Lunch: $25 (Menu)
Dinner: $33 (Menu)
Estragon
700 Harrison Ave., Boston, South End
Spanish
Dinner: $33 (Menu)
The Fireplace
1634 Beacon St., Brookline
American
Lunch: $20
Dinner: $38
Fleming's Prime Steakhouse & Wine Bar
217 Stuart St., Boston, Back Bay
Steakhouse
Dinner: $38 (Menu)
Fogo de Chao Brazilian Steakhouse
200 Dartmouth St., Boston, Back Bay
Brazilian Steakhouse
Dinner: $38 (Menu)
Gaslight Brasserie du Coin
560 Harrison Ave., Boston, South End
French
Dinner: $33 (Menu)
Golden Temple
1651 Beacon St., Brookline
Asian
Dinner: $28
Grafton St. Pub & Grill
1230 Massachusetts Ave., Cambridge, Harvard Square
American
Dinner: $28 (Menu)
Grill 23 & Bar
161 Berkeley St., Boston, Back Bay
Steakhouse
Dinner: $38 (Menu)
Grotto
37 Bowdoin St., Boston, Beacon Hill
Italian
Dinner: $38 (Menu)
Happy Lamb Hot Pot
485 Massachusetts Ave., Cambridge, Central Square
Asian
Dinner: $28 (Menu)
Harborside Grill – Hyatt Regency Boston Harbor
101 Harborside Dr., Boston
Contemporary American
Lunch: $20 (Menu)
Dinner: $38 (Menu)
Haru – Prudential Center
55 Huntington Ave., Boston, Back Bay
Japanese
Lunch: $25 (Menu)
Dinner: $38 (Menu)
Harvest
44 Brattle St., Cambridge, Harvard Square
American
Lunch: $25 (Menu)
Dinner: $38 (Menu)
Henrietta's Table – Charles Hotel
1 Bennett St., Cambridge, Harvard Square
American
Lunch: $25 (Menu)
Dinner: $33 (Menu)
Ken's Steakhouse
95 Worcester Rd., Framingham
Steakhouse
Lunch: $15 (Menu)
Dinner: $38 (Menu)
Kika Tapas
350 3rd St., Cambridge, Kendall Square
Tapas
Lunch: $20 (Menu)
Dinner: $33 (Menu)
The Kirkland Tap & Trotter
425 Washington St., Somerville
Contemporary American
Dinner: $38 / Menu
Koy Restaurant
16 North St., Boston, Downtown
Fusion
Lunch: $20 (Menu)
Dinner: $33 (Menu)
L'Andana
86 Cambridge St., Burlington
Italian
Dinner: $38 (Menu)
La Morra
48 Boylston St., Brookline
Italian
Dinner: $38 (Menu)
La Motta's Italian Specialties
1357 Washington St., Boston, South End
Italian
Dinner: $33 (Menu)
La Voile
261 Newbury St., Boston, Back Bay
French
Lunch: $25 (Menu)
Dinner: $38 (Menu)
La Voile Brookline
1627 Beacon St., Brookline
French
Lunch: $20 (Menu)
Dinner: $38 (Menu)
Legal Oysteria
10 City Square, Charlestown
Seafood
Lunch: $20 (Menu)
Dinner: $33 (Menu)
Legal Sea Foods – Chestnut Hill
43 Boylston St., Chestnut Hill
Seafood
Lunch: $25 (Menu)
Dinner: $38 (Menu)
Les Zygomates Winebar & Bistro
129 South St., Boston, Downtown
French
Dinner: $38 (Menu)
Liquid Art House
100 Arlington St., Boston, Back Bay
American
Dinner: $38 (Menu)
The Living Room
101 Atlantic Ave., Boston, North End
International
Lunch: $20 (Menu)
Dinner: $33 (Menu)
Lucca Back Bay
116 Huntington Ave., Boston, Back Bay
Italian
Dinner: $38
Lucca North End
226 Hanover St., Boston, North End
Italian
Dinner: $38 
Maison
272 Cambridge St., Boston, Beacon Hill
French
Lunch: $20 (Menu)
Dinner: $33 (Menu)
MamMaria
3 North Square, Boston, North End
Italian
Dinner: $38
The Marliave
10 Bosworth St., Boston, Downtown
French
Dinner: $38 (Menu)
Masa Restaurant
439 Tremont St., Boston, South End
Dinner: $33 (Menu)
Masona Grill
4 Corey St., West Roxbury, 02132
Latin
Dinner: $33
Max Brenner – Chocolate by the Bald Man
745 Boylston St., Boston, Back Bay
American
Lunch: $20 (Menu)
Dinner: $38 (Menu)
The Merchant Kitchen & Drinks
60 Franklin St., Boston, Downtown
American
Dinner: $33 (Menu)
The Met Back Bay
279 Dartmouth St., Boston, Back Bay
American
Lunch: $20 (Menu)
Dinner: $33 (Menu)
Metropolis Cafe
584 Tremont St., Boston, South End
Mediterranean
Dinner: $33 (Menu)
Miel – InterContinental Boston
510 Atlantic Ave., Boston, Waterfront
French
Lunch: $25
Dinner: $38
Morton's The Steakhouse – Boston Seaport
2 Seaport Lane, Boston, Seaport District
Steakhouse
Lunch: $20 (Menu)
Dinner: $38 (Menu)
Nico Ristorante
417 Hanover St., Boston, North End
Italian
Dinner: $38 (Menu)
North 26 Restaurant – Boston Millennium Hotel
26 North St., Boston, Downtown
New England Cuisine
Lunch: $20 (Menu)
Dinner: $38 (Menu)
Novara
556 Adams St., Milton
Italian
Lunch: $20
Dinner: $33
Nubar Restaurant – Sheraton Commander
16 Garden St., Cambridge, Harvard Square
American
Dinner: $33 (Menu)
Ocean Prime
140 Seaport Blvd., Boston, Seaport District
Steakhouse
Lunch: $25 (Menu)
The Oceanaire Seafood Room
40 Court St., Boston, Downtown
Seafood
Lunch: $25 (Menu)
Dinner: $38 (Menu)
Odyssey Cruises
60 Rowes Wharf, Boston, Waterfront
Contemporary American
Dinner: $38 (Menu)
Oishii Boston
1166 Washington St., Boston, South End
Japanese
Lunch: $20 (Menu)
Oliveira's Steakhouse
120 Washington St., Somerville 
Brazilian Steakhouse
Lunch: $25 (Menu)
Dinner: $28 (Menu)
Osaka Japanese Sushi & Steak House
14 Green St., Brookline
Sushi
Lunch: $15 (Menu)
Dinner: $28 (Menu)
Osteria Posto
99 3rd Ave., Waltham
Italian
Dinner: $38 (Menu)
P.F. Chang's China Bistro – Boston
8 Park Plaza, Boston, Back Bay
Asian
Dinner: $28
Palm Restaurant
One International Place, Boston, Downtown
Steakhouse
Dinner: $38 (Menu)
Papa Razzi
159 Newbury St., Boston, Back Bay
Italian
Lunch: $20 (Menu)
Dinner: $33 (Menu)
Papa Razzi Metro
2 Wall St., Burlington
Italian
Lunch: $20 (Menu)
Dinner: $33 (Menu)
Park Restaurant and Bar
59 JFK St., Cambridge, Harvard Square
American
Dinner: $28 (Menu)
Post 390
406 Stuart St., Boston, Back Bay
Contemporary American
Lunch: $25 (Menu)
Dinner: $38 (Menu)
Puritan & Company Restaurant
1166 Cambridge St., Cambridge, Inman Square
American
Dinner: $38 (Menu)
Q Restaurant
660 Washington St., Boston, Downtown
Asian
Lunch: $15 (Menu)
Dinner: $28 (Menu)
Real Italian Gusto Restaurant
24 High St., Medford
Italian
Dinner: $33 (Menu)
Ristorante Fiore
250 Hanover St., Boston, North End
Italian
Lunch: $25 (Menu)
Dinner: $38 (Menu)
Ristorante Villa Francesca
150 Richmond St., Boston, North End
Italian
Lunch: $25 (Menu)
Dinner: $38 (Menu)
Rocco's Cucina & Bar
450 Commercial St., Boston, North End
Italian
Lunch: $15 (Menu)
Dinner: $28 (Menu)
Rosa Mexicano
155 Seaport Boulevard
Boston, Seaport District
Mexican
Lunch: $20 (Menu)
Dinner: $38 (Menu)
Royal Hotpot Sushi & Bar
227 Parkingway, Quincy
Japanese
Lunch: $20 (Menu)
Dinner: $33 (Menu)
Russell House Tavern
14 JFK St., Cambridge, Harvard Square
American
Dinner: $28 (Menu)
Ruth's Chris Steak House
45 School St., Boston, Downtown
Steakhouse
Lunch: $25 (Menu)
Dinner: $38 (Menu)
Sapore Ristorante + Bar
606 Congress St., Boston, Seaport District
Italian
Lunch: $15 (Menu)
Dinner: $28 (Menu)
Savinos Grill
449 Common St., Belmont
Italian
Dinner: $38 (Menu)
Scampo
215 Charles St., Boston, Beacon Hill
Italian
Lunch: $25 (Menu)
Dinner: $38 (Menu)
Seasons 52 Burlington
Wayside Shopping Center, Burlington
American
Lunch: $20
Dinner: $33
Seasons 52 Chestnut Hill
220 Boylston St., Chestnut Hill
American
Lunch: $20 (Menu)
Dinner: $33 (Menu)
Serafina Boston
10 High St., Boston, Downtown
Italian
Dinner: $38 (Menu)
Smith and Wollensky – Back Bay
101 Arlington St., Boston, Back Bay
Steakhouse
Dinner: $38 (Menu)
Smith and Wollensky – Atlantic Wharf
294 Congress St., Boston, Waterfront
Steakhouse
Lunch: $25 (Menu)
Dinner: $38 (Menu)
Sofia Italian Steakhouse
1430 VFW Parkway, West Roxbury
Steakhouse
Lunch: $25 (Menu)
Dinner: $38 (Menu)
Sol Azteca
914A Beacon St., Boston, Kenmore
Mexican
Dinner: $33 (Menu)
Sophia's Grotto
22 R Birch St., Roslindale
Italian
Dinner: $28 (Menu)
State Street Provisions
255 State St., Boston, Downtown
American
Dinner: $28 (Menu)
Strega Prime Italian Steakhouse
Trade Center 128, Woburn
Steakhouse
Lunch: $20 (Menu)
Dinner: $38 (Menu)
Strega Restaurant & Lounge
379 Hanover St., Boston, North End
Italian
Lunch: $20 (Menu)
Dinner: $38 (Menu)
Strega Waterfront
One Marina Park Drive, Boston, Seaport District
Italian
Lunch: $20 (Menu)
Dinner: $38 (Menu)
STRIP by Strega
64 Arlington St., Boston, Back Bay
Steakhouse
Lunch: $20 (Menu)
Dinner: $38 (Menu)
Summer Shack Boston
50 Dalton St., Boston, Back Bay
Seafood
Lunch: $25
Dinner: $38
T.W. Food
377 Walden St., Cambridge, West Cambridge
French
Dinner: $38 (Menu)
TAMO
1 Seaport Lane, Boston, Seaport District
Contemporary American
Lunch: $20 (Menu)
Dinner: $33 (Menu)

Tangierino Restaurant & Lounge
83 Main St., Charlestown
Moroccan
Dinner: $38

Temple Bar
1688 Massachusetts Ave., Cambridge, Porter Square
American
Dinner: $28 (Menu)

Terramia Ristorante
98 Salem St., Boston, North End
Italian
Dinner: $38 (Menu)

Top of the Hub Restaurant & Skywalk
800 Boylston St., Boston, Back Bay
American
Lunch: $25 (Menu)

Toscano Harvard Square
52 Brattle St., Cambridge, Harvard Square
Italian
Lunch: $20 (Menu)
Dinner: $38 (Menu)

Toscano Restaurant
47 Charles St., Boston, Beacon Hill
Italian
Lunch: $20 (Menu)
Dinner: $38 (Menu)
Towne Stove & Spirits
900 Boylston St., Boston, Back Bay
American
Dinner: $38 (Menu)

Trattoria di Monica
67 Prince St., Boston, North End
Italian
Lunch: $25
Dinner: $38

Tremont 647/Sister Sorel
647 Tremont St., Boston, South End
American
Lunch: $15 (Menu)
Dinner: $33 (Menu)

Tresca
233 Hanover St., Boston, North End
Italian
Dinner: $38 (Menu)

Tuscan Kitchen
2400 District Ave., Burlington
Italian
Lunch: $25 (Menu)
Dinner: $38 (Menu)

TWK – The Waterfield Kitchen
14 Thompson St., Winchester
Contemporary American
Dinner: $38

Venezia Waterfront Restaurant & Banquet Facility
20 Ericsson St., Boston, Dorchester
Italian
Lunch: $20 (Menu)
Dinner: $38 (Menu)

Viale
502 Massachusetts Ave., Cambridge, Central Square
Italian
Dinner: $33 (Menu)

Vinoteca Di Monica
143 Richmond St., Boston, North End
Italian
Lunch: $25
Dinner: $38

Zephyr on The Charles – Hyatt Regency Cambridge
575 Memorial Dr., Cambridge, Cambridgeport
New England Cuisine
Lunch: $20 (Menu)
Dinner: $38 (Menu)