Food
A beloved Belmont bakery has been forced out of the location it held for 101 years
First, Ohlin's Bakery was damaged by an explosion. Now, the owners say the building's landlord told them they will be unable move back in.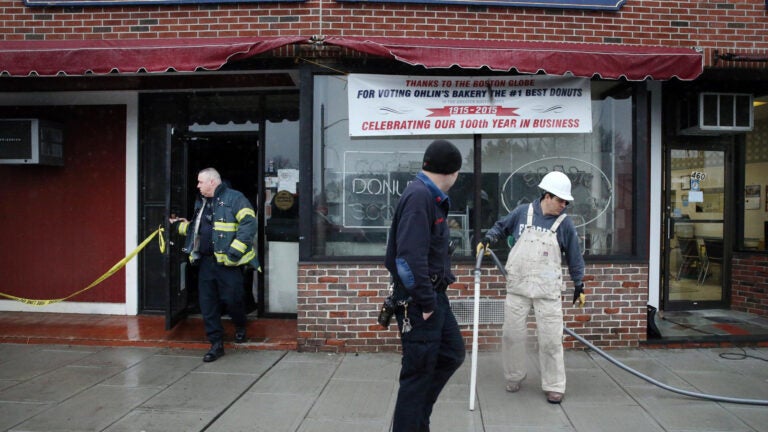 In March, Ohlin's Bakery in Belmont was heavily damaged by an exploding oven. Despite significant structural damage to the building, Ohlin's owner, Paul Klemm, was saved by a stack of metal doughnut pans, escaping with only singed hair and eyebrows.
In July, The Boston Globe reported that the building owner's insurance would only pay to turn the building into a retail store, not a bakery, while the Klemms' insurance would pay to replace the damaged equipment, but not for necessary code upgrades. A former employee of the bakery started a GoFundMe campaign that month to help the Klemms pay for the code upgrades, raising a little less than half of the campaign's $50,000 goal.
Now, according to a Facebook post from Paul and his wife, Marybeth, the building's landlord told them they will be unable to move back into the building Ohlin's has occupied for 101 years.
"We were trying our hardest to reopen in our original location that we had been at for 101 years," the owners wrote. "We were told by our landlord that this is no longer possible. We are extremely shocked and disappointed by this! It has been very depressing and we feel so lost and sad."
Marybeth told the Globe that finding a location that offers sufficient parking for their customers and enough space for their baking equipment at an affordable price has been difficult.
"We had a huge oven the size of a van, so we need a lot of space. But a lot of places we have seen have been really small," Marybeth told the Globe. "We are asking people to help because we have a customer fan base, and maybe they would give us some ideas."