Food
Dunkin' Donuts is getting rid of the Coffee Coolatta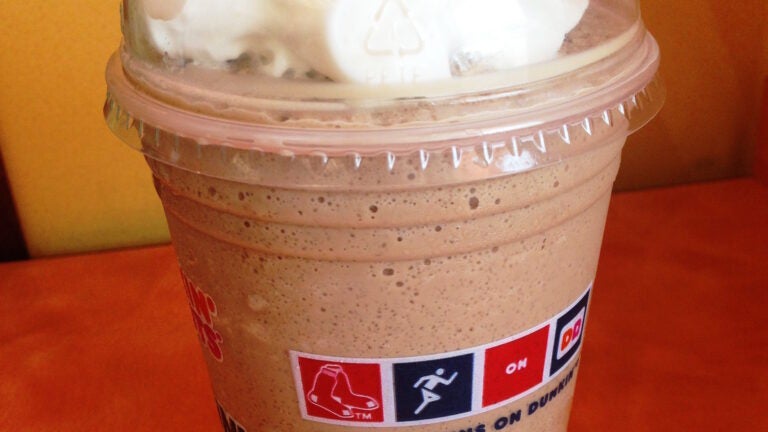 Dunkin' Donuts is making menu changes.
The company is discontinuing the Coffee Coolatta, a staple of its drink menu since 1994.
The Coolatta will effectively be replaced by the Frozen Dunkin' Coffee, a new drink that's made with blenders, combines coffee extract, ice, and dairy, and can be customized.
The shifts were reportedly first announced during a media showcase at the company's Canton headquarters Tuesday.
The introduction of the Frozen Dunkin' Coffee seems to signal that the company is shifting its focus onto a more coffee-focused frozen beverage and away from the dessert-like Coolatta — a large Caramel Coffee Coolatta with cream contains 990 calories, 138 grams of sugar, and 47 grams of fat.
"Frozen Dunkin' Coffee will offer our guests a more authentic, energizing coffee drinking experience compared to the Coffee Coolatta,"said Chris Fuqua, Dunkin' Donuts senior vice president of brand marketing, global consumer insights and product innovation, in a statement.
The drink will become available in stores by this summer, and as it does, the Coolatta will be eliminated.
Dunkin' Donuts is also teaming up with Monster Energy for a line of frozen drinks. Dubbed the "Dunkin' Energy Punch Powered by Monster Energy," the drink will, according to the Boston Herald, combine a can of Monster Energy with Dunkin' blue raspberry or strawberry fruit Coolatta flavors, served over ice. It will be available for purchase in the Northeast, including Massachusetts; West Palm Beach, Florida, and Miami on Monday.