Food
These 6 Bostonians are nominated for the Oscars of the food world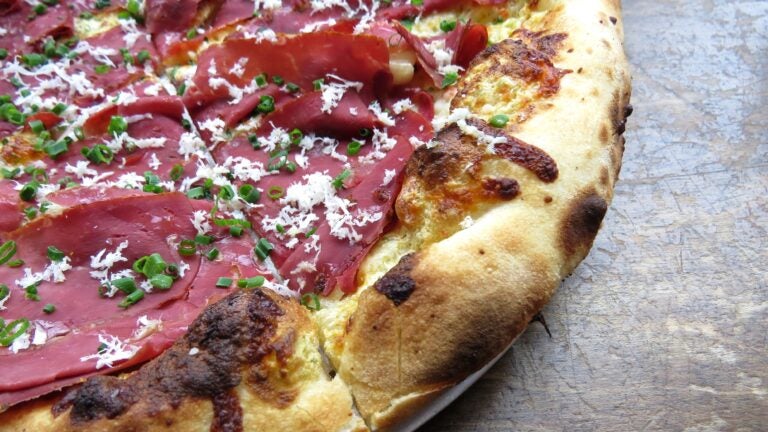 In the culinary world, a James Beard Award nomination is a big deal. The awards are often referred to as the Oscars of the food world. (Though Modern Family's Jesse Tyler Ferguson, who's hosting the ceremony on Monday, is probably hoping the gala doesn't go exactly the same way as the Academy Awards did.)
Each James Beard Award category—from Best New Restaurant to Rising Star Chef of the Year—has an individual committee of industry professionals who come together to decide which gastronomic experts should be recognized for their achievements.
For food lovers, learning the results is a highlight of the year. For the professionals who are named, it's an invaluable boost for their careers, their teams, and their establishments. Past local winners include Joanne Chang of Flour Bakery + Cafe and Myers + Chang; Jamie Bissonnette of Coppa, Toro, and Little Donkey; and Barbara Lynch of Menton, Sportello, B&G Oysters, and so many more.
This year, six Bostonians received nominations for 2017 James Beard Awards:
We spoke with all of the Boston-based nominees, save Regis, separately about what it means to be recognized, what they think about the city's restaurant industry, and what the future holds. Their answers have been edited for length and clarity.
On receiving a nomination this year:
Oringer: It's a very surreal experience. I won many years ago for Best Chef Northeast, and that was the highlight of my professional career. To be nominated again is something I never would have imagined. It feels so amazing for our teams. Jamie [Bissonnette, chef and partner of Coppa, Toro, and Little Donkey] is obviously a huge part, and a lot wouldn't have happened without the two of us working so well in tandem, and my partner Tony [Messina] at Uni. … It just feels great as a team effort.
Piuma: It's out-of-control exciting and the most incredible honor. It's good for the rest of the restaurant, so it's nice for everyone to be rewarded for their hard work and efforts. … Being a working parent is hard for anyone, but the hours a restaurant demands can be kind of brutal. I'm proud that I'm able to juggle both things successfully.
Akunowicz: As always, it feels amazing. I'm beyond honored by it. It's amazing to be nominated among so many people that I not only respect, but whose work and food I so admire and love.
Kilpatrick: The first time I was nominated, I struggled with the attention, but then I realized that it's more about your team and your establishment and everything that goes into it, and you're basically just there representing that.
Berkowitz: I'm certainly honored and pleased to be honored among and by some of the top people in the business. … I'm probably the only James Beard Award winner who has actually met James Beard. When I was a teenager back in Inman Square in the late '60s, Julia Child introduced me to him. She was double-parked outside our fish market, and she told me to 'go outside and say hi to Jimmy.' So, for me, it's sort of coming full circle from meeting Jimmy to actually achieving a James Beard Award. It's very gratifying.
On the inspiration behind their food:
Akunowicz: I like to take a dish, whether it's a classic Chinese dish or something that's a typical Southeast Asian dish, and make something that's familiar to people. Our szechuan dan dan noodles is my bolognese recipe from when I was living in Italy. … There are some dishes I create that are a little tongue in cheek.
Kilpatrick: My inspiration is spices, which I get from being at Oleana for so long, where it's all about playing with spices.
Piuma: At Sarma, we cook small plates, or meze, with big, punchy flavors. The flavors are inspired by the Eastern Mediterranean, by my love of vegetables, but also the simple comforts of home. I want the food to be approachable, celebratory, and fun, while invoking memories of local favorites and childhood staples.
Oringer: The fun thing about having restaurants with all different concepts is that, creatively, it's so emotionally satisfying. I was just at Toro working on some dishes. Now I'm heading to Little Donkey and then to Uni, and it's just so fun. The sky's the limit.
On what the awards mean for Boston's burgeoning restaurant industry:
Kilpatrick: I think one of the great things that the Beard Foundation has done is promoting it, and so people become more aware of it. … The number of people that walk in and know about it surprises me. And the customers feel happy to be supporting you, and so I think it's amazing. It's made Boston really recognizable and notable for other people around the country.
Akunowicz: Anytime one [Bostonian] is nominated, we're all nominated. Anytime we're recognized, whether it's on a more local level, like Best Chef Northeast, or a national level, I think it solidifies what everyone living here knows, which is that we're a fantastic food city and we continue to grow and expand.
Oringer: We have so many thriving aspects of our city, from the universities to the tech industry and the arts, and [the James Beard Awards are] only going to bring more interesting people here to do more unique things. … The passion of the smaller operators in the various pockets of Boston is incredible. There's so many different funky places now, and it really speaks of people's personalities. Especially considering how hard it is to get a liquor licence in this city, it's even more admirable. You have to go through a lot to have a successful restaurant in this town.
Berkowitz: It really is recognition of the fact that interesting things are taking place here. Driving that is the millennial population and the Gen X and Gen Ys, the different digital technologies, and the biotech industry, so there's an emerging younger population here that has sophisticated interests and habits. As restaurateurs start to acknowledge that and work with that, I think there's some synergy there.
Piuma: I think the recognition that James Beard is bringing to the city, it brings people back and reminds people how great this city really is. … I also hope it brings back talented cooks and chefs who have left the city over the years in search of financial security and new adventures. … The [culinary] community here in Boston has been working together for a long time to make changes to the industry, and I think being put on the map and being recognized means a lot of the things chefs are working toward — their plans and goals and sustainability efforts — it all becomes more made aware of.
On what Boston's restaurant industry might look like in 2020:
Berkowitz: I'm guessing there will be probably more of a move to quick-service as it becomes more difficult to get restaurant labor. So I suspect there will be more restaurants out there that will require fewer people to operate them. Whether it's business or food, there's always evolutions, and models have to continue to evolve.
Akunowicz: I hope we continue to see more women, more people of color, more immigrants, and more queer people who are leading and managing and owning our restaurants, and that our industry starts to become more of a reflection of our industry in general.
Oringer: There are going to be more pockets in this city that are actually small cities in themselves, and they're only going to bring more funky recipes. Look at the waterfront and Fenway. I think we'll probably have 100 new restaurants open in the next three years.
Kilpatrick: The amount of restaurants opening is crazy. I'm hoping the quality stays. We're trying to keep that focus on hospitality and people and service, and I'd like to see that be everyone's focus because you're not going to stay in business if it's not. It's about how you treat people, and not just your customers but your staff. Hospitality is the big general trend we'll see, I hope.
Piuma: With growing rents, labor shortages, and immigration issues, I think chefs and owners are going to be forced to think outside the box. It's going to create a ton of change, some good some bad, and a new perspective for the industry.
On what's next:
Berkowitz: One of the projects I've been working on is a fast-casual concept called the Legal Fish Bowl. I've wanted to do a fast-casual concept for a long time, but I couldn't put my finger on what we could do that would play to our strengths but also be sustainable and attractive to the millennial population. Part of what restaurateurs do is a lot of observation, and I try to be mindful of the evolving habits of interest and taste.
Akunowicz: I have a lot of things I'd love to do. It's Myers + Chang's 10-year anniversary in September, so we're planning a lot around that. … This year, I co-authored the Myers + Chang cookbook with Joanne Chang. The writing of the book uses a different part of your brain than the work we do every day. That's something that I'm incredibly proud to be a part of. That will be published in September. … I'd love to write another book. We'll see.
Oringer: Next for us is to continue pushing to be as unique as you can. It's a tough time to have successful businesses, so we're going to do everything we can to get stronger operationally. We have Toro Dubai opening in September, so that's exciting, and then we'll go from there. We're trying to do our part of making [Boston] one of the world's best.
Kilpatrick: I've been with Oleana since 2001, and they've been so good to me. I want everyone to have that. Maybe not as long! But I want to make sure that I'm doing as good a job passing that on. And they're always going to be able to teach me something and change my mind on something. The more we grow, the more collaborative it becomes.
Piuma: [Sarma has] been open for three and a half years, so we're not exactly new anymore. We're just trying to keep that fire alive and keep people excited about what we do. … I try to be in the now and the moment and make today really special, with happy diners and staff, and manage everyone to make sure they're in a positive environment.
Tune in for the James Beard Awards Gala at the Lyric Opera of Chicago on Monday at 7 p.m. via live stream. And take a look at the full list of this year's nominees here.