Food
The BBQ Bomb is Boston Calling's must-try food item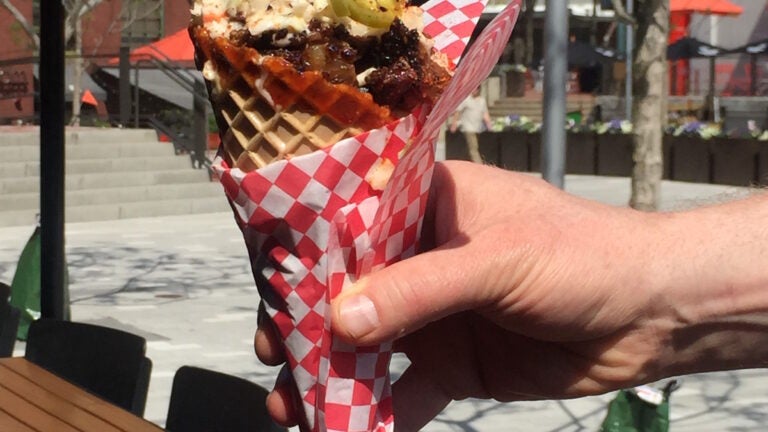 The Boston Calling Music Festival's food lineup will be a worthy companion to its stacked music lineup and comedy showcase, boasting more than 25 vendors that will serve up a cornucopia of dishes. But few of the festival's menu items will be as interesting — and certainly as unconventional — as the BBQ Bomb.
The BBQ Bomb was created by pit master Andy Husbands, owner of The Smoke Shop in Kendall Square and two other restaurants in Boston. The dish features a choice of meat (pulled pork, chopped brisket, or smoked chicken), queso mac and cheese, barbecue beans, and jalapeños—all served inside a waffle cone.
"Our barbecue trays are awesome, but I can't give you a barbecue tray at Boston Calling," Husbands said. "That was our challenge: How do you give someone a barbecue plate in such a way that you can easily walk around and enjoy it?"
The solution came from Smoke Shop General Manager Ian Grossman, who proposed the BBQ Bomb after a month of menu deliberation.
"I thought Ian's idea was crazy when I first heard it," Husbands said. "But then we made one, and it was really good."
While Husbands won't rule out adding the BBQ Bomb to the Smoke Shop's menu at some point, he said that most of the specialty dishes the Smoke Shop creates for events are one-time experiments.
"When we do events, we want to stay within our brand," Husbands said, "but we want to do things that are fun and exciting."
The BBQ Bomb is such an unusual dish that the original Boston Calling press release announcing the festival food lineup incorrectly stated that the BBQ Bomb would be served in a cone-shaped waffle instead of a waffle cone. That misunderstanding left Husbands considering the possibilities.
"Wouldn't that be cool to do with fried chicken?" Husbands said. "Like a thin waffle with fried chicken inside. Maybe next year."