Food
The 10 best places to get ice cream in Greater Boston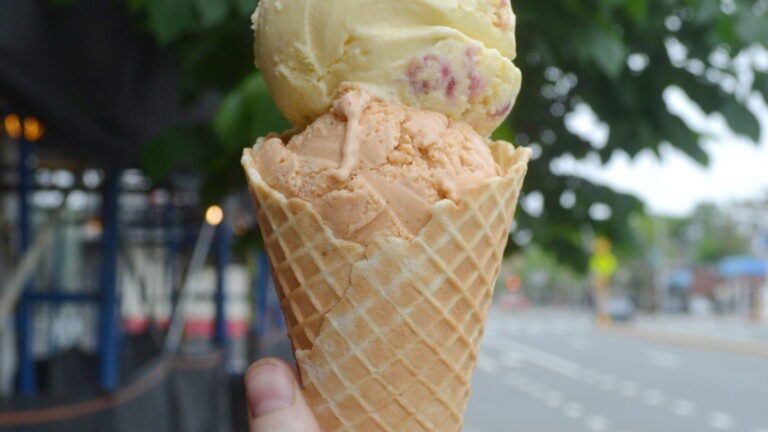 Boston has no shortage of ice cream shops, but where should you go to find the best of best?
With help from Yelp, we've rounded up the top 10 places to get ice cream across Greater Boston. The list was compiled using Yelp data from April 2016 and May 2017.
1. Toscanini's Ice Cream
899 Main St., Cambridge
Toscanini's has been churning out fresh ice cream inside its cozy Cambridge shop since 1986. While the flavor roster is constantly growing, 32 are available at any time and posted on the board behind the counter.
You can certainly find more standard options (vanilla, chocolate), as well as more adventurous ones (burnt caramel, crunchy peanut butter, Aztec chocolate), but you should also consider checking out the flavors that are original to Toscanini's. According to founder Gus Rancatore, B3 — made with brown sugar, brown butter, and butter brownies — is sure to satisfy anyone's sweet tooth, while Khuflee — made with cardamom, plus almonds and pistachios — offers an intense taste of the aromatic Indian spice.
2. Morano Gelato
199 Boylston St., Chestnut Hill
After studying abroad in Florence, Italy, Morgan Morano decided to start a business so she could share the delicious flavors she encountered overseas.
Morano Gelato serves 12 to 16 fresh flavors daily, but the shop boasts a repertoire of more than 250 options. According to Morano, the most traditional flavors are fior di latte (milk), stracciatella (chocolate chip), nocciola (hazelnut), and pistacchio (pistachio). For something more unusual, she suggested the olive oil, jasmine, or rose.
Over the summer, an array of seasonal specials will be available, including black raspberry, lemon and basil, and watermelon sorbet. The shop also takes flavor requests, so if there's something you've been dying to try, don't be afraid to suggest it.
Morano said most of the shop's ingredients come straight from Italy, particularly the chocolate, marsala wine, and pistachio, in order to recreate the Italian palate as closely as possible.
Additional locations: 57 South Main St., Hanover, New Hampshire; 116 Elm St., Westfield, New Jersey
3. FoMu
655 Tremont St., South End
What you won't find at FoMu? Dairy. This ice cream is plant- and coconut milk-based and churns out like a gelato, according to founder Deena Jalal.
All of FoMu's flavors are made from scratch, sourced locally, and completely free of preservatives, additives, and chemicals. Over the summer, customers can expect to taste seasonal varieties, like strawberry rhubarb pie, almond raspberry crumble, and Jalal's personal favorite, blueberry shortbread, in addition to the brand's signature flavors, like peanut butter mud pie and chocolate cookie dough.
Jalal said FoMu's best seller is "always whatever is seasonal." The shop also teams up with a number of local establishments to create small-batch limited edition flavors, such as dark chocolate Thai chili cashew via a partnership with Banyan Bar + Refuge and smoked chocolate hazelnut honeycomb via one with Alden & Harlow.
Additional locations: 481 Cambridge St., Allston; 617 Centre St., Jamaica Plain; 177 Newbury St., Back Bay (pop-up through December 2017)
4. Cookie Monstah
Food truck schedule
If you like the idea of ice cream being served between two warm cookies, then you'll definitely want to stop by one of the blue trucks serving Cookie Monstah sandwiches or the brand's new brick-and-mortar store in Danvers. The thick cookies are soft and baked to melt right in your mouth by co-owner Melissa Gale, then given a scoop of ice cream from Richardson's, a family-owned dairy farm in Middleton.
According to Gale and her husband and co-owner, Scott, some of the best-selling sandwiches include the PB&J, which features strawberry ice cream served between two peanut butter cookies; the Tahitian, coconut ice cream served between oatmeal cookies; and the classic, vanilla ice cream served between two chocolate chunk cookies.
You can also feel free to request your own combination, including asking for two different cookies for the top and bottom of your sandwich.
Additional locations: 75 Newbury St., Danvers
5. Honeycomb Creamery
1702 Massachusetts Ave., Cambridge
Honeycomb Creamery opened its first (and only) storefront in Sept. 2016 after first selling its products at farmers markets and pop-ups throughout the city.
The shop currently offers five "classic" flavors that will be on the menu through spring 2018, including honey lavender and cold brew coffee chip made with Little Wolf coffee and homemade chocolate chips. Honeycomb also always has five rotating flavors that are available for about a month; this June, two of these are thai tea and white chocolate with lemon cake and rose jam. Sometimes the shop will also prepare special "one-offs"—three gallons of ice cream that disappear from the menu as soon as the gallons run out—and vegan options, including horchata, and chocolate and cookies, which is made from a coconut cream and homemade cashew milk.
According to Rummel, Honeycomb sources the majority of its fruits and vegetables from Red Fire Farm in Granby and Kimball Fruit Farm Stand in Pepperell. Over the summer, the ingredients will be used to prepare flavors like strawberry lemonade, which features fresh lemon curd; port-roasted cherry vanilla, which includes cherries soaked in port wine; roasted corn with blackberry jam; and basil goat cheese, which Rummel described as "savory and tangy from the goat cheese, with herbal tones from the basil."
She said that Honeycomb also likes to experiment with its ice cream cones, which are all made in-house. In addition to a traditional cone, customers can choose from chocolate, matcha green tea, and lemon corn meal. Rummel said she has plans to make a blueberry cone using butterfly pea this summer.
6. Picco
513 Tremont St., South End
Picco, an acronym for Pizza Ice Cream Company, serves exactly what you would expect: pizza and ice cream. And for chef-owner Rick Katz, the one food he would want if he were stranded on a desert island is, without a doubt, ice cream.
The South End restaurant prepares a made-from-scratch, Philadelphia-style ice cream, which means it's made with no eggs. Katz likened the consistency to that of gelato, as it has a lower butterfat content and not a lot of air.
The restaurant uses high-quality ingredients, such as Tahitian vanilla bean, Scharffen Berger artisanal bean-to-bar chocolate, and coffee from Tandem Coffee Roasters in Portland, Maine. Throughout the year, Picco will also rotate a number of fruity flavors that are made from locally sourced fresh fruit. For example, customers can expect raspberry and strawberry in the summer and pear and apple in the fall.
If you're having trouble narrowing down what you should order, Katz recommended "The Sampler," which allows you to taste three different flavors for $6.50.
"We're proud of our flavors, so it's worth trying more than one," he said. "And the separate dishes help keep the flavors distinct."
7. Lizzy's Ice Cream
29 Church St., Cambridge
The list of flavors at Lizzy's has been expanding ever since the shop first opened in 1995. Now with more than 50 options listed on the wall, customers can choose between the likes of cinnamon, chocolate orgy, and mocha almond.
According to owner Miriam Benitez, the best sellers are very typical: vanilla, chocolate, coffee Oreo yogurt, Oreo and cookie dough. If you want to try something more specific to Lizzy's, she suggested the Charles River crunch, a dark chocolate ice cream with almond toffee that was named by a Brandeis student. 
For the summer months, Benitez said new additions to the menu will include salted caramel pretzel and hopefully peach, depending on the harvest. All of the ice cream is homemade in the Waltham shop.
Additional locations: 367 Moody St., Waltham 
8. WUBurger
880 Main St., Woburn
According to owner Deepak Diwan, a classic WUBurger order is the double WUBurger, seasoned waffle fries, and a chocolate frappe. However, if you're not in the mood for the kit and caboodle, you can order just ice cream at the counter-service window.
WUBurger's 40 flavors of ice cream come from the same source as those at Cookie Monstah: Richardson's Farm out in Middleton. According to Diwan, the best sellers include chocolate, moose tracks, cake batter, and his personal favorite, peanut butter Oreo. The shop also just started receiving summer varieties, including coconut, lemon sorbet, cotton candy, gum ball, and banana.
"We have the classic ice cream flavors for your typical experience, and then we try to sprinkle other things in," Diwan said. "We track month to month what's moving and what's not and make adjustments accordingly."
In addition to plain scoops of ice cream, customers can order sundaes (featuring brownies baked in house), banana splits, frappes, and ice cream sandwiches with homemade chocolate chip cookies. Over the summer, WUBurger will revive it's popular orange creamsicle frappe from last year, which includes orange sherbet and vanilla ice cream with orange soda.
Richardson's Farm locations: 156 South Main St., Middleton; 50 Walker's Brook Dr., Reading
9. Tipping Cow
415 Medford St., Somerville
When Anna Gaul started Tipping Cow, she wanted to "keep everything as small batch and homemade-feeling as possible," she said. The shop's "old-school" ice cream is made right in the Somerville storefront with no dyes, no additives, and no chemical preservations.
Tipping Cow serves 10 rotating flavors at any given time, plus eight seasonal varieties. According to Gaul, one of the best sellers is blueberry ginger, which is ginger ice cream with blueberry jam swirled throughout. She said the ginger provides a nice kick, while the jam sweetens things up.
Gaul said other popular choices include cannoli, a cream cheese-based ice cream with crushed cannoli shells and chocolate chips; and bourbon, bourbon ice-cream with a caramel swirl. Gaul said her personal favorite is key lime pie, which is key lime ice cream with graham cracker crumble mixed in.
Over the summer, Gaul said that Tipping Cow serves its "most unusual flavor," sweet corn, which she characterized as "light and mild." Another seasonal flavor is the strawberry basil, which is basil ice cream with strawberry compote.
All of Tipping Cow's ingredients come from farms across Massachusetts, and the store is completely peanut- and tree nut-free.
10. J.P. Licks
1106 Boylston St., Back Bay
J.P. Licks's June menu flavors range from chocolate chip cheesecake to dairy-free chai. The Boston-based chain changes things up regularly, with new additions arriving on the menu on the first of each month.
The shop also serves a "treat of the month," which is a special sundae available for just that period of time. June's is called the Sail Boston sundae, made with strawberry rhubarb ice cream, strawberries, graham cracker crumbs, and whipped cream. In May, it was a cold brew white coffee chunk sundae, made with light coffee ice cream, dark chocolate chunks, espresso bark, and homemade chocolate fudge.
According to Alexis Burgoon, an employee at the Boylston Street location, customers love the cookies 'n' cream and cookies 'n' cake batter ice cream flavors, while peanut butter and mint chip are popular for hard yogurt.
J.P. Licks also offers soft serve frozen yogurt and posts a weekly update on its website regarding which flavors are in rotation. Burgoon said you can't go wrong with the classic yogurt X, which is "tart and tangy."
Additional locations: 150 Charles St., Beacon Hill; 311 Harvard St., Brookline; 1312 Massachusetts Ave., Cambridge; 704 Legacy Place, Dedham; 661 VFW Parkway, Chestnut Hill; 659 Centre St., Jamaica Plain; 800 Market St., Lynnfield; 1618 Tremont St., Mission Hill; 46 Langley St., Newton; 611 Assembly Row, Somerville; 4A College Ave., Somerville; 63 Central St., Wellesley