Food
This local doughnut shop now serves breakfast doughnut sandwiches with eggs and bacon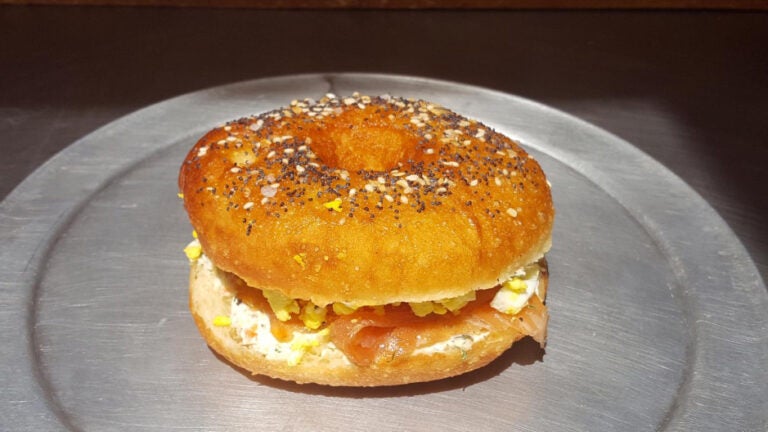 On Tuesday morning, Union Square Donuts debuted breakfast sandwiches—made with doughnuts.
"People love it," said owner Josh Danoff. "People have been asking for breakfast sandwiches for a while."
The doughnut shop announced the new breakfast items on social media Monday, writing, "Have you ever wondered how great it would be to turn our donuts into breakfast sandwiches? … They're even better than we thought they'd be."
Customers can choose from three different made-to-order sandwiches: egg and cheese; bacon, egg, and cheese; and lox, egg, and cream cheese. The sandwiches are all made on a plain doughnut. The cheese used is Cabot cheddar, the cream cheese is made in-house, and the bacon is the same thick-cut bacon served on the shop's maple bacon doughnut, Danoff said.
Those who want to jazz up their sandwiches can ask for "everything spice" topping (think of what you get on an "everything" bagel), which workers apply using an egg wash after the doughnut is fried. If sweet is what you're after, you can order a maple glaze dipping sauce on the side.
Union Square Donuts has been working on these sandwiches for months, Danoff said.
"We had to eat a lot of bacon, egg, and cheese sandwiches," he said. "We all just dug deep. We knew that we were eating these doughnut breakfast sandwiches for the greater good."
The sandwiches are currently served Mondays through Fridays at both of the shop's brick-and-mortar locations. They are not sold at the shop's Boston Public Market location.
20 Bow St., Somerville, and 409 Harvard St., Brookline; unionsquaredonuts.com