Food
You've tried raw oysters and fried oysters, but have you ever tasted baked oysters?
Chef Jeremy Sewall from Island Creek Oyster Bar shares his recipe for Oysters Gregory.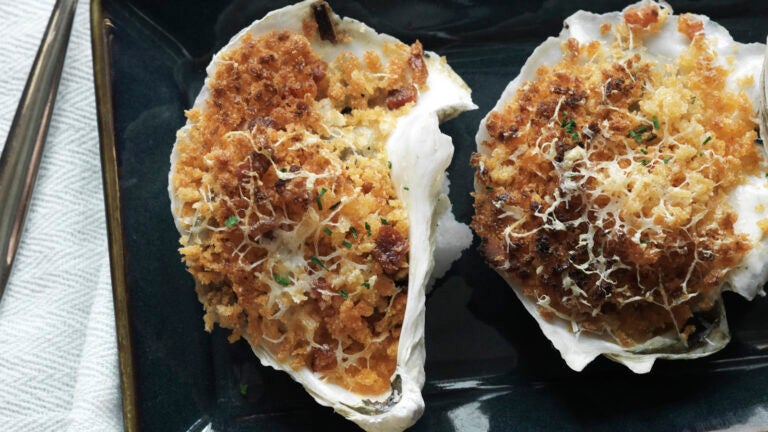 Oysters have captured the attention of New Englanders' palates for hundreds of years. And while raw and fried may be most common on menus today, a Boston chef has another suggestion for the bivalves: Bake them.
Jeremy Sewall, chef-partner of Island Creek Oyster Bar and Row 34, said that if done right, baked oysters are a great dish.
"People have a little bit of a negative perception of cooked oysters," the New England restauranteur said. "They're really lovely. I think the biggest problem is that people tend to overcook them."
Here's an oyster recipe from Sewall's cookbook, The New England Kitchen, which was nominated for a James Beard Award in 2015.
Oysters Gregory
(Makes 12 oysters)
12 large oysters
1 small leek, white part only, split lengthwise and washed
2 tablespoons canola oil
1/2 cup diced, uncooked slab bacon
1 tablespoon paprika
2 garlic cloves, minced
1/2 cup panko bread crumbs
1 tablespoon chopped fresh tarragon
1 teaspoon grated lemon
1 tablespoon freshly squeezed lemon juice
1 to 2 cups kosher salt for baking, plus more to taste
Freshly ground white pepper
Steps
Shuck the oysters, saving the bottom shell and meat separately. Clean out shells and set aside. Refrigerate oyster meat in a bon, covered with plastic wrap, until ready to use.
Preheat a grill pan or saute pan over medium-high heat. Brush the leek with a little bit of the oil and place both halves on the hot grill or saute pan, flat side down. Cook for one minute, then roll the halves onto their sides; repeat twice to grill all sides. The leek should not be fully cooked but should have a little color from the pan. Let cool slightly; slice into thin half circles.
In a saute pan, heat the remaining oil over medium heat, add the bacon, and cook until it begins to brown, four to five minutes. Drain off all but two tablespoons of the fat, and add paprika, the leek, and garlic. Cook for two minutes over medium heat, stirring frequently, careful not to let the mixture burn. Remove from the heat and fold in bread crumbs, tarragon, lemon zest, and lemon juice. Season with salt and white pepper.
Preheat the oven to 400 degrees Fahrenheit.
Mix a little water into one to two cups of salt to make a paste. Mound the paste into a long, flat pedestal on a baking sheet. Place cleaned oyster shells on top of the mound. Place an oyster in each shell and spoon the leek mixture over the oyster meat so that it is completely covered. Bake the oysters for eight minutes, then turn the broiler on and cook for two more minutes.
To serve, create small mounds of salt paste on a large serving platter and place baked oysters on top of the mounds.
Adapted from The New England Kitchen by Jeremy Sewall and Erin Byers Murray (Rizzoli, September 2014). Available here.