Food
This seafood delicacy is only found in Maine's chilly waters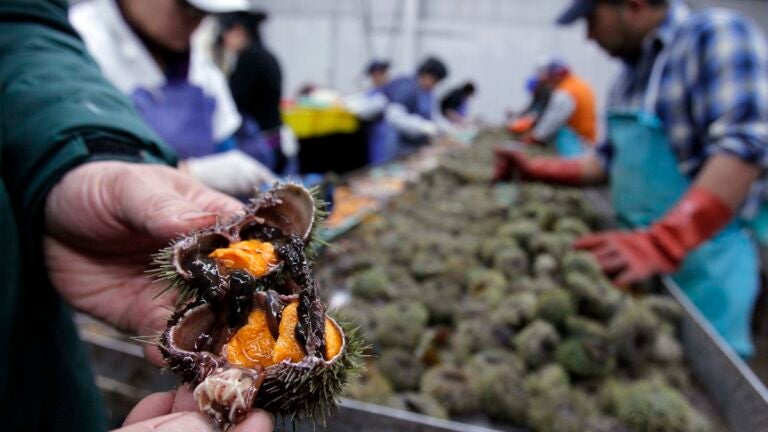 Sea urchin (aka uni) is considered a delicacy in traditional Japanese cooking, but the spiny, pin cushion-shaped creatures aren't as ubiquitous in New England seafood fare.
That's a surprise, because Maine's chilly waters are home to a species of sea urchin known as bafun uni that's so delicious, a booming Japanese demand in the 1980s led to overfishing. Today, fishery restrictions mean more responsible sourcing, and Boston-area chefs are using the echinoderms' rich, buttery roe in everything from pasta dishes to pizza.
For Chef Seizi Imura of Harvard Square's award-winning Café Sushi, they're a particular favorite.
"I personally enjoy Maine uni more than [uni from other regions]," Imura said. "It has so much more character and complexity."
According to Imura, wild Maine uni tends to have a grassy, slightly earthy expression owing to the unique species that grows best in Maine's cold waters. Other species of uni, like the popular Santa Barbara uni, tend to have sweeter, more chocolate-oriented flavors.
"Maine uni is so much more dynamic," he said.
Imura serves wild Maine uni when he feels it's at its peak season—usually October through May or June, he said. He compared their development throughout the season to that of oysters, explaining that they're best right before they spawn, in late spring.
"That's when they're really fatty. Just so creamy," he said.
Imura made several connections between uni and oysters, the more traditional New England from-the-sea favorite. Like oysters, he said, colder waters bring out more nuanced flavors—Imura believes that all seafood grown in a challenging environment yields better-tasting results. He also said wild Maine urchin carries a distinctly briny taste shared with the flavor of oysters.
If you're new to uni, Imura said he likes his prepared simply.
"I don't get too freaky with it," he said. "For sushi, I like it without seaweed. Just coarse salt, lemon, and wasabi. Clean. I don't mess around with soy sauce."
If you're already an uni fan and want to kick it up a notch, Imura has a suggestion for a spin on surf and turf that involves wrapping the uni in beef carpaccio with a little wasabi oil, coarse salt, and lemon zest. He recommended serving it on a spoon full of soy-based broth.
"It has this soup-dumpling feel," he said. "I really dig it."
Find Maine sea urchin at Café Sushi, in an Italian-inspired uni bucatini at Waypoint in Harvard Square, or on Saltie Girl's raw bar menu, depending on the time of year. If you want to try Maine sea urchin at home, you can find it at local fishmongers like New Deal Fish Market in Cambridge and Red's Best in the Boston Public Market.