Food
A renowned local chef ranked the area's fried clam joints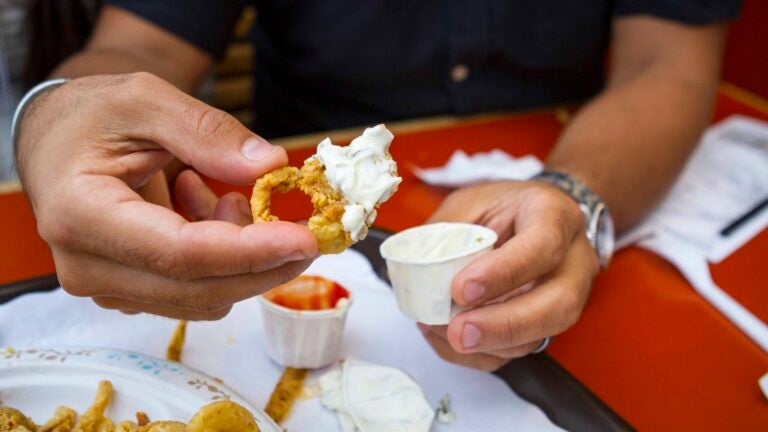 On a recent Monday, Chef Michael Serpa of Select Oyster Bar set out on a mission: to identify and rank the Boston area's greatest fried clam dishes. 
Serpa doesn't serve fried clams at Select because he doesn't have a fryer ("I'd eat too many fried clams and French fries," he said.), but he knows how to spot the good ones. From seaside shacks to swanky city spots—each one chosen for its local fried clam clout—Serpa considered seven quality markers: freshness of the clams, fry quality (i.e., crispiness and proper cooking), seasoning, tartar sauce, sides, price, and beverage options. At each establishment, Serpa ordered a fried clam plate and two sides, going with French fries and onion rings where available.
Here are his thoughts:
The North Shore gets most of the attention for being a fried clam haven, so Serpa wanted to give the South Shore its due.
Serpa said Quincy's Clam Box had "more of a fast food spot vibe" than the other establishments he visited. And although the hand-cut fries were the best of the tour, the clams themselves were slightly tough and not as fresh as their North Shore brethren. Serpa did like the Clam Box's beachside location, and its beer and wine license means you can have a drink while you watch the waves.
Although Serpa's $18.95 meal here was on the more affordable end of the spectrum, that wasn't enough to keep it from coming in last. 
(789 Quincy Shore Dr., Quincy)
While Serpa liked the batter and fry quality of the clams at this South End mainstay from James Beard Award-winning Chef Barbara Lynch, he said the bivalves just weren't as fresh as those served by North Shore competitors.
Serpa said the "extensive" beer and wine list and "solid" house-cut fries were a boon, as was the house-made tartar sauce. However, in the end, the $26 price point gave other establishments an edge on B&G.
(550 Tremont St., Boston)
Serpa was underwhelmed by this popular North Shore spot.
While he said the clams were "very fresh tasting," he found the fry lacking in seasoning and crispiness. The French fries and onion rings were of the frozen variety, and the commercially made tartar sauce was similarly lackluster. At $26.99 for a clam plate with two sides, the Clam Box also landed on the higher end of the price range and offered only soft drinks.
Ultimately, Serpa said, "more salt would have helped."
(246 High St., Ipswich)
Woodman's may have come in at No. 3, but that's likely where you'll find Serpa chowing down on fried clams.
"[Woodman's] had the best vibe, cold beer in plastic cups, and seems like the best spot to crush some super simple seafood," he said.
At $28.99 for a fried clam plate and two sides, Serpa's meal at Woodman's was the priciest of any in the running. But Serpa called Woodman's of Essex an "institution," remarking that it was busy even on the rainy Monday morning he visited.
The clams were fresh and well-fried (though he would have liked them even crispier), and he said the freshly made onion rings won the award for the best of any of the six establishments' side offerings.
(121 Main St., Essex)
Serpa's last stop was this Kenmore Square seafood spot in the Commonwealth Hotel. Here, he said, he ate fresh, well-fried clams, "if just a touch thick on the batter."
Serpa found the comparatively smaller portion with fries relieving after a full day of fried clam testing, and said the house-made remoulade that accompanies the dish in place of tartar sauce was "excellent."
A full bar program with beer, wine, and cocktails and a $17 price tag put Island Creek Oyster Bar ahead of some stiff North Shore competition.
(500 Commonwealth Ave., Boston)
Even though Serpa said he was disappointed in the fries, onion rings, and tartar sauce here, J.T. Farnham's perfectly seasoned and fried fresh clams were good enough to earn the win.
"[They] were right on the money," he said.
Up the road from Woodman's and not far from Ipswich's Clam Box, the small, marsh-side establishment has beautiful views of the Essex River. The smallest of the North Shore clam shacks, "this place is more of an 'in the know' kind of spot," Serpa said.
Its clam plate with two sides lands in a comparatively mid-range price point at $24.
Grab a beer or glass of wine with your meal, or stick with a soft drink and head for the picnic tables outside (alcohol isn't allowed outside the restaurant). But be warned: J.T. Farnham's is cash-only, and the on-site ATM doesn't always work.
(88 Eastern Ave., Essex)