Food
This local university's award-winning dining hall serves thousands of sushi rolls a day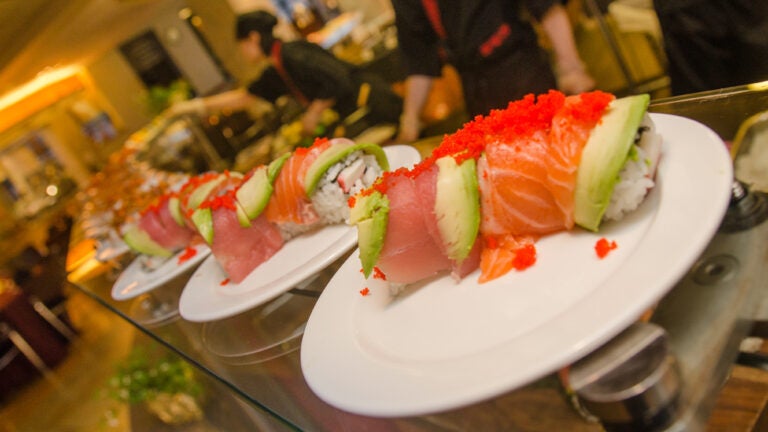 Many college students find themselves in dining halls dreaming of a home-cooked meal. Students at the University of Massachusetts Amherst (UMass Amherst) may find the opposite is true. Last month, the Princeton Review named the school's dining service number one in the country for the second year in a row. The ranking appears in the Princeton Review's 2018 edition of The Best 382 Colleges.
UMass Amherst is home to four dining halls and 25 retail locations, including two food trucks and a bakery. The school brings in guest chefs throughout the year to serve up internationally-inspired meals, and puts an emphasis on locally-sourced ingredients and fast, customizable options.
Lunch might be a duck confit with caramelized onion pizza at Roots Café, topped off with a waffle cone at Paciugo, the school's gelato bar. Dinner at one of the dining commons means meandering between about a dozen stations, choosing locally-sourced orange chicken stir-fry or a vegetarian portabella mushroom burger. And there's always sushi — UMass Amherst makes a few thousand sushi rolls a day.
If a midnight snack is calling, students can pick up wasabi steak tacos or an order of sweet potato fries from the school's two food trucks until 4 a.m. on weekends.
"With students, we find time is their most valuable commodity. They still want to be healthy and connect with friends, but a lot of times they do it on the go," said Garett DiStefano, UMass Amherst's director of residential dining services.
The university has been working its way to the Princeton Review's top ranking for the past few years, landing at No. 10 in the 2012 edition, No. 3 in the 2013 and 2014 editions, and No. 2 in the 2015 and 2016 editions, before nabbing number one in last year's edition.
"We have, over the past 15 years or so, been constantly improving our operations," DiStefano said. "It is a function of our commitment to continuous improvement as well as engaging with our students."
The 2018 edition of The Best 382 Colleges is on sale now. 137,000 students attending the book's featured schools were surveyed to create the guide. Other Massachusetts schools pepper the book's lists, including "Best Classroom Experience," "Most Engaged in Community Service," and "Best Career Services," to name a few.